11 Tips on How to Stay Positive at Work
In the workplace, the daily tasks can sometimes get hectic. It is essential to stay positive even on days like this. When you put on a positive attitude, it radiates around you and goes on to make everyone's day better.
It is not easy to have a positive outlook on life and work when you are going through a difficult time. An initiative from every employee can improve the organisation as a whole.
Staying positive at work makes it easier to handle the tasks thrown your way. It does not mean you force yourself to stay cheerful even when things go wrong. Staying positive at work means exhibiting the optimism that simplifies your everyday work.
It can also increase your productivity at your workplace and improve your mental health. Not to mention, you are more likely to be satisfied as an employee with a positive attitude. Employees with a positive attitude do not ignore the problem. They take meaningful action toward the situation and look at the bright side.
To develop a positive attitude at work. Even a small initiative can go a long way. The following tips might seem minimal, but every employee should follow these tips to maintain harmony in the workplace: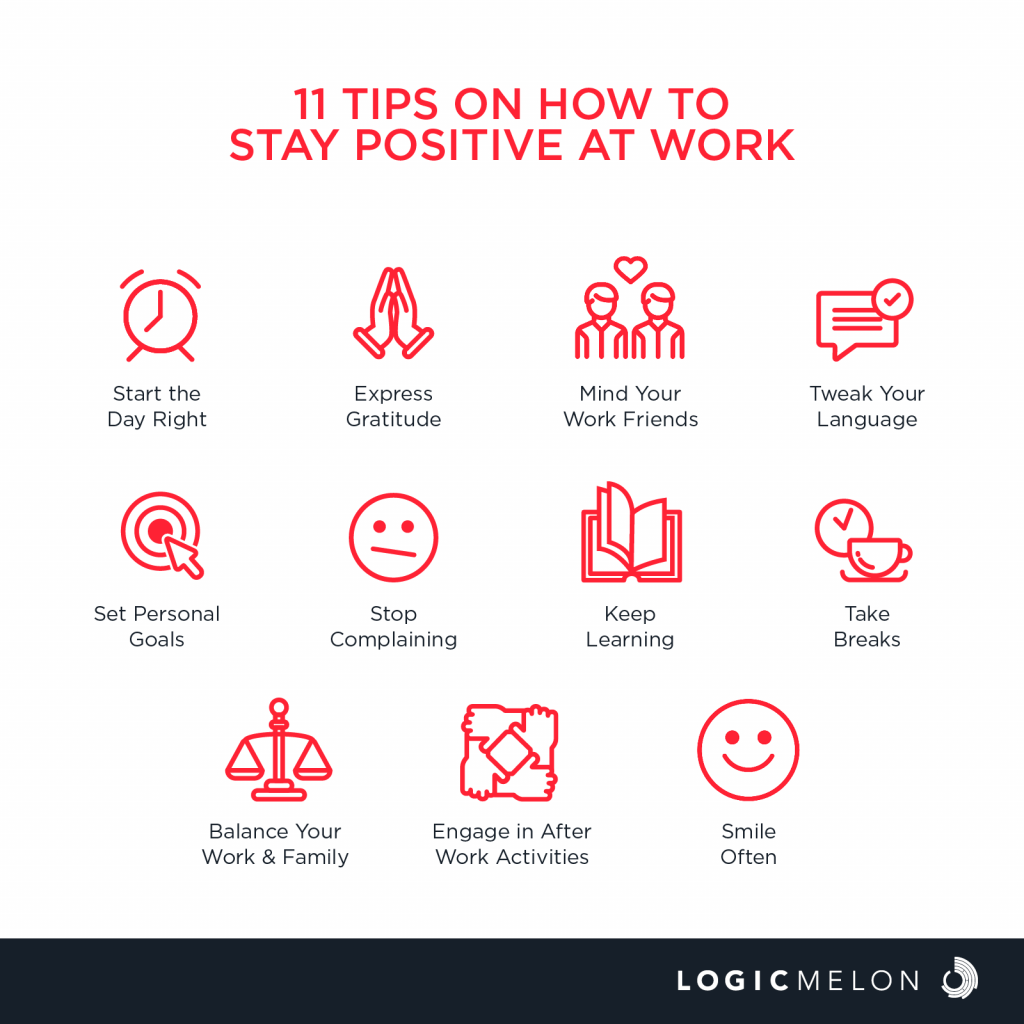 1. Start the Day Right
After waking up and before going to work, the time you spend here is the most crucial part of setting the tone for the day. Try and work on different things to find out which task suits you. It might be jogging, going for a walk, cold showers, reading a book, or anything suitable to get you in a positive mood.
Avoid tasks that bring down your mood in the morning. The mood you set will carry on through the entire day. Spot the habits that put you in a stressful situation and cut them out. Rather than removing a bad habit, it is easier to replace a bad habit with a habit that puts you in a positive mood.
2. Express Gratitude
To stay positive at work, you should start by expressing your gratitude. When a co-worker helps you achieve a difficult task, express your appreciation with a thank you note. This can keep you happy, while acknowledging the employee who helped you.
To continue with this positive attitude, you should carry this habit forward with all the employees. Appreciating an employee can put both of you in a good mood and improve your relationship.
3. Mind Your Work Friends
It is important to have a healthy relationship with everyone in your organisation. There is no doubt about that. Even more importantly, you need to mind the company you keep at your workplace. This can have a direct effect on your attitude and your outlook.
Hang around with cheerful people. This can make your work life easier and can help you develop a positive attitude. This does not mean that you avoid the people you consider negative altogether . It means that you choose the people you spend your free time with at the workplace wisely.
4. Tweak Your Language
Our language is an expression of our thinking. Practising positive language can greatly affect our thinking. It influences the way we see the world. As such, enforcing positive words in your life can help you stay positive.
It is also essential to stay mindful of the words you think. They, too, have a similar effect. Stay mindful of the words you use and look positively at the world.
5. Set Personal Goals
Setting goals for yourself and getting them done, no matter how small, can give you a sense of achievement. You can also reward yourself for every significant milestone you achieve in your personal goals. Tracking the progress on your goals and slowly taking steps forward can make you stay positive at work.
Make sure that your rewards are not too distracting from your goals. Also, keep in mind to set realistic goals and a realistic timeline. This will ensure that you can achieve your goal in the given time.
6. Stop Complaining
The situation in the workplace will not be ideal all the time. There are bound to be challenges and hardships that make it difficult to carry out your work. Complaining about the situation will only fuel your negative attitude toward the problem.
Instead of complaining about the situation, it is better to look at it as an opportunity. The way you look at the situation makes all the difference, and when you stop complaining, you can start to see things differently.
7. Keep Learning
The best way to learn something new is by experience. Learning something new while you are on the job is the best way to gain knowledge and build your resume. Employees must always engage in constant learning to stay competitive in their domain.
Suppose you do not have an idea of what to learn. Consult with a co-worker as they might know what new skills you could pick up. Try to learn from your peers as everyone has something to offer. Make sure you appreciate them and spread positivity.
8. Take Breaks
Sometimes when things get overwhelming at work, taking a short break can help you to relax. Constantly going on with your duties without rest can make you underperform and become the reason for your stress.
It is also necessary to break your routine occasionally and go on a vacation once in a while. This can help you recharge and prevent you from getting burnt out. To stay positive and give your best, you need to rest appropriately.
9. Balance Your Work and Family
Life is all about finding the perfect balance between multiple things you wish to handle. It does not help to always focus on the work, especially when it is after office hours. You need to spend time with your family and friends, focus on yourself and engage in your hobbies.
To stay positive at work, it is necessary to have a balanced life. This does not mean you do not take responsibility. It means that you compartmentalise your everyday life and your work. This can help you feel excited to go to work every day.
10. Engage in After Work Activities
It is important to cultivate friendships with your co-workers. With the many tasks at your workplace, it might not be ideal to talk with your work friends at times. To counter this, plan out after-work gatherings.
This will help you get to know everyone better, and since it is after work hours, you can understand them better and develop a bond. In a friendly workplace, it is easier to stay positive.
11. Smile Often
You should not stop at just staying positive. It is good to spread that positivity to everyone around you. The act of smiling can improve your mood and with your peers. Smile when you greet your co-workers. Try to make it a constant habit even when you don't feel like it. This can radiate as happy thoughts in the workplace.
Final Thoughts
Staying positive in the workplace is necessary to build positive energy in your workplace. This can make you look forward to going to work every day, and develops a good company culture that keeps everyone in the organisation engaged.
LogicMelon
Award-winning recruitment software that will find, attract, hire and analyse the way you want to work. At LogicMelon, we have experienced software recruitment marketing specialists to help you build effective recruitment solutions supported by the best customer service you'll find anywhere!
Email: sales@logicmelon.com or call LogicMelon (UK) +44 (0) 203 553 3667 (USA) +1 860 269 3089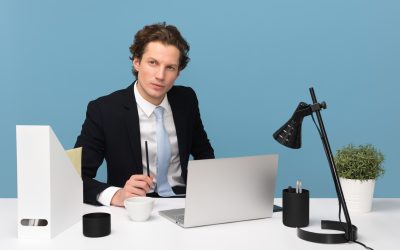 Recruitment crisis management requires adaptability, strategic thinking, and a proactive approach to address talent shortages and avoid disruptions.
read more
Love what you're reading?
Subscribe today and get insights straight to your inbox