AI Recruitment: A Comprehensive Guide for Recruiting
AI recruitment technology enables recruiters to utilize their applicant tracking systems (ATS) better, allowing them to employ more quickly, make more accurate shortlists, and screen resumes more fairly. The ecosystem of HR technology includes, crucial components like AI for recruiting solutions.
What Is AI Recruitment?
AI recruitment is the process of using artificial intelligence (AI) to automate the entire recruiting process from start to finish. AI is the science that involves training machines to carry out human-like tasks, so that some tasks can be automated. This offers a variety of approaches to automate, and streamline the hiring process, enabling talent acquisition professionals, and hiring managers to spend more time where the talent acquisition process requires human participation, and less time on time-consuming, repetitive, and manual tasks.  
AI-powered technologies directly linked to the ATS bring talent intelligence to the hiring process by automatically screening thousands of resumes and reducing time-consuming manual processes.
What Role Does AI Play in Recruitment?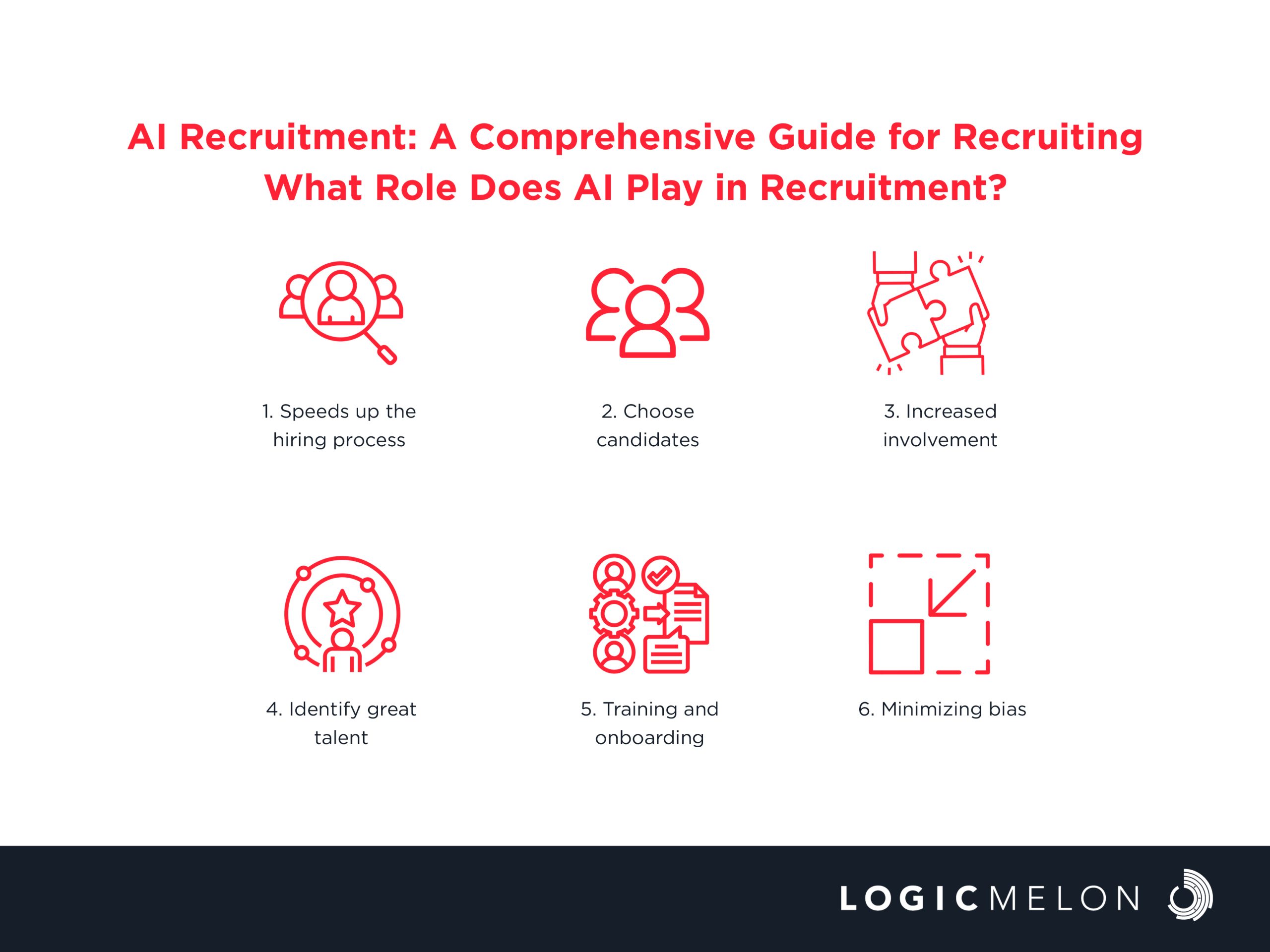 1. Speeds up the hiring process
Businesses no longer receive a regular stream of applications from ideal prospects knocking on their doors. If your hiring procedure is ineffective, you risk losing top candidates to the opposition. The fewer proposals you face in the recruitment process, the easier it should be for you to obtain excellent people.
AI recruiting software helps hiring teams find the top applicants quicker, and expedite the process. Employers may increase hiring speed without compromising hiring, considering AI-powered video interviewing technology, which makes it quick and easy to compile, and evaluate interview feedback across the hiring team.
2. Choose candidates
Although sourcing applicants is essential in the recruiting process, recruiters shouldn't devote all their time to it. Requisitions remain open for longer because sourcing is a laborious and time-consuming process, and recruiting teams face the risk of making poor hiring choices.
By using AI technology, recruiters can automate the labor-intensive process of manually sourcing, and shortlisting quality applicants. Recruiters may quickly select the most qualified individuals using AI recruitment tools to analyze resumes, and conduct keyword-based searches.
3. Increased involvement
Nobody wants to feel like a faceless cog in the hiring process. Recruiters may build stronger relationships with candidates, and provide a better experience by designing hiring procedures that are both scalable and effective. Recruiters and hiring managers can learn more about each prospect by employing AI recruiting tools that can understand interview exchanges.
4. Identify great talent
Not only is it expensive to hire the incorrect people, but it may also negatively affect confidence, output, and profits. Unfortunately, it's a mistake that many people make. Employers can enhance their capacity to identify and select the most suitable candidate from a pool of candidates by using AI-powered recruitment tools.
In addition to conducting interviews that result in stronger hiring, AI can assist recruiters in automatically sorting through hundreds of resumes to identify the most qualified candidates for the position.
5. Training and onboarding
When new employees start working for an organization, they usually receive an induction manual to study, and a training schedule for the first few weeks. With the aid of artificial intelligence (AI), these can be presented in more inventive ways.
The worth of the participant and, subsequently, the firm increases with the development of interactive training programs. If people can visualize ideas, and live out an experience, they learn far more effectively.
Apps can also encourage better teamwork by enabling employees from various offices to participate in training sessions to advance their skills.
6. Minimizing bias
Even though we're not always conscious of them, we all have biases. But, if left unchecked, implicit bias, sometimes referred to as unconscious bias, can easily enter into the recruiting process, and prevent employers from finding the best applicant for the job. Businesses are aware that bias needs to be lessened during the talent acquisition process in order to prevent bad hiring choices, legal issues, and a lack of diversity.
Benefits of AI Recruitment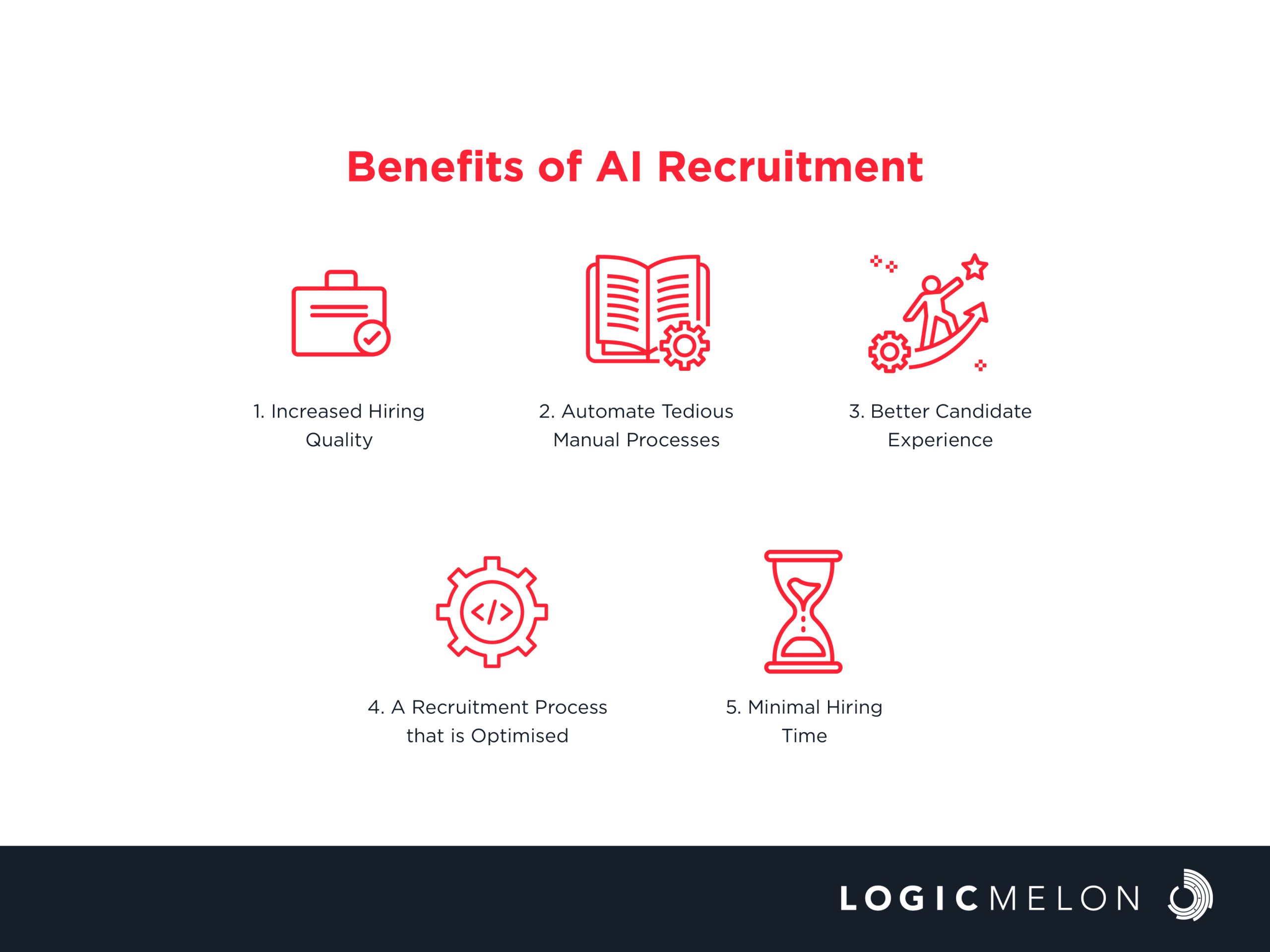 AI has a big impact on how we recruit, hire, and retain personnel. This is because of the benefits that are already in place, and the potential results. These are a few advantages of AI in hiring:
1. Increased hiring quality
The initial candidates you draw in with your job posting determine the calibre of your applicants. You'll find yourself sorting through semi-qualified prospects in the hopes that one of them can meet your needs if you can't excite quality contenders about your available position. Numerous ways in which incorporating AI into your hiring procedure might help you raise the calibre of your candidates.
2. Automate tedious manual processes
Slow manual jobs are the last thing you want to deal with because you already have your hands full, attempting to organise interviews and screen applicants, as well as try to comprehend the always changing demands of your team. It may be used to automate many repetitive operations that take up your entire day. By employing scheduling software or automated resume reviewers, you may ensure things get done without taking time away from your busy schedule.
3. Better candidate experience
Now, using AI is advantageous for more than just you and your team. In actuality, using AI in your selection process is also helpful to candidates! Many of the AI technologies used in recruiting are created to simplify life for all parties involved because the candidate experience is a crucial component of the interview process. Job seekers and applicants are more motivated to stay involved with your company if they can quickly and easily find the solutions, and information they need.
4. A recruitment process that is optimised
You need your recruitment procedure to run like a well-oiled machine in order to hire the best talent. Top candidates can get lost and end up with your competitors if some sections start to creak. You must keep an eye on the larger picture to ensure you're taking the proper candidates through the entire process, and making it as efficient as possible. You can get this eye from AI. AI is ultimately just data. Numerous artificial intelligence-based tools gather data, and present it to you in ways that are informative.
5. Minimal hiring time
Efficiency in hiring has always come with certain drawbacks. While you want to hire the best person for your available position, you must also fill it as fast and affordably as possible. Depending on the role you're attempting to fill, other team members may have to shoulder additional duties that make them less satisfied with their work.
Frequently Asked Questions
1. What function does AI serve in the applicant tracking system (ATS) for recruitment?
An application tracking system (ATS) is priceless for recruiters. By avoiding manual and repetitive activities, it saves them a huge amount of time. The HR department is the unofficial backbone of the business. If effective, it may result in high-quality hires that can significantly impact the business.
ATS better guarantees AI for hiring than by anybody else. Because of this, some AI recruiting tools uses technology that is powered on several levels.
2. What is the future of AI in recruitment?
Automated artificial intelligence is most certainly the way of the future in the hiring process. In order to locate the top candidates for a position, resumes and applications are sorted using AI. The recruitment process could be speed up and made more effective with the usage of AI in this way.
3. When was AI first used in recruitment?
Despite the fact that artificial intelligence has a long history that dates back to antiquity, several blogs and articles started focusing on AI's role in recruitment in 2017. The debate around the possible applications of AI in recruitment turned into something of a maelstrom that engulfed numerous HR conferences.
Closing Thoughts
In order to make recruitment more effective, technology professionals are increasingly turning to artificial intelligence (AI). This trend may soon become widespread. It is clear how AI may be used to make the hiring, onboarding, and recruitment processes quicker, simpler, and more equitable. The human touch is still important and cannot be wished away from the hiring processes, despite how much AI is transforming the recruiter role from as we currently understand it.
LogicMelon
Award-winning recruitment software that will find, attract, hire and analyse the way you want to work. At LogicMelon, we have experienced software recruitment marketing specialists to help you build effective recruitment solutions supported by the best customer service you'll find anywhere!
Email: sales@logicmelon.com or call LogicMelon (UK) +44 (0) 203 553 3667 (USA) +1 860 269 3089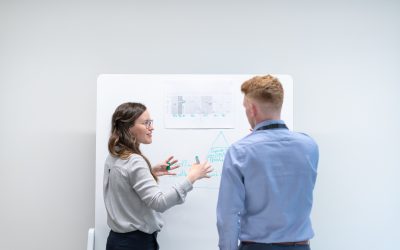 Establishing HR KPIs is key to unlocking the full potential of your company's human capital. Read the blog to know more.
read more
Love what you're reading?
Subscribe today and get insights straight to your inbox