What is Candidate Attraction
Candidate attraction is an important step when it comes to the recruitment process. When recruitment agents find a new candidate, the hiring process starts with candidate attraction. The candidate goes through the application process if agents build a rapport with them.
There are tools and techniques for better candidate attraction. We will discuss all of the necessary steps, tools, and techniques you can use to get the perfect professional for a role. Let's get to it!
Is Candidate Attraction Needed for Recruitment?
Upon finding a candidate on LinkedIn or other recruitment platforms, the first thing to do is to get their attention. This way, the candidate sets his/her eyes on your job offering. Candidate attraction plays a crucial role in setting the first impression for your company. Why?
As a recruitment agent, learning the proper ways for candidate attraction is crucial.
Without this step, your company can lose grip on your talent pool. Job applicants are fluid and can change their minds when another company gives a better offer. That's why securing them with proper candidate attraction techniques can be a turning point.
Normally, top-notch talents would want to receive more from the company they're applying to. Now, let's talk about the techniques you can employ to secure potential candidates for the job.
Candidate Attraction Techniques That Help You Secure Job Applicants
To secure job applicants, recruitment agents should be competitive with their candidate attraction techniques. Showcase something tangible to the applicants. A simple promise won't suffice.
Follow these effective candidate attraction strategies to secure new hires.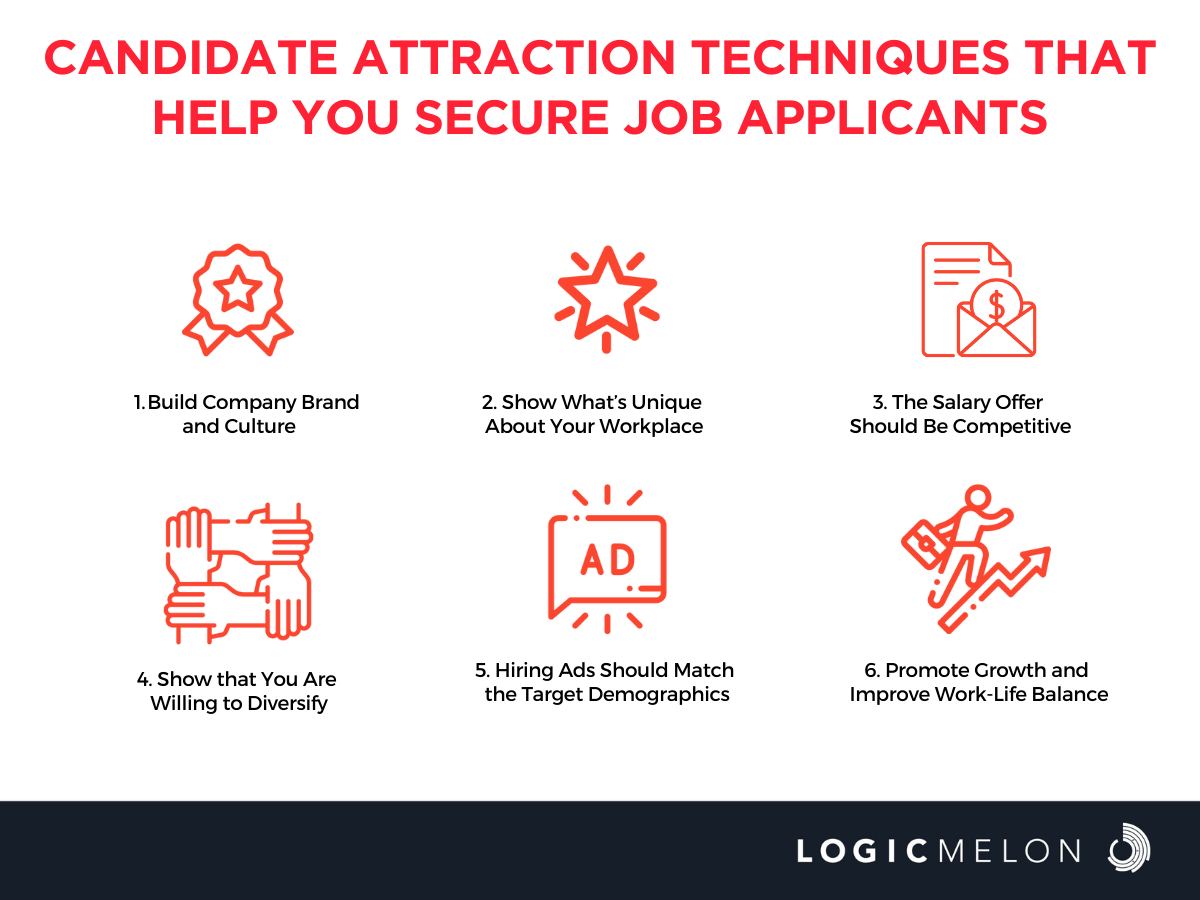 1. Build Company Brand and Culture
A company with good branding automatically attracts candidates to apply for different work positions. That is if you have already established your company brand in your niche. If not, you should aim to improve company branding and culture for better candidate attraction.
Establish a company brand and culture, it should start with the internals. Good internal communication makes employees feel heard. This rapport between employees emanates outward, making applicants more interested in what your company has to offer.
2. Show What's Unique About Your Workplace
Your workplace should have unique inclusions to attract job candidates. Whether it's the unique pantry, the pet-friendly workplace, or the advanced technology, you should include it in the benefits. Even if it's something small, show them that your workplace is comfortable to be in.
A unique workplace can pique the interest of your candidates. Make your workplace a homey and comfortable place to work in, even if you're in a work-from-home setup. This shows that your company is concerned about the wellness of its employees.
3. The Salary Offer Should Be Competitive
Most job candidates ask for a salary offer during interviews. If your salary is way below the expected salary of the candidate, it's a huge turn-off. Show your candidates that you are ready to provide a competitive salary that matches their future workload.
However, there should be a limit when it comes to salary offers. Don't just match the candidate's salary expectation if it's too high for the job description. Offering the right salary is a more responsible thing to do than blindly approving salary expectations.
4. Show that You Are Willing to Diversify
Research shows that the majority of employees (even candidates) will leave if the company is not open to diversification. Some candidates directly ask if a workplace promotes diversity. Make sure you're ready to answer this question when it pops up.
If candidates cannot see a hint of diversity as early as the application process, chances are they would ditch your company. Diversity, equity, and inclusion should be practiced all the time, not just for candidate attraction.
5. Hiring Ads Should Match the Target Demographics
When it comes to talent acquisition, placing the right ads on the right channels can improve candidate attraction. Your talent pool should relate to the hiring ads that you post on LinkedIn, Jobseeker, and other job-hunting tools.
First, you should know the target demographics for your ideal job candidate. If you are aiming for candidates between the ages of 25-35, your ads should cater to Gen Z and millennials. The ads should appear on other media platforms aside from recruitment apps.
6. Promote Growth and Improve Work-Life Balance
Candidate attraction is only one of the benefits that this technique can bring to your company. This change can also bring employee satisfaction, retention, and loyalty. A balanced and healthy workspace that promotes growth can make job applicants look up to your company.
This can also improve employee referrals because applicants will see that your company cares for the employees.
Wrong Candidate Attraction Strategies Can Drive Applicants Away
You might think you're doing it right, but in reality, your strategies can drive applicants away. This could lead to lost candidates and increased employee turnover. This won't help in terms of candidate attraction.
Thus, we're including a list of wrong candidate attraction strategies. Compare if your onboarding strategy is included in the list.
The Application Process Is Too Long
When you're screening applicants, you'd go through the nooks and crannies thoroughly. However, don't forget that the application process is a two-way street. You have to consider the time of the applicant as well.
Keep a record of how many candidates go through the application process (and how many leave during the process). This can indicate if your application process affects the whole hiring process. 
Here are some tips to optimize your application process:
Request a CV.

Send a one-page application form.

Upload forms and optimize for mobile friendliness.
Candidates Don't See a Future with Your Company
If you're expecting something from your applicants, it's only fair to provide them with something to look forward to.
Candidates should see that you're concerned about internal promotion for higher positions instead of hiring new people. This way, the applicants can set a goal to achieve if they want a promotion.
Your Compensation Package May Seem Lacking
A compensation package should include the following:
Salary grade or pay rate.

Insurance.

Bonuses.

Scheduling and overtime.

A savings plan.
The compensation package should be enough to make the applicant feel secure about the job. Make sure you provide bonuses and overtime pay to make them feel well-compensated for their hard work.
You're Not Actively Searching for Leads
When you need candidates, you should also actively search for them. Top-notch candidates can be on recruitment agencies, so don't neglect that option. Partner with recruitment agencies and look for candidates to establish a talent pool.
Final Word
Now that you know the dos and don'ts for candidate attraction, you should try it in your recruitment process. Be relentless in your search for the right candidates and eventually, you will find the right person for the job. A proactive candidate attraction strategy can net you many more candidates.
LogicMelon
Award-winning recruitment software that will find, attract, hire and analyse the way you want to work. At LogicMelon, we have experienced software recruitment marketing specialists to help you build effective recruitment solutions supported by the best customer service you'll find anywhere!
Email: sales@logicmelon.com or call LogicMelon (UK) +44 (0) 203 553 3667 (USA) +1 860 269 3089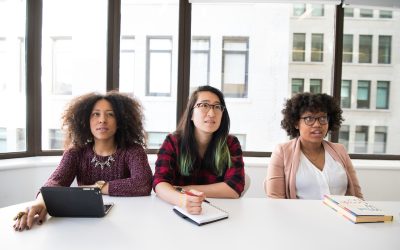 By embracing diversity and fostering inclusiveness, organisations can unlock the potential of their workforce and drive sustainable growth.
read more
Love what you're reading?
Subscribe today and get insights straight to your inbox