How to Fill Job Vacancies Faster (5 Tips)
No doubt about it, recruitment is a time-consuming process. And in a competitive market, with a business needing every advantage, speeding up the hiring process deserves some consideration. Only when you speed up your hiring process can you find more candidates to help you fill job vacancies faster. Thus, reducing your time to hire and your time to fill.
With prolonged job vacancies, productivity takes a hit. Inefficiencies set in, and a business will see lost opportunities. For a business to stay viable, it needs the best and brightest reporting for work.
By attending to certain aspects of the hiring process, recruiters can complete the hiring process in less time. The following are a few such steps to help speed up your hiring.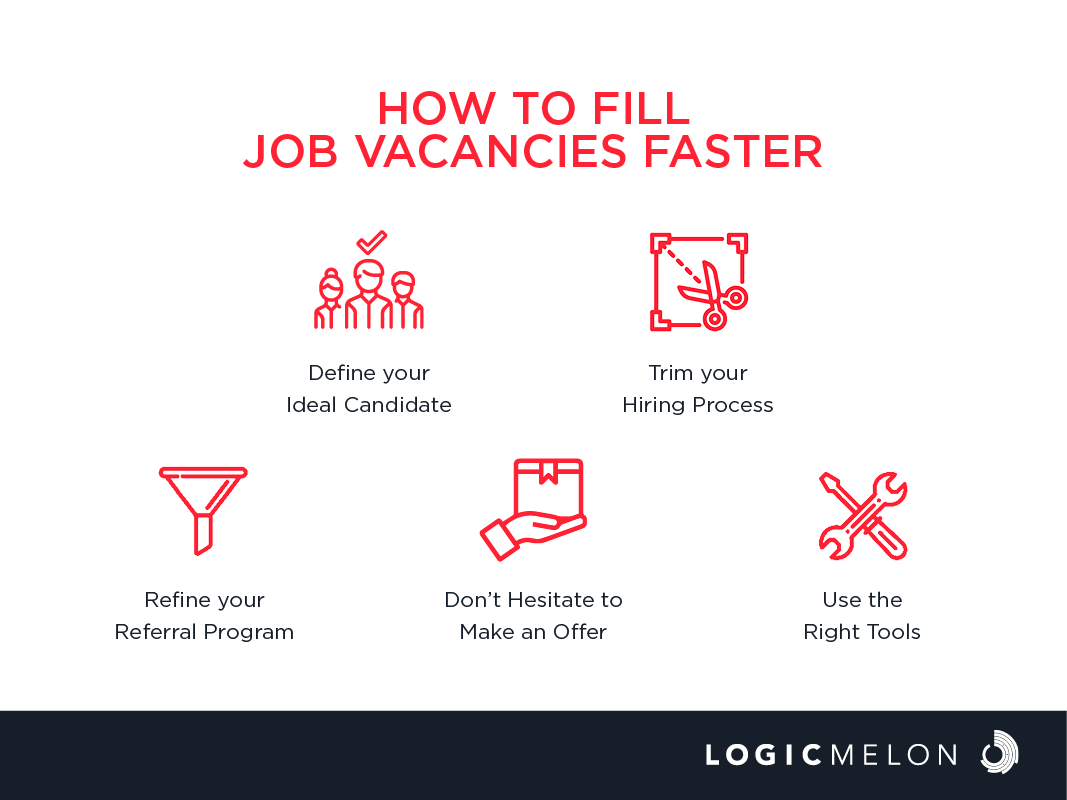 1. Define your Ideal Candidate
As a hiring manager, keep up with your organisation's current and future staffing needs. It will help define your ideal candidate and how they might fit in as open positions present themselves.
It is better to have a candidate persona or at least the ideal candidate you require for a job role. This can only be attained when you have defined your candidate and collected the requirements of the job. Understanding the job helps you to fill job vacancies faster.
Knowing your ideal candidate will help you craft a more nuanced job advert. A clear, directed job description ensures that only the candidates with the required skills apply for your job vacancies, reducing the workload of the recruiters. The more relevant data you include, the easier (and faster) to focus on the best candidates.
2. Trim your Hiring Process
Too many job applicants to choose from might seem like a problem you hope to have. But if your recruitment process requires each candidate to jump through many hoops, it will be very time-consuming for both the candidates and the recruiter.
So instead of lots of little steps, alter your recruitment process by consolidating, even eliminating, the most time-consuming and less productive assessment tools.
Or, shorten the process by increasing the difficulty of an assessment, leaving you with only the most qualified candidates.
Scheduling interviews, analysing the pros and cons of the results, and making an offer to each qualified candidate still standing is nothing to rush through. Try interviewing only a shortlist of the most qualified candidates, shortening the process without jeopardising its integrity.
In some stages of your hiring process, to simplify your recruitment style and fill job vacancies faster, you can make use of tools to automate most of your time-consuming tasks. Tasks such as communication with the candidates, sending messages to the candidates, and assessing the tests can all be automated.
3. Refine your Referral Program
The employees in your organisation already have a strong understanding of your work environment and culture. A solid referral program can use this valuable asset well.
Give your employees a complete candidate profile and make sure they understand the qualities and traits you're looking for in an ideal candidate.
A referral program will assist both the employees and the organisation. A hiring manager will have faster access to candidates who will probably be a better cultural fit. Reward the referrer for scouting out the right candidate with the right qualifications. They have done you a service by tapping into new resources, pre-qualifying and informing potential candidates about the organisation. A strong referral program saves work and makes for a faster hire.
4. Don't Hesitate to Make an Offer
Once you've identified your top candidate, take action before you lose them to another company. They are a hot commodity and will almost certainly have the luxury of choosing between offers.
As a recruiter, you want to avoid last-minute rejections from a candidate. It has taken a lot of time to reach this point, and you want to make it count. Provide your top candidate with a well-considered offer as early as possible. Don't dally.
Make an offer and stay open to negotiation. Engage with the candidate. Find out if anything is delaying a decision. Be receptive and proactive.
5. Use the Right Tools
A recruitment process involves multiple routines, many of which are repetitive, tedious, and time-consuming. While some of these processes are necessary, not all of them are necessarily worthy of your valuable time.
A simple solution is to use a tool, such as an ATS (Applicant Tracking System), to automate many of your hiring processes. Screening your candidates and selecting those who are qualified for your job vacancies takes an inordinate amount of time when done manually. But with AI-powered software to parse through candidates, the entire recruitment process can be fast-tracked.
An ATS provides an end-to-end recruitment solution, starting from posting the job adverts across channels to staying on top of communication with the candidates throughout the process. It not only helps with faster hiring but also helps in providing a better candidate experience.
Frequently Asked Questions
1. What are the recruitment KPIs to track to check the duration of job vacancies?

Time to hire and Time to fill are the metrics that can give you an idea of how long it takes for you to hire candidates for your job opening.

2. How to fill job vacancies faster for your organisation?

To fill job vacancies faster you need to follow the following steps.
Define the ideal candidate for your job role

Streamline your hiring process

Have a referral program in place

Make quick offers

Use the right tools for recruitment

3. How do you trim down your hiring process?
When you trim down the hiring process it is better to remove the stages that seem redundant. Also, it helps to increase the difficulty of certain steps so that the candidate count is reduced.
Conclusion
The recruiting process is always challenging. Usually, jobs needed to be filled yesterday. And every day a position remains open is a day of unrealised potential. Experiment with various methods to speed up the process. Different job openings require different tactics to improve the hiring process, so keep your focus on the quality of your candidates. Streamlining your recruitment process will help you fill your job vacancies faster.
LogicMelon
Award-winning recruitment software that will find, attract, hire and analyse the way you want to work. 
At LogicMelon, we have experienced software recruitment marketing specialists to help you build effective recruitment solutions supported by the best customer service you'll find anywhere!
Email: sales@logicmelon.com or call LogicMelon (UK) +44 (0) 203 553 3667 (USA) +1 860 269 3089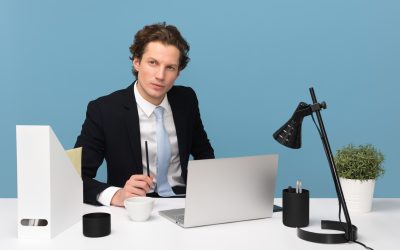 Recruitment crisis management requires adaptability, strategic thinking, and a proactive approach to address talent shortages and avoid disruptions.
read more
Love what you're reading?
Subscribe today and get insights straight to your inbox