Why Cloud-Based Recruitment is the Future
In the ever-evolving world of business and technology, cloud-based recruitment helps to be effective and efficient in the whole recruitment process. It unleashes a new era of efficiency, agility, and collaboration.
Cloud-based recruitment has digitised the recruitment process and made the hiring process easier. It makes the recruitment process more flexible, effective, and cost-efficient. The digital age continues to reshape how we think, connect, and innovate. Traditional recruitment methods could be improved with virtual efficiency, accessibility, and collaboration.
Virtual recruitment has become eco-friendly, reducing paper usage and carbon footprints. Ultimately, this evolution towards cloud-based recruitment will streamline the hiring process and contribute to a more inclusive, diverse, and globally connected workforce. Also, recruiters using automation fill 64% more job vacancies. 
 In this article, learn and explore how cloud-based recruitment will guide itself into the future.
What is Cloud Recruitment?
Cloud-based recruitment, or cloud recruiting, is an approach to the recruitment process that leverages cloud computing technology to manage job applications, resumes, and other recruitment-related activities. Cloud-based recruitment manages the recruitment process and hiring activities through a web-based application. This software allows companies to save time, reduce costs, and improve overall efficiency. Therefore, companies prefer cloud-based recruitment software to streamline and make hiring more efficient.
Features of Cloud Recruitment
Cloud-based recruitment has become increasingly popular among organisations of all sizes and reduces the manual process. From job posting to candidate communication and resume parsing to performance analytics, every aspect of recruitment is done through cloud-based recruitment.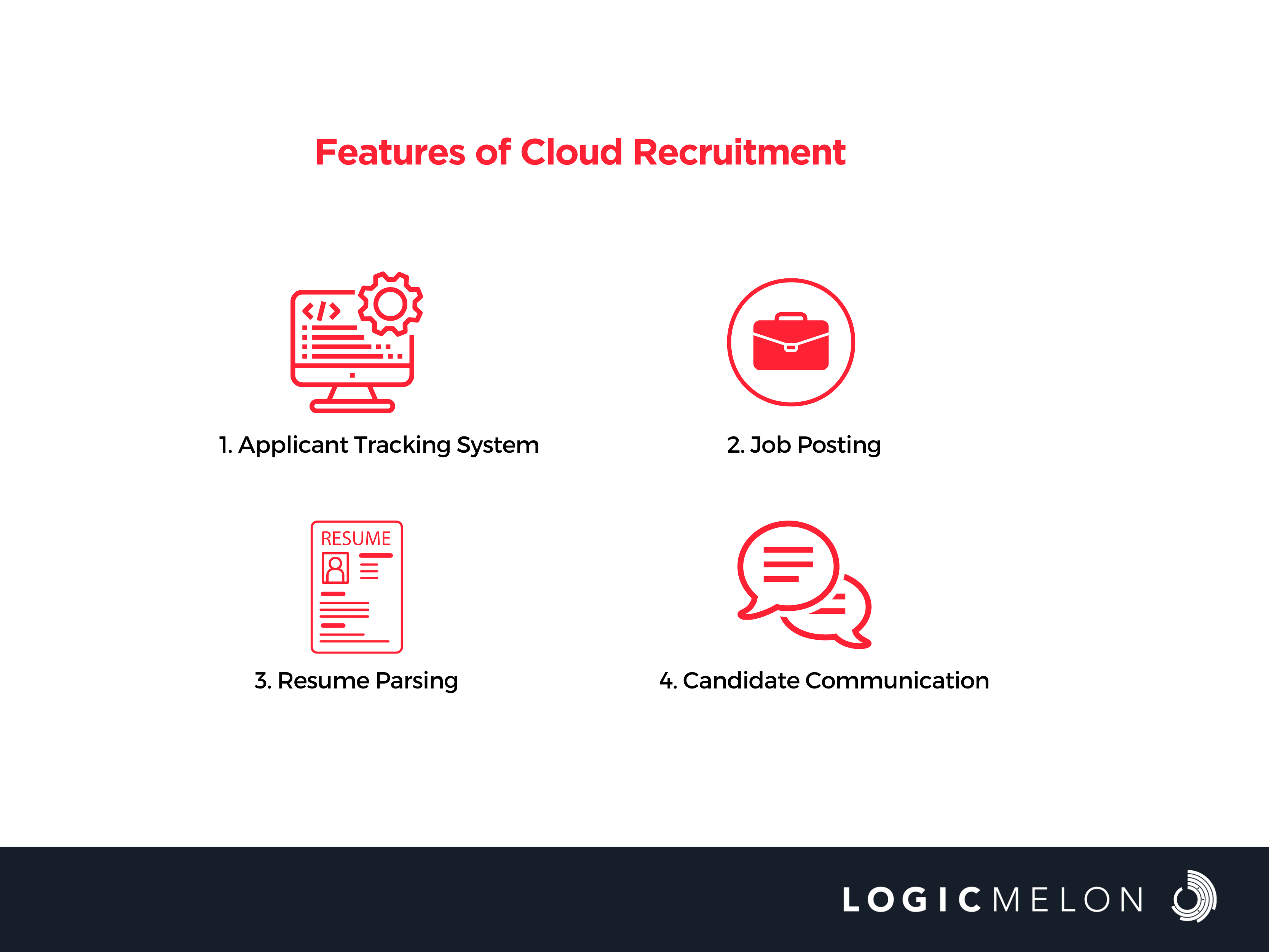 1. Applicant Tracking System
The primary feature of cloud recruitment is an applicant tracking system. It allows recruiters to track the progress of candidates through the hiring process. The process includes monitoring the application status, candidates' stage in the recruitment pipeline, and communication history.
2. Job Posting
Job posting is an essential feature of cloud-based recruitment software. Gone are the days of tracking job ads on notice boards. Cloud-based recruitment empowers recruiters to create, customise, and distribute job postings through various channels. This feature helps save time and reaches out to wider audiences. A well-structured job posting will speak directly to the ideal candidate, pique their interests, and resonate with their aspirations. Organisations can connect with talent worldwide, expanding their reach and diversity.
3. Resume Parsing
Resume parsing also helps recruiters scan and extract relevant information such as contact details, education, and work experience. Customise the parsing rules based on specific domains or industries to ensure an accurate interpretation of keywords and terms. Cloud-based systems can extract relevant information from resumes, transforming the data into a structured format. It boosts efficiency and data accuracy.
4. Candidate Communication
Cloud-based recruitment also comes with candidate communication tools to communicate effectively with the candidates regarding scheduling interviews and sending messages through a personalised platform. This feature will help candidates track their application process and save time through its accessibility.
They also transform routine interactions into meaningful engagements, ensuring candidates feel valued, informed, and connected throughout the journey. By leveraging cloud-based technology, organisations can create a conversation that resonates with their candidates for lasting relationships.
Advantages
1. Accessible Anywhere
Cloud recruiting software helps you access data and information from anywhere in the world at any moment. With cloud-based recruitment software, you can easily access candidate information, job postings, and communications with clients.
2. Streamline the Workflow
Using recruitment software helps streamline the workflow and eliminates the risk of manual entries. By automating tasks such as resume parsing and scheduling interviews and follow-ups, the recruiters free up their time and focus on building connections with candidates and crafting a tailored experience.
3. Increased Collaboration
Cloud-based recruitment helps the teams collaborate and communicate effectively. The recruiters, hiring managers, and candidates can contribute their unique perspectives to create a harmonious composition that leads to informed decisions.
4. Enhanced Candidate Experience
Cloud-based recruitment helps allow for more personalised and interactive candidates. Having their own profiles will help the candidates know about the status of their applications and stay up-to-date and engaged throughout the recruitment process.
5. Cost-Effective
Cloud recruiting software is a cost-effective solution for recruitment agencies without any need for expensive hardware. IT infrastructure is a more affordable option for the allocation of resources and investment in the area of business.
Frequently Asked Questions
1. How can I ensure data security while using cloud-based recruitment software?
When using cloud-based recruitment, ensure they have data security measures to protect information. Ensure the cloud-based recruitment software uses end-to-end encryption, multi-factor authentication, and security measures to protect the data. 
2. What is the purpose of cloud-based recruitment?
Cloud-based recruitment is intended to streamline the recruitment process for businesses and provide a centralised platform for job posting, applicant tracking, interview scheduling, and communication with candidates. It provides a virtual stage for recruiters and candidates to engage in real time.
3. What are the benefits of using cloud-based recruitment?
The benefits of using cloud-based recruitment are accessibility, collaboration, automation, real-time updates, and cost-effectiveness. Cloud-based recruitment facilitates two-way communication. The candidates can respond, ask questions, and provide feedback, fostering a positive candidate experience.
Cloud-Based Recruitment: Shaping the Future of Hiring
Cloud recruiting software has become an essential tool for organisations looking to streamline their processes, improve collaboration, and increase the productivity of human resources. Cloud-based recruitment has increasingly become popular among organisations looking to optimise the hiring process. Additionally, with cloud-based recruitment, the hiring teams can access the candidate's information and communicate with potential hires from anywhere, anytime, and on any device with an internet connection.
Whether it is about incorporating AI for better candidate matching or integrating with HR tools, cloud-based recruitment ensures that the recruitment process remains at the forefront of innovation. With its accessibility, collaboration, and efficiency, cloud recruitment is poised to lead the way in the future of hiring. So embrace cloud recruitment and watch your hiring endeavours reach new heights of success!
LogicMelon
Award-winning recruitment software that will find, attract, hire and analyse the way you want to work. At LogicMelon, we have experienced software recruitment marketing specialists to help you build effective recruitment solutions supported by the best customer service you'll find anywhere!
Email: sales@logicmelon.com or call LogicMelon (UK) +44 (0) 203 553 3667 (USA) +1 860 269 3089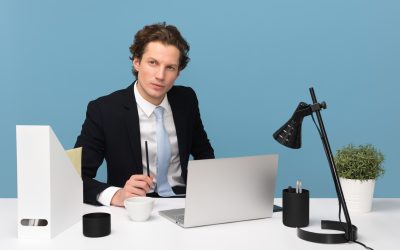 Recruitment crisis management requires adaptability, strategic thinking, and a proactive approach to address talent shortages and avoid disruptions.
read more
Love what you're reading?
Subscribe today and get insights straight to your inbox