8 Benefits of Using CRM Recruiting in Your Hiring Process
What is Candidate Relationship Management(CRM)?
Candidate Relationship Management (CRM) will allow you to manage the aspects of staffing and recruiting. This process helps attract top talent and to maintain relationships with the candidates.
This is an affordable software to manage day-to-day activities, manage candidates, and contacts, and share jobs on the website to send and receive emails within the app.
A CRM recruiting has all the features easy to use for maximising efficiency and to allow you for managing and controlling the entire recruitment process.
This provides a platform for managing interactions with existing as well as past and potential candidates. It is to hire great employees with the help of a recruitment CRM.
8 Benefits of Using CRM Recruiting in Your Hiring Process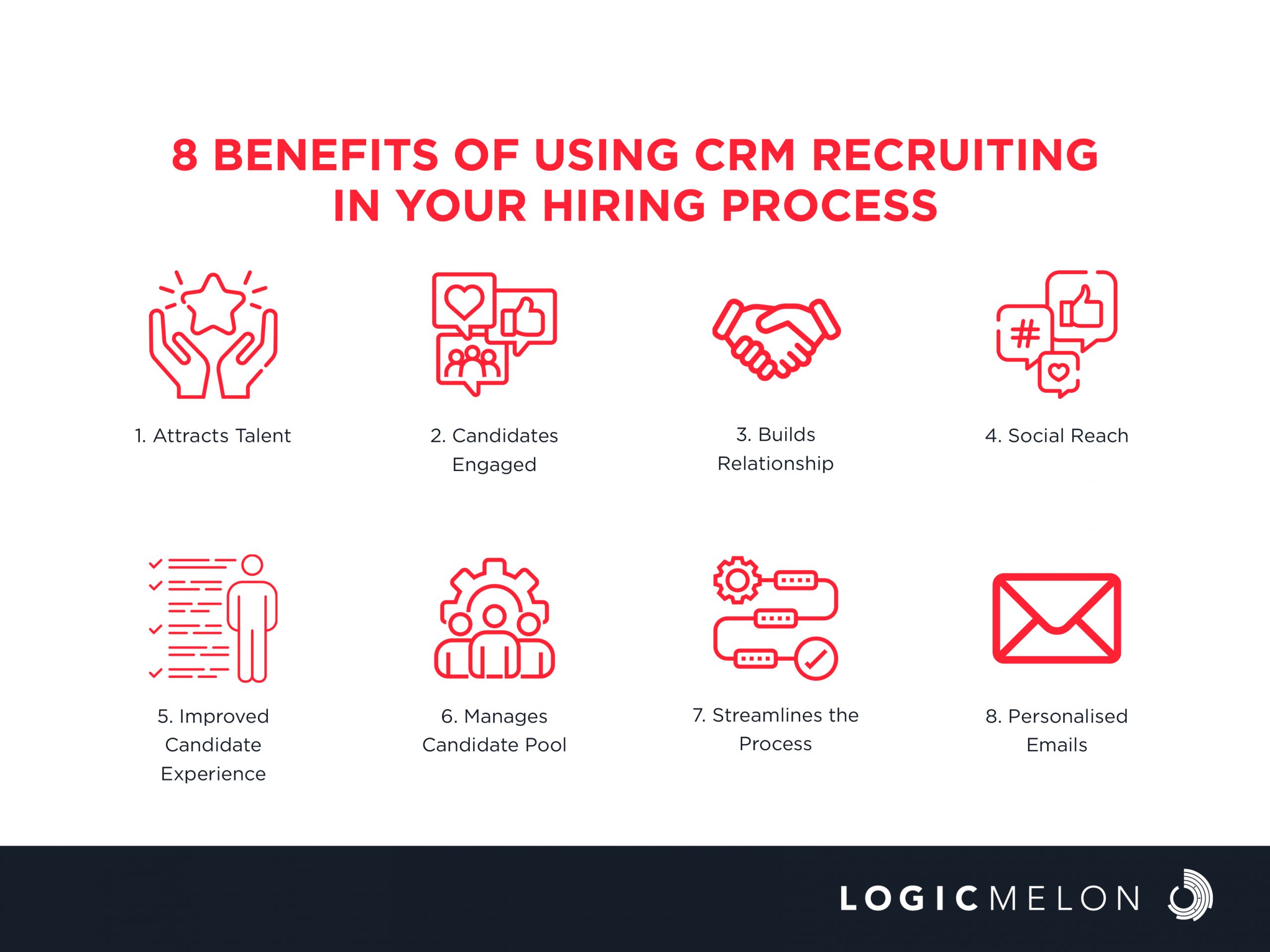 1. Attracts Talent
Recruiting CRM software helps to attract talent pools for the entire recruiting process. A recruiter who needs to attract top talent requires proactive marketing efforts. A recruitment CRM enhances your brand among prospective applicants by improving the ability to hire great employees. A key aspect of attracting top talent is by posting open positions across a variety of diverse channels. The main idea behind candidate relationship management is to treat candidates like customers.
2. Candidates Engaged
The first point of contact between an applicant and the organisation is through the application process. The candidates have to know the updates about their applications to keep them engaged. Candidate Recruitment Management software will help the candidates follow up on the recruitment process by engaging with them. CRM tools help to nurture the candidates and help them to build trust and confidence in the company.
3. Builds Relationship
Candidate relationship management helps to build and maintain relationships with the candidates. Recruiters can organise and automate communication processes with the candidates to encourage candidate engagement for improving the candidate experience. This is the best way to build a strong relationship with the candidate and makes them feel welcomed by the company.
4. Social Reach
Social reach is significant for recruiters to advertise their job openings. CRM software helps you with this process by spreading awareness to potential candidates. The organisation can use social CRM to post and broadcast jobs to your career page, numerous job boards and various social media channels. Recruitment marketing also enhances your brand among prospective applicants which will increase the ability to hire top talented employees.
5. Improved Candidate Experience
CRM improves the candidate's experience engaging them with the business. Recruitment CRM software speeds up the hiring process by improving the pace and quality of conversation. Updating regularly about the candidate's status improves the candidate's experience. A recruitment CRM helps to manage the flow of information that they gather about their candidates. This includes information about the contact details, communication history, and other relevant queries about the status of the application and decisions made by the recruiters.
6. Manages Candidate Pool
Candidate relationship management manages the candidate pool, so recruiters and candidates can understand the status of their application. This will help the recruiters to easily get the candidate data by saving time rather than a manual data entry. A recruitment CRM is an engine to drive the recruitment team by helping to build and manage the candidate talent pool.
7. Streamlines the Process
Candidate relationship management streamlines the recruiting processes and helps to create a hiring pipeline and automates the whole process. The ability to keep track of the progress of the candidates for getting accurate reports on the whole recruitment process is a function of accurate analytics and flexible easy-to-read reports.
8. Personalised Emails
Without CRM software, recruiters would not give updates in timely, relevant and personalised communication with their current and potential future job candidates. A recruitment CRM has built-in features for making it easy for sending out personalised emails and text messages so the candidates have a clear flow of information. These facilitate taking care of all the hiring processes through advanced workflows, automating the emails, job and offer approvals, scheduling for interviews, background checks, digital offer letter delivery and employment screening.
Frequently Asked Questions
1. How is CRM software different from Applicant Tracking Systems?
The difference between an ATS and a recruitment CRM is influenced by aggressive marketing campaigns over the modern years. In reality, a recruitment CRM is an ATS as new sourcing tools have come to the business market, they have begun to refer to themselves as recruitment CRM which is misleading.
2. What are the benefits of using CRM?
The benefit of using CRM is that it saves time for the applicants and recruiters during the entire recruiting process. This software also stores candidates' data and attracts quality candidates.
3. Why CRM is an essential tool for recruiters?
CRM provides data regarding candidates which is essential for recruiters. Candidate relationships allow users to manage relationships that is every aspect of the candidate hiring process, from initial sourcing to the job offer stage.
4. How does a CRM effectively manage a candidate's experience in the recruitment process?
A CRM's main function is to store the data of the candidates. The candidates can get access to these data and will know their status in their recruitment process.
Closing Thoughts
The main reason CRM growing increasingly popular is that it is loaded with features that will help to recruit and hire top talent. The most critical ones are customisable, mobile-friendly for online career pages and applications, automated job posting, employee referral programs, centralised database to manage candidates, automated recruiting email templates, interview scheduling, recruiting database and workflows that drive hiring decisions, background checks and pre-employment screening, hiring process tools with analytics and reporting with digital offer letters.
This makes candidates more inclined towards the offer, encourages employee referrals, and better job application completion rates influence your employer brand, helps to build a reputation in the market, gives a competitive advantage, and a better return on investment.
A recruitment CRM system is an affordable solution for managing day-to-day activities, managing candidates, and contacts, and sharing jobs on the website to send and receive emails within the app. Measure the recruiting performance through comprehensive dashboards, analytics and reports. 
LogicMelon
Award-winning recruitment software that will find, attract, hire and analyse the way you want to work. At LogicMelon, we have experienced software recruitment marketing specialists to help you build effective recruitment solutions supported by the best customer service you'll find anywhere!
Email: sales@logicmelon.com or call LogicMelon (UK) +44 (0) 203 553 3667 (USA) +1 860 269 3089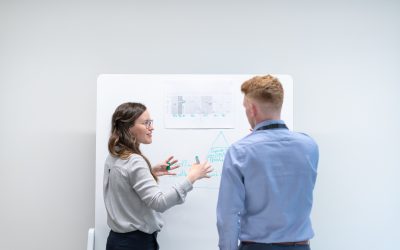 Establishing HR KPIs is key to unlocking the full potential of your company's human capital. Read the blog to know more.
read more
Love what you're reading?
Subscribe today and get insights straight to your inbox