What Is Cultural Change in an Organisation?
An organisational cultural change occurs when the work environment in your organisation is not at its best. These changes are crucial to making your organisation perform at its best.
Culture in an organisation means the values, ethics, and morale that an organisation believes in and follows. It is necessary to bring about a change in the culture of an organisation to keep up with the changing world so that you don't have values that may be outdated. Therefore, to keep up morale and bring a breath of fresh air to your organisation, a cultural change may be the right direction to move forward. 
Importance of Cultural Change in an Organisation
Culture change can help your employees adopt behaviours and values that are aligned with the core values and structures your organisation stands for. When your employees share these values it can lead to an overall improvement in mindsets, teamwork, and production output. 
People who share the same values can work better as a team, therefore, leading to a higher quality of work. This can result in a positive outcome for your organisation.
A culture change brings your organisation to work together as a team, be more effective, and improve the overall workflow. Changes in values, beliefs, ethics, and strategic goals can spark changes to improve on areas that may have been lacking previously. 
What Causes Cultural Change in an Organisation?
The reasons for a culture change in an organisation can be any of the reasons given below:
1. Quality of Work Output
A culture change is a good option to consider when the quality of work is continuously poor. A change in the work environment can boost your employees and give them a fresh perspective. Having a positive outlook and a great work ethic is a powerful combination. It is a combo that can get great results and lead to an improvement in the sales and profits of your organisation.
2. Change in Leadership
A change in the leadership of your organisation means that they may have new ideas and strategies to experiment with. They may have a new perspective and a different take on things compared to what you may have done before. A successful change in leadership can be a great opportunity for your organisation to create a great culture and work ethic.
3. Change in External Elements
Factors that are outside of your control can also be a reason for a change in culture in your organisation. Banking or financial crisis factors that are out of your control can affect your organisation. To recover from such a massive blow, a culture change may be needed. 
4. Change in Employee Mindset
Another reason that a culture change occurs is due to a change in the employees themselves. After a while employees might feel that a change is needed in the workspace and their own values too. Working at the same company for a long time can certainly lead to people wanting change. Thus, a culture change takes place. 
What Are the Benefits of Cultural Change?
The following are the benefits that a culture change can bring to your organisation: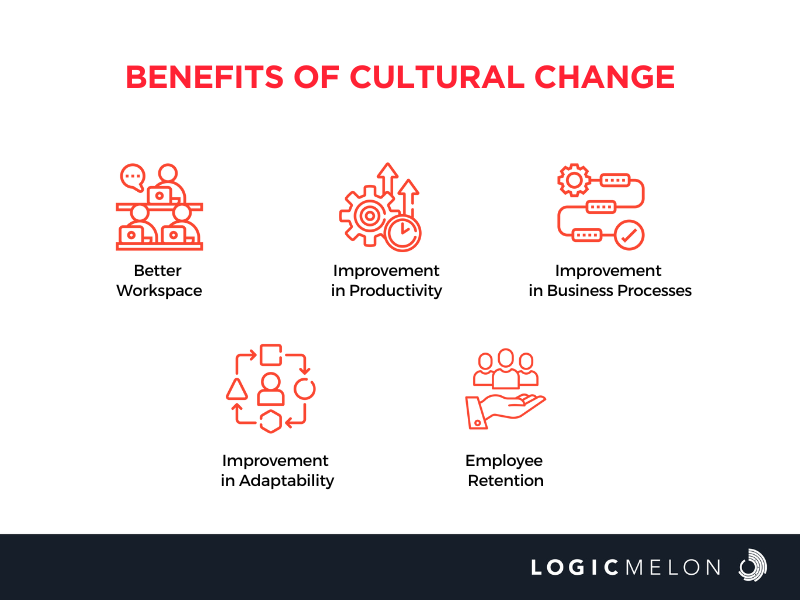 Better Workspace
With the right culture, you can create a great workspace for your employees. The benefit of having a good workspace is that it helps create a space where employees can work without feeling any discomfort with the work they do. Enjoying what you do is a crucial part of any job. 
Improvement in Productivity 
By implementing certain cultural behaviours you can improve the efficiency and performance of your employees. A good culture encourages improvements in the workflow of a business. Employees may be more motivated in an environment that shares the cultural values they possess. 
Improvement in Business Processes
Since a cultural change affects everyone in an organisation, it can lead to improvements in business processes. Employees will likely work with a much better attitude and have a good time doing it.
Improvement in Adaptability
When your organisation becomes used to change, you may be more comfortable with facing issues or changes that may arise. Being able to adapt to unforeseen challenges is an advantage that can be highly beneficial to your organisation. A cultural change can bring many changes to your organisation which can force you to adapt to the situation. It is a quality that can help you easily face any obstacle. 
Employee Retention
A good work culture can make your employees feel like they belong there. Having to work in a place where you genuinely enjoy being is a great advantage. Employees can be happy with the work they do. This can make them stay at the company for a long time. 
How to Implement a Cultural Change
Let's look at some of the ways you can make a cultural change in your organisation.
1. Measure Current Cultural Values
To make a cultural change you must first measure and evaluate the current values and ethics of your organisation. Knowing where your cultural values are can help you assess what changes are needed and track them precisely over a period of time. 
2. Align Culture, Structure, and Strategy
When making a cultural change make sure that the changes you make are aligned with the structure and strategy of your organisation. A culture that works well with the strategy and goals of your organisation is something to keep in mind when making a cultural change. 
3. Ensure Participation of Key Members
Making a cultural change is a large-scale process that requires the involvement of everyone in your organisation. They can advise on the strategies and long-term goals of the organisation, so when you make a cultural change, it is aligned with what they have in mind for the future of the organisation. 
4. Communicate the Change You Need
With a goal in mind on how you want a cultural change to be, make sure to properly communicate that vision. Have a clear image and understand how you can communicate that message. Repetition can ensure the message sinks in. Demonstrate your vision of the desired future in a memorable way. 
5. Evaluate Responses of Everyone
Analyse the emotional response to the change of everyone in the organisation. Try to understand things from their point of view. Is there anything specific that they did not like?
Is there something you could have done better? Get a better understanding and manage their emotions. Make them feel more comfortable adapting to the changes. 
Frequently Asked Questions About Cultural Change
1. Is Cultural Change Necessary?
Yes, a cultural change is necessary because it protects your organisation from any changes in the environment and provides stability in the long run. 
2. Why Is Cultural Change Difficult to Make?
A cultural change is a large-scale process. You are changing the values, practices, attitudes, and goals of an organisation to keep up with the current world. This requires a lot of time and effort to implement. 
3. How Long Will It Take for a Work Culture to Change?
It has been estimated that a change in culture usually takes around 2-3 years to occur. But with a carefully planned strategy, your organisation can become very different in a year.
Conclusion
To conclude, a culture change can create a better environment, which can lead to improvement in the day-to-day lives of your employees. An organisation with a strong culture can encourage more engagement with their employees and therefore produce a better work ethic. 
LogicMelon
Award-winning recruitment software that will find, attract, hire and analyse the way you want to work. At LogicMelon, we have experienced software recruitment marketing specialists to help you build effective recruitment solutions supported by the best customer service you'll find anywhere!
Email: sales@logicmelon.com or call LogicMelon (UK) +44 (0) 203 553 3667 (USA) +1 860 269 3089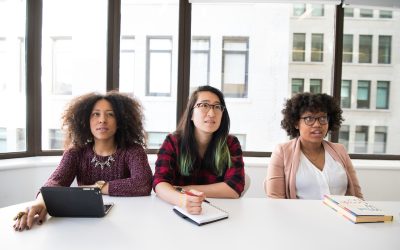 By embracing diversity and fostering inclusiveness, organisations can unlock the potential of their workforce and drive sustainable growth.
read more
Love what you're reading?
Subscribe today and get insights straight to your inbox