How Management Can Help Disabled Employees
Disability is defined as a physical or mental impairment that permanently impairs a person's ability to carry out regular activities in their day-to-day life. It covers both physical and mental disorders. Employing people with disabilities helps spread awareness, regardless of how obvious their impairments are, and they deserve the resources they need to succeed at work. 
Disabled employees have a tougher time finding and keeping work due to technological barriers. To succeed, HR can help impaired workers by improving access to technology, communication, and cross-departmental cooperation.
Why Supporting Disabled Employees in the Workplace Is Important
A workplace gives all employees an equal chance to achieve and advance in their careers, no matter their potential. Disability inclusion encourages secure workplaces, equitable pay for all workers, and respect for people's differences. Also, the following are some of the advantages of disability included:
1. Increased Talent Pool
The chance of employment for those without impairments is three times higher than for people with disabilities. Your pool of candidates automatically shrinks if you don't hire people with disabilities. People with disabilities can provide special problem-solving abilities, cultures, viewpoints, and life experiences to better the workplace.
2. Increased Productivity
Employees with disabilities can enhance customer loyalty, productivity, and absence levels because they can approach problems more creatively and innovatively than employees without disabilities.
3. Improved Retention
Individuals with disabilities frequently seek dependable, steady employment, which leads to higher retention rates than those without disabilities. It is cost-effective for your company because it is less expensive to keep current employees than to hire a new one.
6 Ways to Support Disabled Employees
Hiring people with impairments is less challenging and time-consuming than many firms may believe. Here are some ways to support disabled employees and make sure all of your employees feel welcome there: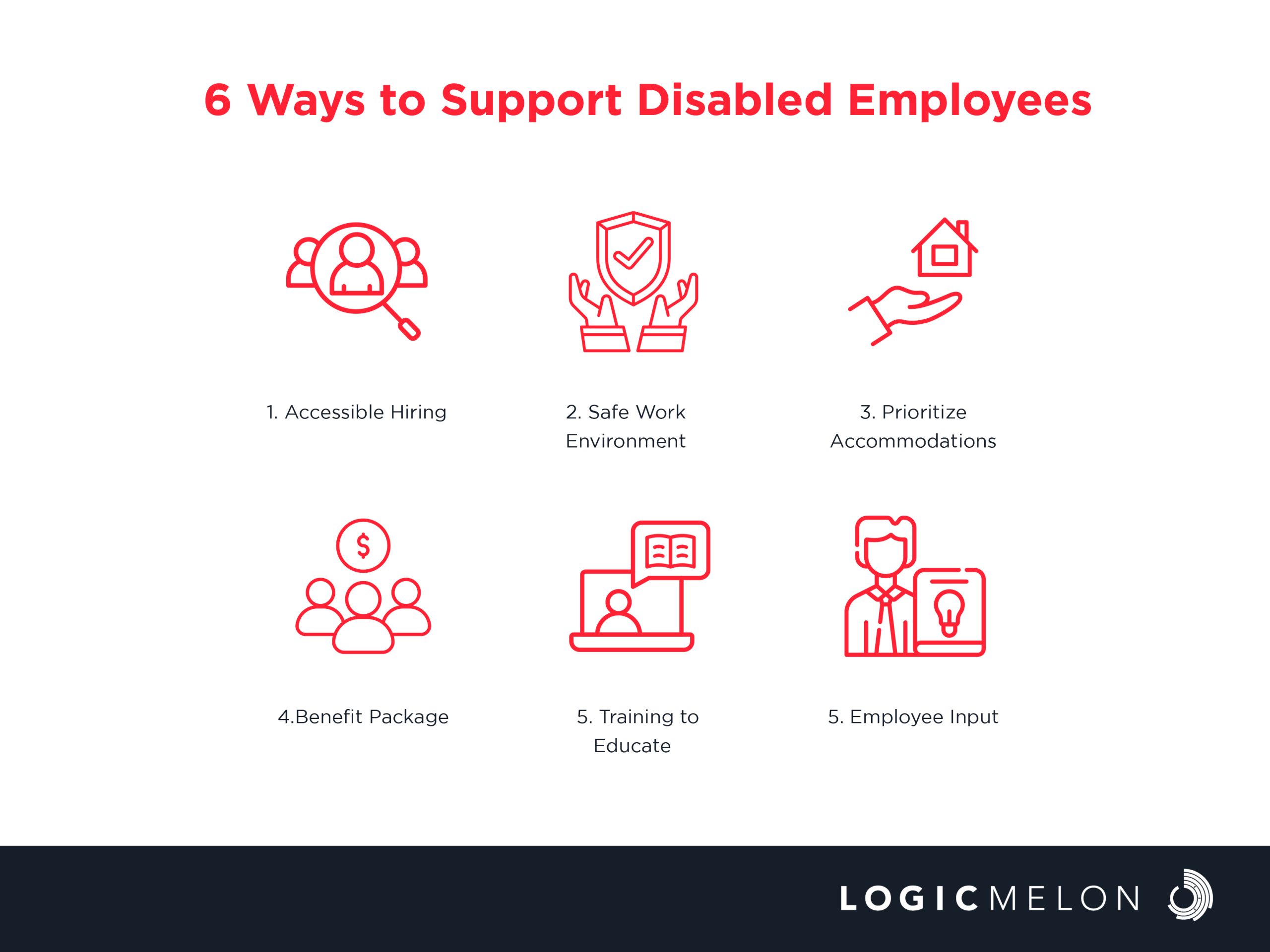 1. Accessible Hiring
Before you recruit disabled people, you should begin to support them. To guarantee that it is accessible for disabled people and to attract the best candidates, your hiring procedure needs to be modified. Provide details in the job description that can encourage people with disabilities to apply, like a commitment statement from your business, a list of workplace accommodations and accessible features, or a list of the disability groups the company supports.
For disabled people, complicated websites, captcha checks, and other features might be difficult. Make sure any documents you access online can read the text aloud by screen readers. Provide copies of your documents in braille and large print when recruiting in person. Make sure you advertise your vacant positions in locations that are accessible to disabled workers. To connect with impaired college students and recent graduates, you can use recruiting programs ad referral programs who wants to enter the workforce.
2. Safe Work Environment
Supporting your employees with disabilities requires making your workplace a safe place. If they feel comfortable expressing their disabilities to their teammates, you can build empathy, and offer resources to advance knowledge and awareness of disabilities. To make them feel safe in your company, include your corporate values, and describe your efforts in your corporate policy.
Offer corporate training to minimize unconscious and conscious bias against disabled people. Create a support network for disabled people. Provide opportunities for disabled workers to get mentoring and career advancement. Inform every employee of the facilities and services offered at your business. If someone doesn't feel comfortable admitting their disability respect their choice and don't force them.
3. Prioritize Accommodations
Depending on your employer's need, you may offer a variety of workplace accommodations. They could also consist of the following:
Purchasing computer screen readers and other assistive devices for people with visual impairments.

For people suffering from neurological problems, providing natural light, noise-canceling headphones, and a quiet workplace.

Using a variety of written and verbal communication techniques for those who are deaf or blind.

Provide a few parking spaces with special designations near the entrance of the office for people with impairments.

Using ramps and elevators instead of steps.

Wheelchair-accessible restrooms should be added.
4. Benefit Package
Include the following supportive benefits in your pay package for disabled workers:
Employee Assistance Programs –

Employee Assistance Programs (EAPs) provide free mental health counseling, referrals, and other services to employees facing personal or professional difficulties. Also, services like financial and legal services can be provided.

Health Reimbursement Arrangements –

This can be used to pay employees' medical expenditures and health insurance tax-free. This is a useful benefit for those with disabilities, especially if they have expensive medical issues.

Disability insurance –

Providing disability insurance is a great benefit. While long-term disability payments begin when your employee's short-term disability period expires, short-term disability insurance normally covers six-week to six-month durations.

Life Insurance –

Including life insurance is a great advantage because getting it can be difficult for disabled workers. Basic life insurance is either affordable, or provided free to the employee. In addition to the primary policy, you can also provide optional life insurance as an additional level of security.
5. Training to Educate
When there are many myths, both unconscious and conscious biases usually arise. Consider holding the following training programs at your company:
A review of the company's policies, the current modifications and accessibility options, and the procedures to be followed in the event of certain emergencies at work.

The goal of the training was to eliminate both conscious and unconscious bias.

Providing American Sign Language (ASL) training for groups and colleagues who work with hearing-impaired people.

Mandatory leadership education on how managers and supervisors can better serve people with disabilities.
Make sure the events are accessible if you are inviting disabled people. A spot to sit and rest is difficult to find in venues with stairs, locations without conveniently accessible restrooms, or spaces that are too small.
Moreover, give workers who require special transportation time to make arrangements, so they can attend the trainings. Consider recording your training for later watching if they are unable to make arrangements.
6. Employee Input
Surveying disabled employees is the best way to learn what they are expecting from you and your company. By gathering their feedback you can identify areas for improvement and accommodations they need. Survey results show your staff how much you respect their opinion and are interested in their perspective. Once you have the feedback, you can proceed with the required actions to enhance the culture and working conditions at your company, so giving your staff everything they require to feel comfortable and work for the best.
Frequently Asked Questions
1. How Do You Manage Employees with Disabilities?
Never treat them like a child, always communicate with them on their level of understanding. Constantly express your appreciation to them, they might not get it enough around them. Always be supportive and help to develop their social skills. Always be respectful and dignified towards the person.
2. What Are the Major Barriers to Employment for Disabled Persons?
The following are the major barriers that people with disabilities face when trying to access career opportunities:
Lack of job opportunities.

Discrimination.

Transportation issues.

Lack of experience.

Negative or demeaning comments.

Misunderstandings.
Closing Thoughts
Whether an employee has a disability or not, management and HR team are responsible for giving them a safe and rewarding workplace. Helping disbled employees extend beyond inclusion. Supporting equal rights for all raises job performance and team spirit, as well as promotes a productive workplace for disabled employees. The company starts by including a number of bonuses in your benefits package if you want to show your concern for impaired employees, and also providing individualised advantages.
LogicMelon
Award-winning recruitment software that will find, attract, hire and analyse the way you want to work. At LogicMelon, we have experienced software recruitment marketing specialists to help you build effective recruitment solutions supported by the best customer service you'll find anywhere!
Email: sales@logicmelon.com or call LogicMelon (UK) +44 (0) 203 553 3667 (USA) +1 860 269 3089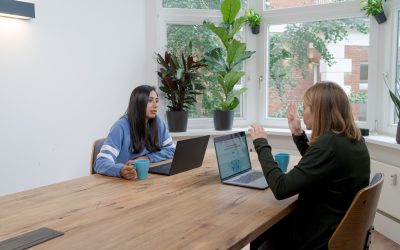 Cloud talent assessments are organised to evaluate the cloud computing skills, knowledge, and capabilities of individuals or teams.
read more
Love what you're reading?
Subscribe today and get insights straight to your inbox