10 Tips For Conducting an Employee Assessment
An employee assessment is an essential process to align the objectives of employers with the employees by reviewing past challenges and celebrating accomplishments and future improvements.
A well-conducted employee assessment helps employers to thrive in their careers and can get better quality work from their team members. Employee assessments can lead to unfair evaluations in which employees are judged not by their accomplishments, but by their relationship with the employer. They can lead to managers giving an underperforming staff member a good evaluation to avoid affecting their relationship with them.
The employee performance review process is important for every organisation but its effectiveness depends on the way they are conducted. A well-conducted employee assessment can help to review employees and identify growth opportunities and potential areas of improvement.
Benefits of Employee Performance Assessment
Potential employees, who have done exceptional work, are offered a promotion on the basis of the result of performance evaluations.

It creates healthy competition between the management and the employees in a way to improve their performance and get better sources than their colleagues.

Managers can use these platforms to get feedback from employees and provide tips on overcoming those challenges.
The Types of Employee Performance Assessments Are:
360 Degree Assessment
The manager gathers information on the employee's performance from questionnaires, supervisors, co-workers, group members, and a self-assessment.
Negotiated Assessment
This type of assessment is used to evaluate the employee's performance. A technique used by the employer to assess employees on what the individual is doing right before giving criticism. This structure is useful during a conflict between subordinates and supervisors.
Peer Assessment
The team members, workgroups, and co-workers are the people who are responsible for rating the employee's performance evaluations.
Self-Assessment
The employees rate themselves in factors, such as work behaviour, attitude, and job performance evaluation sessions.
10 Tips for Conducting an Employee Assessment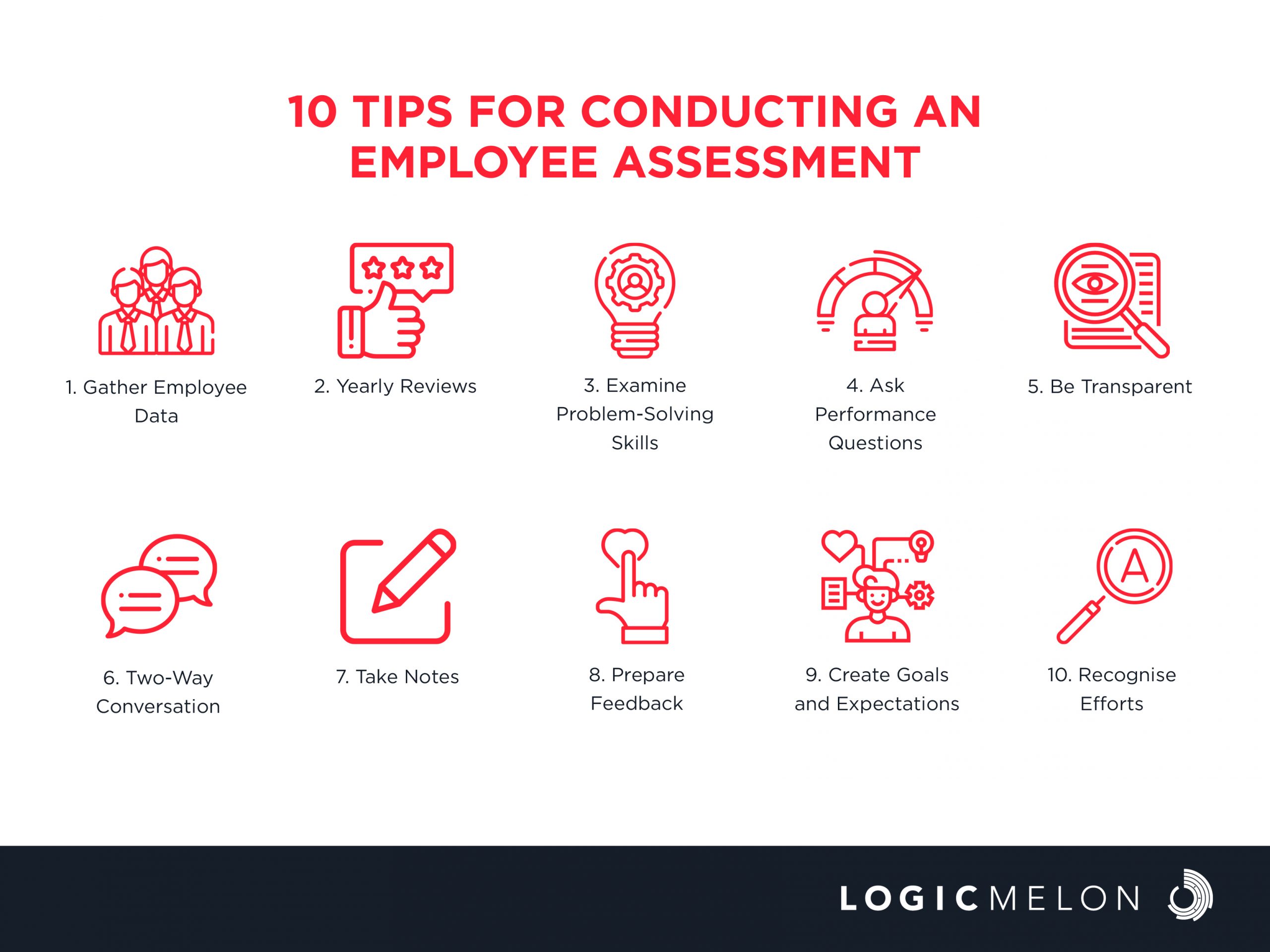 1. Gather Employee Data
Employee performance data is crucial for deriving employee assessments and for providing feedback. Creating performance evaluation forms can help understand past performance, and employers can assess whether their employee's performance is consistent or if there is room for performance improvement.
2. Yearly Reviews
A yearly performance update gives the employer an opportunity to compare the data with yearly reports and can find ways in improving employee performance. These yearly performance appraisals are for regular review of an employee's job performance and contribution to a company.
Keeping a yearly record of employee assessments gives managers an idea about the pattern of the growth rate of employees and can address the issues when there is a declining rate and what actions need to be taken to improve this performance.
The annual review helps an employer in assessing the morale of an employee, which can result in increased employee satisfaction in the organisation which helps in accomplishing the objectives set by the organisation.
3. Examine Problem-Solving Skills
Problem-solving skills are one of the key decisions that have to be taken by the employee at their workplace. These decisions affect the operations of the organisation on how they work to meet their objectives.
4. Ask Performance Questions
These performance questions tests assess the personality traits of the employers and can help the employers to understand more about their character, and the way the employees handle the situation in the workplace.
When employee assessments are well executed these help to boost employee morale and engagement, clarify expectations, and help to get the best out of the staff, as well as provide an incentive for hard work and dedication.
5. Be Transparent
Transparency is important for employees to know more about the company, so they can work accordingly. This is mainly a practice of sharing information regarding the organisation's operations with its people with the intent to create clarity, trust, and accountability.
Employee assessment is a process that is effective in determining the effectiveness of training programs conducted by the organisation for the employees. This shows managers how the employee has to improve after the training and will give actionable insights to the managers on how to improve the programs.
6. Two-Way Conversation
The assessment interview has to be a two-way conversation between the employer and the employee to discuss their work experience and their suggestions to improve their performance standards.
This helps management to understand the employee more and assess their suitability for the role, and for the employee to learn more about the company. This is a win-win situation for both the employee and the organisation.
7. Take Notes
Take notes and pay attention to every detail during an assessment interview, which can help with employee evaluation.
This process is carried out to identify the abilities and the level of competency of an employee for the future growth and development that the organisation are associated with. These details aim to provide data about ascertaining the value of an employee's contribution to the organisation.
8. Prepare Feedback
Preparing feedback from an employee assessment gives employees an idea of the areas where they have to improve.
Employee feedback gives performance ratings to each employee and for giving suggestions on how they could improve their performance, a happy workplace has to be productive.
9. Create Goals and Expectations
Set expectations for employees to achieve, this gives an opportunity for measuring actual performance with the standard performance.
The best practice is to evaluate employees' performances and to have an understanding of their performance reviews.
10. Recognise Efforts
An employee's job performance is the best motivator for them to produce the best work.
Employers who have done some exceptional work are offered promotions on the basis of the result of performance evaluation.
Frequently Asked Questions
1. Why is employee assessment important for an organisation?
An employee assessment with the right performance review systems can help managers and employers to precisely identify the performance of employees and highlights the areas that they need to improve.
2. What does transparency mean in the workplace?
A transparent workplace promotes a two-way conversation between the employees and management, and can honestly discuss matters pertaining to the business performance, goals, and objectives.
3. What is the employee evaluation process followed by the organisation?
The methods used by the organisation for employee evaluation are 360-degree appraisal, negotiated appraisal, peer assessment, and self-assessment.
4. How is employee performance measured?
Employee performance is measured by how an employee fulfil their job duties and executes their required tasks.
The effectiveness, quality and efficiency of their output in completing a task are the factors for employee performance. Employee performance also contributes to the assessment of how valuable the employee is to the organisation.
Closing Thoughts
A well-conducted employee assessment helps employers to thrive in their careers and can get better quality work from their team members.
Employee assessments known as performance appraisals can be done by a 360-degree appraisal, negotiated appraisal, peer assessment, and self-assessment.
Gathering employee data, having yearly reviews, examining problem-solving skills, asking performance questions, being transparent, having a two-way conversation, taking notes, preparing feedback, creating goals and expectations, and recognising the efforts of the employee are all steps you can follow to conduct an employee assessment. 
LogicMelon
Award-winning recruitment software that will find, attract, hire and analyse the way you want to work. At LogicMelon, we have experienced software recruitment marketing specialists to help you build effective recruitment solutions supported by the best customer service you'll find anywhere!
Email: sales@logicmelon.com or call LogicMelon (UK) +44 (0) 203 553 3667 (USA) +1 860 269 3089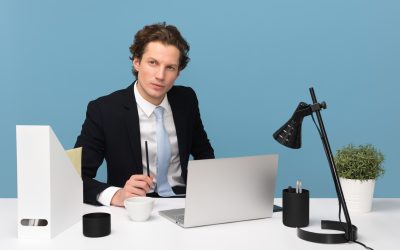 Recruitment crisis management requires adaptability, strategic thinking, and a proactive approach to address talent shortages and avoid disruptions.
read more
Love what you're reading?
Subscribe today and get insights straight to your inbox