5 Best Tips to Find Your Employment History
Employment history gives information on an applicant's previous employers, and the organisations they worked for, as well as information about the job titles and positions they held, their salaries, the dates they worked there, and the duties they performed. 
Employment history can identify what kind of work you have done in the past and the qualifications you possess to carry out specific tasks by using the information you supply.
Why Is Employment History Important?
Employment history can help the hiring team evaluate your experience, training, and education to decide whether you are a suitable candidate for the position you are looking for. Using their employment history, it is easy to find out if the candidate has a history of working in temporary jobs, which may indicate that a candidate isn't interested in working for the same organisation for an extended period of time. Many employers run parallel background checks to confirm the facts on the job applications, or CVs to determine a candidate's genuineness.
5 Ways to Find Your Employment History
If you have a long employment history, it may be hard to recall the specifics of your employment history, or find them in the document. So, what do you do if you are unable to recall all the specifics of your previous employment? You can compile an employment history report with supporting documentation: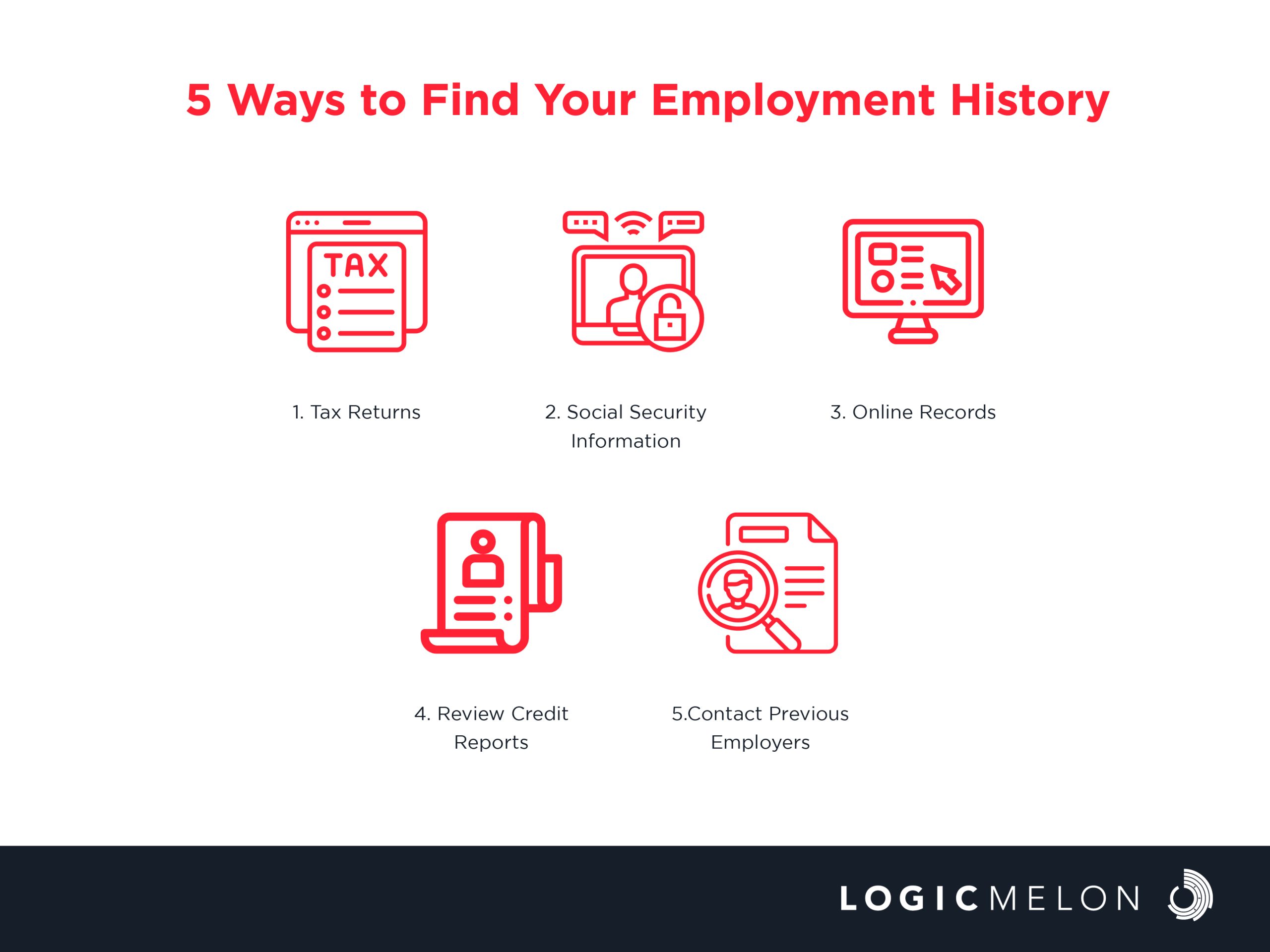 1. Tax Returns
Requesting your IRS documents is the first option to get your employment history. Depending on whether you are a full-time or part-time employee, your employer must provide a Form W-2 at the conclusion of each tax year. Your annual income from that employment is listed on the form, together with the amount of tax deductions. Together with your work dates, a Form W-2 also contains the employer's name and address.
The IRS keeps records of the data you provided when you filed your yearly tax forms. You can use this data to find and record your employment history if you have copies of your tax returns from previous years. If you used online tax preparation services, you might be able to find the information online if you don't have copies.
2. Social Security Information
The next option to find information about your previous jobs is using Social Security records. When you are hired, your employer verifies your employment eligibility using your social security number. You should be able to connect that number to your entire employment history. Social Security Administration can provide you with information about your prior earnings, and employment history if you complete a form.
The report should contain the entire employment history associated with your Social Security number. The amount of money you contributed to the Social Security benefits program as a proportion of your income is also listed in Social Security records.
3. Online Records
You can search online for information about your prior employment as well. You might have a profile on an online networking site that contains information about your previous employment history or your resume. Moreover, you can use a search engine to look up your entire name to see if it produces any results concerning your prior employment.
Search for records that could show your work history, and those that might serve as a reminder of previous positions you've held. Check your email inbox to check if you have any correspondence from former employees.
4. Review Credit Reports
It is not always the case that credit reporting agencies keep track of a person's employment history. Yet, this source may be able to provide some details regarding your previous employment history. Your credit report might include details of your employer if you submitted that information when applying for a credit card, loan, or other credit-related details.
To get the details, you can contact a major credit reporting agency on your own. The agency's report may reflect the most recent employment verification date, or the most recent time your employment status was included in your credit history.
5. Contact Previous Employers
Directly contacting the company is one of the easiest ways to obtain details about your prior employers. The majority of organisations keep thorough records of their employees, and they are able to answer any queries you may have about your position in the company, as well as the period of your employment.
Record Your Employment History
Maintaining copies of your updated resumes is the best approach to keeping track of your employment history. Make adjustments as you change employment, get promoted, or have your job responsibilities changed. To keep track of everything, it could be helpful to compile a thorough record of your prior employment. You can use it as a template to create concise resumes appropriate for various job applications.
You should keep your online profiles up-to-date. Also, you should fill out your profiles with as much data as you can, whether you're using job board websites, like LinkedIn or not. Seeking a job has enough worries and uncertainties on its own. Maintain thorough records of your employment history, constantly update your resume, and assure that you have at least one aspect of the application process under control.
Frequently Asked Questions
1. How Should I Incorporate My Work History on a Resume?
Your employment history is usually listed under the "experience" column. But, it should also include details about your responsibilities and achievements from each employment, as well as the name of the company, the exact job role, and the duration of each. In general, it is a good idea to list work experiences that are relevant to the position you are applying for. Still it should be consistent with any online professional profiles you may have.
2. How Long Does HR Keep Employment Records?
Every employee I-9 form must be kept in a safe, separate file from all other employee I-9 forms for three years after hire, or one year after separation. Papers that have reached their end-of-retention dates must be destroyed.
3. What To Add to Your Employment History
The following are the details you have to add to the report of employment history:
Your job title.

Name and address of the organisation.

Details for contacting supervisor (optional).

Start date and end date of your employment.

Duties of your position.
Closing Thoughts
You can prove that you are a good fit for a job you apply for by maintaining a thorough record of your employment history. Regardless of your skills and work experience, the outcome of your job hunt may directly depend on your knowledge of your career history. A useful job search strategy is keeping track of your career history, but doing so involves planning and study.
LogicMelon
Award-winning recruitment software that will find, attract, hire and analyse the way you want to work. At LogicMelon, we have experienced software recruitment marketing specialists to help you build effective recruitment solutions supported by the best customer service you'll find anywhere!
Email: sales@logicmelon.com or call LogicMelon (UK) +44 (0) 203 553 3667 (USA) +1 860 269 3089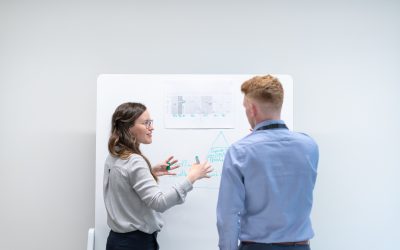 Establishing HR KPIs is key to unlocking the full potential of your company's human capital. Read the blog to know more.
read more
Love what you're reading?
Subscribe today and get insights straight to your inbox