A Four-Day Workweek – A Brief Guide
A four-day workweek is a 32 to 40-hour workweek with no less productivity, benefits, and pay. Everyone works Monday through Thursday and gets Friday off that depends on the organisation and industry. This contemporary style of work schedule is rising in popularity in some countries.
A compressed work plan is where employees put in the same number of hours over fewer days, it is different from a four-day week. Employee's work time increases from 8 hours to 10 hours.
How Many Hours a Day Do We Put In?
According to the data from Statista, the United Kingdom's annual average number of hours employees work is 36.2 per week. Germans and Americans had hours of 34.7 per week. People in Canada work 35.7 hours per week. Japan had the lowest annual average number of working hours of 30.7 for employed people. When you consider these data, it appears that the ordinary person who is 16 years old or older already has nearly as much free time as someone who works four days a week in several other nations.
The Benefits of a Four-Day Workweek
This kind of work schedule has advantages for both industry and professionals. It is helpful to consider the benefits if you are looking for a job that offers a four-day workweek, or wishes to implement it at your place of employment. The following is the list of benefits that this kind of work schedule might allow: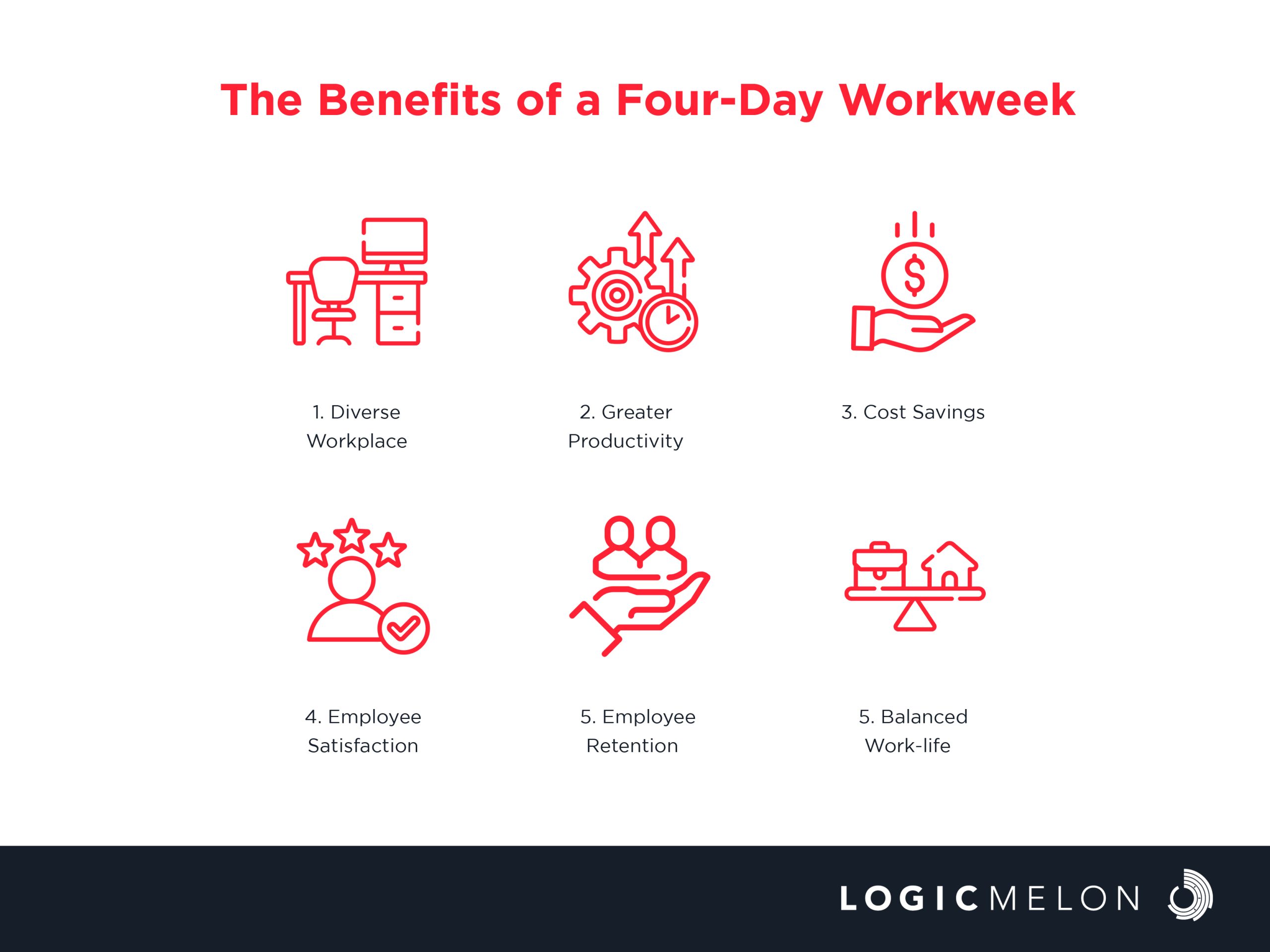 1. Diverse Workplace
A four-day week can improve accessibility in the work environment. This is because there are more job opportunities for those who might be unable to commit to a five-day workweek due to disabilities or other commitments. When workers from different backgrounds can find employment that matches their demands, the workplace can experience more diversity. This can also help professionals who have kids because it allows them to spend less on childcare responsibilities. Employees with regular doctor appointments on their day off can attend work more frequently.
2. Greater Productivity
Reducing the number of days per week can increase the employer's productivity. They may feel more invested in their work. Also, employees who have fewer days to finish work are less inclined to put it off. While allowing employees to feel proud of their job, and encouraged by their achievements, increasing employee productivity can help the company achieve its goal.
Employees may feel more enthusiastic at work, which is another reason that this schedule can boost productivity. Professionals who work five or more days a week may experience difficulty concentrating. With fewer work days, employees are well-rested and ready to focus on their duties.
3. Cost Savings
Everyone may save money by working four days a week. The operating costs would reduce significantly as the workplace is closed for one extra day each week. Also, employees would pay less for their daily commutes and spend less on lunch and coffee breaks.
4. Employee Satisfaction
A shorter workweek can result in great employee satisfaction. Employee productivity and morale can rise when they are happier in their current positions. Happy employees are more likely to suggest the organisation to others, which can support talent acquisition strategies. Higher quality work might result from happier employees. This is because professionals who like and care about their work may feel more motivated to carry out their tasks in the most effective ways. This guarantees a higher quality result.
5. Employee Retention
The percentage of employees that stay with a company over time is referred to as employee retention. Many companies strive for high employee retention rates because hiring can be expensive for businesses. Due to the advantages of this schedule type, businesses that offer a four-day week may see higher employee retention rates. Professionals that adhere to this schedule type are more likely to remain with the company because they are frequently happier with their jobs.
6. Balanced Work-life
This work schedule benefit is that it enables employees to have a better work-life balance. It could be more challenging to engage in extracurricular activities when working five or more days a week. A four-day week gives employees more time for family and motivates them to adopt better habits. These employees may engage in healthful activities, like getting mental health assistance, exercising, and following their hobbies. Employees who have a healthy work-life balance tend to have better attitudes towards their employment since they are more likely to arrive at work rested. They are more motivated and have great productivity as a result of this.
Disadvantages of a Four-Day Workweek
Though the fac ist that this work schedule has many benefits, not all businesses or employees may find it to be beneficial. It's important to think about the possible drawbacks that switching to a four-day workweek may have before making the decision. The following are the disadvantages of the four-day workweek:
1. Lack of Customer Satisfaction
Using this schedule could have an impact on how satisfied customers are. Customers could believe that they don't have enough access to the business because employees are available in the office only for four days. Customer happiness needs to be prioritised by businesses since providing good customer service can boost profits and brand recognition. Businesses that want to use this schedule type can manage this and keep customers happy by making greater technological investments.
2. Overworked and Stressed
Most employees working in a four-day week may be required to put in the same 40-hour workweek, but on four rather than five days. Shifts might be increased to 10 hours in this situation and some may feel workload. It is possible that taking more time off from work improves an employee's work-life balance, if they put in the greater effort during their new working week, they may discover that their balance is actually harmed.
Tips on How To Use This Work Schedule
1. Organise Your Work – You may manage your day and increase productivity by organising your work, and controlling what you do daily and weekly.
2. Set Time Constraints for Your Work – Set up a time-based schedule for when you accomplish things. Make sure you stick to your daily plan, complete all of your tasks, and spend some time for responding to emails.
3. Organise Your Day Off – Making arrangements for the day off can inspire you to work more quickly and efficiently. Also, it helps you maintain a better work-life balance.
Frequently Asked Questions
1. Which Organisations Have Tested a Four-Day Workweek?
The following is a list of some companies that have implemented a four-day workweek:
Atlassian.

Buffer.

Bunny Studio.

The Financial Diet.

Galt Pharmaceuticals.

GooseChase.
2. What Techniques Have Businesses Used to Be Successful With a Four-Day Workweek?
Here is a list of techniques that businesses used to be successful with a four-day workweek:
Prioritize and reassess your tasks.

Reduce distractions and disruptions.

Boost automation and place a focus on human ingenuity.

Minimize social events at the workplace.

Lessen and condense meetings.
Closing Thoughts
Many companies and workers have benefited and found success from a four-day workweek from factors like higher productivity and more time to pursue hobbies and personal objectives. However, a four-day workweek does not apply to all markets, companies, or people.
LogicMelon
Award-winning recruitment software that will find, attract, hire and analyse the way you want to work. At LogicMelon, we have experienced software recruitment marketing specialists to help you build effective recruitment solutions supported by the best customer service you'll find anywhere!
Email: sales@logicmelon.com or call LogicMelon (UK) +44 (0) 203 553 3667 (USA) +1 860 269 3089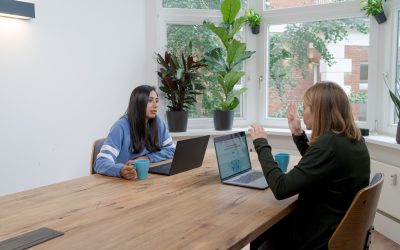 Cloud talent assessments are organised to evaluate the cloud computing skills, knowledge, and capabilities of individuals or teams.
read more
Love what you're reading?
Subscribe today and get insights straight to your inbox