Hire Efficiently Using Candidate Personas
Recruitment cannot be a random process of posting a job advert and hoping for the candidates to apply to be a part of your organisation. As a recruiter, you must have a clear idea of the candidate you are expecting to find from the market.
When recruiting new candidates for your organisation, money and time should be spent with care. Even a little help in improving the understanding of your ideal candidate can come a long way when done effectively.
To get a clear view of the candidates and what they expect, you should first have a clear idea of the types of candidates you are looking for. To make a better judgement and get as close to the ideal candidate as you can, you must use a candidate persona.
What is a Candidate Persona?
A candidate persona is a profile that contains the necessary skills and descriptions of your ideal candidate for a specific job based on market research and real-time data.
Base the candidate persona on research and insights from various sources rather than bringing in your personal opinion of the ideal candidate and their necessary skills. Such practices could inevitably make the candidate persona futile.
It is also essential to ensure that an unconscious bias does not creep into the profile while forming a candidate persona. Candidate personas should not include exclusion of a protected race, religion, caste, and gender.
Why Do We Need Candidate Personas?
Possessing proper documented knowledge about your candidates based on their job will help your organisation make better decisions with hiring and development. It also helps the candidate better understand the role they are applying for and attract suitable candidates for your job postings.
Recruiters can use many sourcing channels to pull in candidates for their job postings during the recruitment process. At times, based on the role and the candidates, some sourcing channels fare much better than the others.
A candidate persona can give you a better idea of the sourcing channel that would work best for the candidates for specific job postings.
Like the sourcing channels, candidates from different demographics can prefer other methods for communication, since it is an essential process with the candidate. In the recruitment process, having a better idea of candidates will help you address their concerns and put across a message that suits their needs.
How to Compile a Candidate Persona?
After understanding the candidate persona and the advantages it offers for your organisation, it is now time to learn the framework for creating your candidate persona. Creating a candidate persona is a simple process that involves three main steps. These steps will ensure that the persona you have generated is as accurate as possible.
Creating a candidate persona process begins by researching the job role from various sources, analysing the acquired data, and building stories with them to make a complete candidate persona.
1. Research
The first and the most critical step of compiling a candidate persona is researching the role. The analysed data should not consist of assumptions and intuitions. The data should come from different people involved with the position, such as stakeholders and employees. You can also use pre-existing data that offers valuable insights into your role.
Who better to give insights about your candidates than the employees already in the same role? Interviewing the employees in your organisation is an excellent place to start. They would have a good idea about the traits and personalities that would be desirable in the new hires.
With the employees, you could get an idea of various areas such as their interests, skills, motivational factors, skills, and hobbies—Acquire all this data regarding your company.
The employees would offer ideas about the candidates from their perspective. Still, to get a much broader view of your candidate persona, it is important to use views from other stakeholders from your organisation for a better understanding.
The stakeholders, such as hiring managers, recruiters, and HRs can give you data about the soft skills, the candidate's job title, their experience level, and personality traits.
One of the most uncommon sources for data on job roles is your candidates. Conduct short surveys to questionnaires similar to the employees. Since the candidates are not exactly a part of your organisation, it is easier to get unbiased data.
2. Analyse the Patterns
After the research part comes the analysis part. The data you acquired from the various sources to get an idea of your ideal candidates should be analysed and standardised to meet the market needs. Analysing these patterns can give you the persona of the candidate.
You might find some correlation between employees and their soft skills, a relation between the job role and graduates from a specific university. The correlation helps each trait of the candidate persona and builds them with that.
The trends between the collected data can take any shape and provide various correlations; it is essential to take only the findings that are helpful to you. There is a chance of the trends being temporary or seasonal. Discerning the right trend and those that do not make sense will be challenging but rewarding nonetheless.
3. Build Persona Stories
After analysing the data, it is now time to build a persona story about the role. Creating a story for your candidate makes it easier for everyone involved in the organisation to understand the requirements of the recruits.
Building a story for your candidate is an easy task. Give the ideal candidate a common name along with their role. Such as Marketer Mary and Developer Dave. Based on the acquired and analysed data, answer the following questions.
Who is your candidate?
What is their designation?
What is their relevant experience?
What are their skills?
What is their salary range?
What is their ambition?
What is their preferred work culture?
What are their goals?
What are their hobbies and leisure time activities?
Constantly modify the candidate persona as the trend in the job market changes, and the requirements of the same role vary from time to time.
Conclusion
It is always better to spend time preparing the suitable candidate persona to make the hiring process easier for everyone involved. To make sure that your hire's quality is improved and you spend the hiring budget effectively. You must build candidate personas and make full use of them.
LogicMelon
Award-winning recruitment software that will find, attract, hire and analyse the way you want to work. At LogicMelon, we have experienced software recruitment marketing specialists to help you build effective recruitment solutions supported by the best customer service you'll find anywhere!
Email: sales@logicmelon.com or call LogicMelon (UK) +44 (0) 203 553 3667 (USA) +1 860 269 3089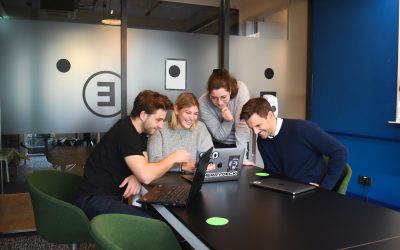 Self-managing teams can foster creativity, strengthen organisational relationships, and accelerate goal achievement.
read more
Love what you're reading?
Subscribe today and get insights straight to your inbox