How to Start a Recruitment Agency
When it comes to starting a recruitment agency, there are certain factors that you need to consider regarding the recruitment industry. Understanding them will help you in preparing for the new venture.
Over the last few decades, the recruitment industry has seen steady growth. People are the most valuable resource in any business, and placing the right person in the right job can be both satisfying and lucrative.
But the recruitment industry (like so many others) was hard hit by COVID-19, with job placement slowing to a virtual standstill. Beset by a shortage of candidates on one side and a hiring freeze on the other, clients, recruiters, and recruits alike have endured a painful lull.
Right now, it is a time of opportunity in the recruitment industry. If you possess the right mindset and an appropriate skill set, opening a recruitment agency can start you on a rewarding career path. There is fulfillment to be found in helping other professionals realise their dreams — while earning a good salary along the way!
What is a Recruitment Agency?
A recruitment agency streamlines a client's recruitment process, doing the "heavy lifting" required to scout and qualify suitable candidates to fill vacant positions. The agency will verify a candidate's qualifications and credentials while keeping their client's needs, company culture, and notable attributes in mind. A recruitment agency succeeds when the association between the client and the new employee is a good fit for all parties.
Amongst the many benefits offered by a recruitment agency, a well-crafted job description is one of the most significant. An effective job description must be creative, yet practical; detailed, yet concise. To appeal to the right candidate, an agency will need an in-depth understanding of the client's preferences, needs, and expectations.
Of course, there are other factors to consider before taking a step of this magnitude.
Skills Required to Start a Recruitment Agency
Starting a new business can be an intimidating process. But you can eliminate some of the guesswork by acquainting yourself with the skills and requirements needed to make a success of it. Find out if it's a good fit for you.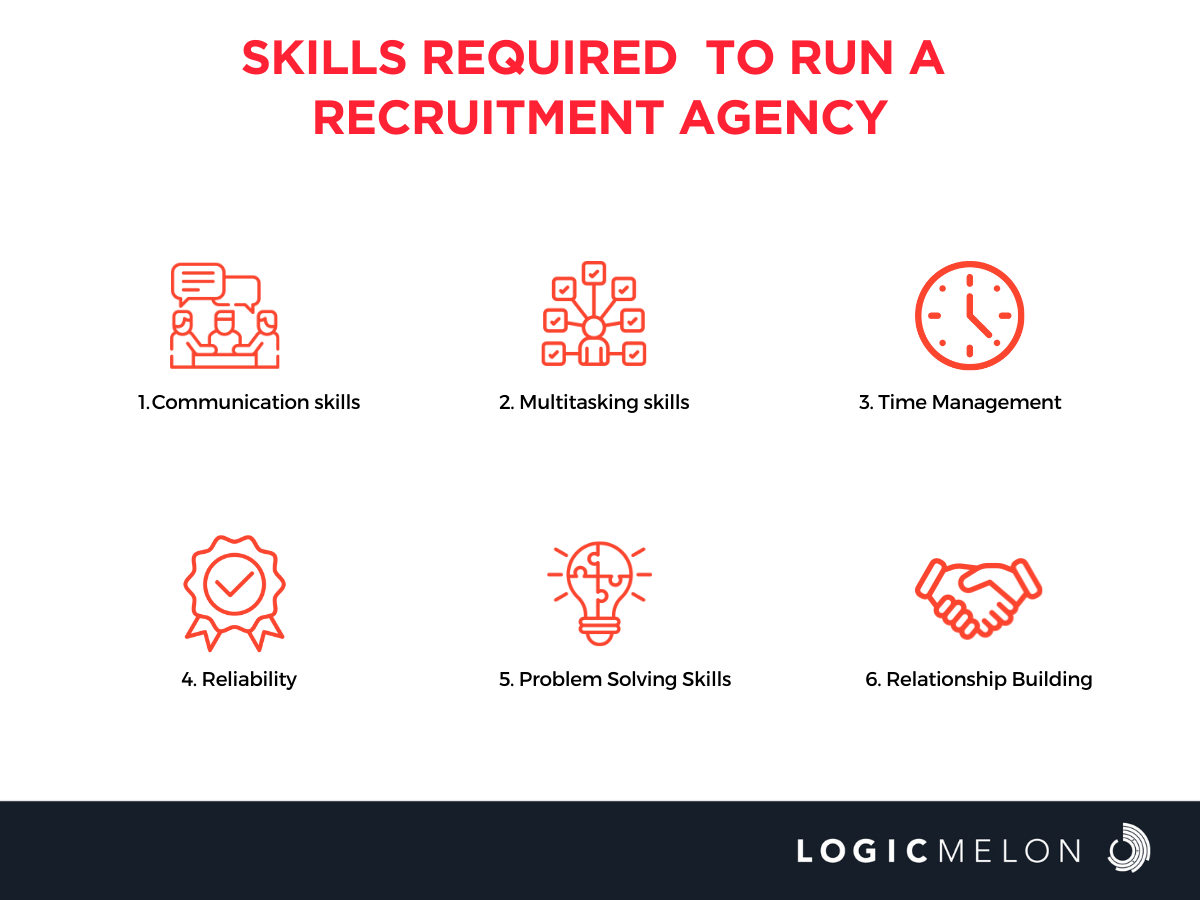 1. Communication Skills
Excellent communication skills always come in handy, and this is especially true for a recruitment agency. Your job success depends on your ability to interview clients, articulate expectations, field questions, and establish rapport.
2. Multitasking Skills
The goal of any recruitment agency is to place multiple candidates with multiple clients offering lots of suitable jobs. As filling each job opening requires its own unique approach and plan, multitasking will be the order of the day.
A great recruiter must manage multiple tasks, all of which will need attention sooner rather than later. Compromising on quality is not an option, nor can one afford to let anything fall by the wayside.
3. Time Management
Most clients (both employers and candidates) want to see a position filled as quickly as possible. Clients will have a specific timeframe within which they need to see results, and an agency must conscientiously strive to meet such deadlines.
Prioritising and managing your time is vital to building your reputation in the industry. If you cannot honour your commitments, the quality of your work will suffer, as will your relationships with clients.
4. Reliability
The client company entrusts the agency with sourcing the best candidate for the job, banking on the agency's extensive contacts, connections, and expertise.
Whenever faced with an unforeseen circumstance, miscalculation, or error in judgement, the agency should make amends, and fast.
An agency stakes its reputation on its ability to deliver positive outcomes on time. Customer satisfaction is the cornerstone of any business.
5. Problem-Solving Skills
Recruitment is a time-consuming process, with inevitable complications and delays. The ability to think on your feet, draw from experience, keep your cool in a crisis, and work your way through to a solution are skills that will stand you in good stead.
There is always more than one way to solve a problem. Coming up with innovative and creative ways to turn a problem into an opportunity will make all the difference.
6. Relationship Building
A recruiting agency's best opportunity for future business lies in the strength of its relationships with its client companies and its job candidates.
This rapport provides a bridge between client and candidate, a platform for each to put their best foot forward. First impressions can shape future perceptions. A good recruitment agency sets all parties up for success.
Decide on the Niche for your Recruitment Agency
The recruitment industry is booming, and new recruitment agencies are popping up. What can you offer that will help you stand out from your competitors? Do you have special training or qualifications?
Deciding on your niche is the next step to consider in starting a recruitment agency.
It is better to offer recruitment services to a specific industry. Remember that connections and contacts make this business, and specialising will help focus your attention and client base.
We've listed a sampling of niche industries below. It's easy to see the need for focus, given the range within each of these examples.
Technology

Healthcare

Finance

Media

Banking

Real Estate

Hospitality

Construction
Identifying a niche in which you have an affinity and background history is a definite plus. Your clients expect and need your expertise and in-depth knowledge of the industry.
Watch your Expenses
Setting up a recruitment agency can be pretty expensive. The wise allocation of resources will be pivotal to your success.
Some expenditures are necessary and worth prioritising. Others, you can scrimp on or postpone. Plan and budget prudently, and if you need help, seek advice.
Website
Without a website, the viability of your agency will be in question. Your best and most efficient opportunities for branding, advertising, recruiting, and communicating with clients can only take place online.
Your website is a showcase for your agency. Fortunately, many website platforms are offering non-technical website-building services with professional appeal and basic functionalities. These sites support inexpensive subscription applications to assist with client account management and marketing.
CV Database
Online Job boards maintain a CV database that holds thousands of CVs. Recruitment firms can access these CVs for a fee.
You will need to pay to advertise your job openings on their job boards. These boards charge by the month, and fees range from £200 to £5,000.
Whatever the scale of your business, the CV database is an invaluable tool for accessing quality candidates, per your choice of filtered qualifications.
Most job boards offer a free first-month trial. Be sure to ask for this discount before committing to the monthly payment.
Equipment
Computer equipment, printers, phones, and internet connections are necessary expenditures for any business. Your equipment requirements will depend on the scale of your recruitment agency.
If you're starting with a small-scale operation, you can purchase basic equipment with a relatively small outlay of funds.
Office Space
Setting up an office at home is always an option if you work solo. But, as the team grows, finding an office space that accommodates the entire staff is a different story.
Ideally, office space should be suitable for holding meetings with clients. While some clients prefer a video call, many clients still prefer to meet in person.
One option to keep costs down is a co-working space, with shared conference rooms and waiting rooms.
Advertisements
Advertising is a crucial marketing tool, and when done right, has the potential to boost your business. Take every appropriate promotional opportunity possible to increase the visibility of your brand.
Target specific demographics, per your niche industry, for online advertisements. Building brand identity is the first step in building a relationship with your audience.
Hire the Right People for your Agency
A recruitment agency needs recruiters. But if you're just starting out, you'll probably need to hire recruiters who are just starting out, too.
Try to hire like-minded junior recruiters with growth potential. Remember, you're looking for great communicators, multitaskers, and reliable individuals!
Hiring an accountant, even part-time, will help you prioritise projects and keep you on track. An accountant can help you identify potential pitfalls and circumvent them early on. Good advice from the get-go will take you a long way.
Decide on a Pricing Structure for your Services
At your start of business, be sure to offer a competitive rate for your services. As your business scales up, you'll have a better understanding of your profit margin and can adjust accordingly.
Recruitment firms usually take a small percentage of the candidate's salary for a prescribed amount of time.
The amount of the cut depends on the nature of the position, and the candidate only pays after successfully landing a job.
However, some clients will offer a flat fee for filling their vacant positions—a helpful arrangement when the agency operates on a small scale. Of course, clients will pay more for highly qualified candidates.
No one structure will suit all your clients. Some clients might prefer to pay a flat fee, while others prefer a recurring commission. Be flexible, and if you can, honour your clients' preferences.
In the early days, all eyes will be on cash flow. Your price plan will need to cover your advertising, networking, accessing CV databases, and so on. So when you first open for business, better factor in some shortfalls.
Understand your Competitors
How much do you know about your competition? Spend some time (and money) researching your niche competitors. Learn their strengths and weaknesses. This analysis can help your recruitment business identify and fill the gaps left open by the competition.
What are your competitors doing right that you can incorporate into your practices? Study their pricing, their presentation; evaluate their website. Use this information to either justify your methods or to improve upon them.
Formulate a game plan to play to your strengths—to become a standout in your niche industry.
Outperforming your competitors is only possible with proper competitor analysis.
Have a Marketing Plan
Brainstorm the values of your recruitment agency business. Be sure that your logo captures the essence of your brand.
Use your website to showcase your vision and values. Having a well-constructed, user-friendly website will attract potential clients and candidates.
Use social media to improve your engagement. Be sure to develop your presence on sites like LinkedIn for greater reach.
Establish communications on social media handles and answer queries of clients and candidates.
Stay updated on your niche's current trends and recruitment style and build a marketing campaign around it.
Use online ads efficiently. Targeted ads reveal themselves only to the potential clients of your agency, keeping you on track with your budget.
Set your Goals
To be successful, define your goals as early as possible. Having well-defined goals in place will help highlight milestone metrics. Creating key performance indicators (KPIs) based on your business goals will offer insights to refine your short term and long-term goals.
Recruiters in your agency will use these metrics to assess their targets. Are they on track, or do they need to course-correct? Tracking short-term goals, such as improving your client base in the next few months, can help evaluate the effectiveness of your methods.
When composing a business plan, make sure you understand the market and set realistic goals based on your resources.
Assess your competition and set goals that will give your agency an edge.
Understand the Legal Requirements
One set of details to confirm early on is your complete understanding and fulfillment of all legal requirements for doing business as a recruitment agency. Any errors here can be costly, if not disastrous.
As the founder of a recruitment agency, it is your responsibility to protect all parties from legal action resulting from a host of unforeseen circumstances. We recommend hiring a business attorney to ensure that you're in full compliance with all legal codes governing a business in your industry and your locality.
When setting up a recruitment agency, compliance and regulatory considerations include (but are not limited to):
Agency Workers Regulations (AWR) grants temporary workers the same rights and protections enjoyed by permanent workers. The only proviso is that temporary workers must complete a qualifying period of 12 weeks at the same job.
The Employment Agency Act of 1973 is part of a wider body of UK agency worker law. This legislation regulates recruitment agencies that manage permanent and temporary workers.
The Data Protection Act of 2018 is the UK's implementation of GDPR (General Data Protection Regulation). Every entity handling personal data must follow strict guidelines entitled "Data Protection Principles".
Data Protection Principles state that personal information must be:
Used fairly, lawfully and transparently.

Accurate and updated as needed.

Handled securely.

Not held any longer than is necessary.
Established by the Recruitment and Employment Confederation (REC), the Code of Professional Practice provides recommendations and guidelines on professional and ethical business practices.
Invest in Tools
Starting a recruitment agency can be a laborious process. You'll need technological tools to help your employment agency save time and money. They'll help manage a (hopefully) massive volume of candidate information, including CVs.
The Application Tracking System (ATS) is one such tool. ATS recruitment software reduces the recruiters' admin burden to a great extent. ATS tracks the candidates and helps you set up a one-stop platform for posting jobs across various sources.
LogicMelon is one of the best ATS recruitment software that meets most of your recruitment needs.
Frequently Asked Questions
1. Does a recruitment agency find employment for part-time and temporary workers, too?
Yes, recruitment agencies often work with clients needing to fill part-time, temporary, and full-time positions.
2. How much can a recruitment agency claim from the candidate's annual salary?
The recruitment agency usually takes 15% to 30% of the candidate's first-year salary.
3. Is it worth signing up with a recruitment agency for a job?
Yes, recruitment agencies can open doors to a wide range of suitable employment opportunities. And depending on a candidate's skills and qualifications, fees may be negotiable.
4. What is a specialist recruitment agency?
A specialist recruitment agency only serves clients and candidates for a specific industry. As the name suggests, the agency has specialised in one particular field, offering a focused expertise and contact base.
Conclusion
Before starting your agency, carefully weigh all the factors listed above. We always recommend seeking professional advice when there is so much at stake.
With a startup, you can expect to work long hours, forging connections, advertising on job boards, and interviewing clients and candidates. And that's not including the admin!
Establishing your brand will take dedication. In the recruitment business, as in any business, a variety of challenges will (inconveniently) present themselves. But if you have the talent and determination to stand out from the crowd, you can thrive in this industry, knowing the satisfaction that comes from a job well done.
LogicMelon
Award-winning recruitment software that will find, attract, hire and analyse the way you want to work. At LogicMelon, we have experienced software recruitment marketing specialists to help you build effective recruitment solutions supported by the best customer service you'll find anywhere!
Email: sales@logicmelon.com or call LogicMelon (UK) +44 (0) 203 553 3667 (USA) +1 860 269 3089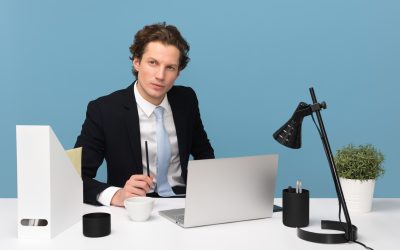 Recruitment crisis management requires adaptability, strategic thinking, and a proactive approach to address talent shortages and avoid disruptions.
read more
Love what you're reading?
Subscribe today and get insights straight to your inbox