Hybrid Work Model: Definition and Advantages
After the sudden hit of the global pandemic, organisations have started to adopt the remote work model as the norm. But still, some organisations can never completely switch to remote working. These organisations use a hybrid work model that helps them get the best of both working remotely and working from the office.
Working remotely has never been anything new. Before the pandemic, various organisations widely used it to reap its benefits. Now that employees have started to get back to the office, there is a necessity for a middle ground where remote and office work meet.
What Is a Hybrid Work Model?
A hybrid working model is a flexible approach where employees can work either from the office or from remote locations based on their preferences and the company's requirements.
Based on the scheduling and work environment, different organisations can adopt many hybrid work models based on their requirements. 
The hybrid work model offers a flexible, balanced approach and gives the employees the freedom to work in the comfort of their own homes. Of course, the major success of the hybrid work model lies in its implementation.
Advantages of a Hybrid Work Model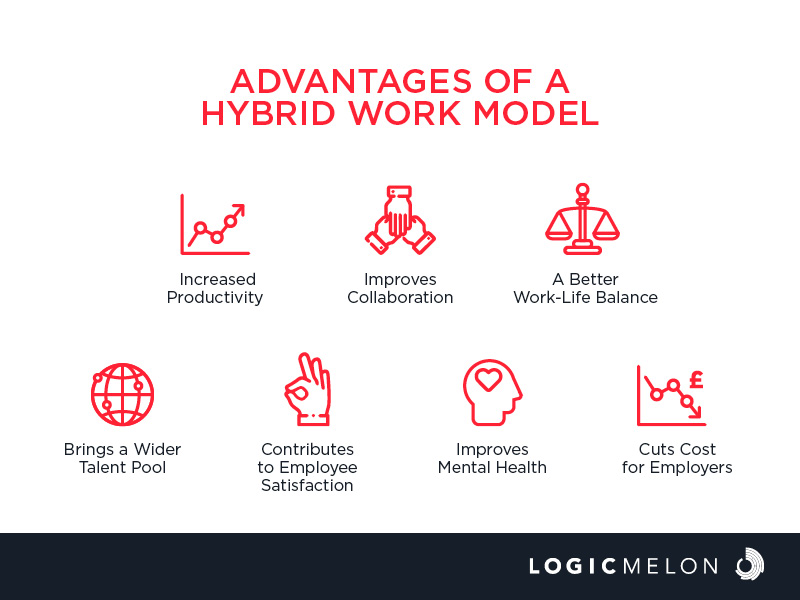 As mentioned earlier, the hybrid work model offers many advantages that can make the employees' lives easier. The following are some ways that make the hybrid work model the future of every business.
Increased Productivity
After the pandemic, when employees were required to adapt to the remote work setting, some employees fared better without the workplace constraints. On the other hand, some employees may have felt more productive working from the office. 
The hybrid work model offers ways for both the employees to benefit and still be productive. Employees who prefer to work from the office can do that, while those who like to work remotely can do that as well. When the employee works in their preferred environment, they are happier, which can increase their productivity.
Improves Collaboration
Collaboration in a workspace is often the result of a good relationship between the employees. The actual collaborative work does not require employees to be present in the office. The hybrid work model is the best solution to meet on middle ground.
Employees can also meet from time to time and have interactions with their colleagues. Employees can foster friendship and build a deeper level of trust to help them work better. Having the option for employees to conduct meetings and catch up with each other while having the flexibility of working at their pace will improve their satisfaction.
A Better Work-Life Balance
Balancing the work and life of an employee has been a challenging task. Employees need to have this to help keep them engaged in their work. Having a life outside of work is also essential to be happy and perform well to the fullest potential in their work.
In a hybrid work model, the employees can use remote work to plan their time to be more flexible. They can take care of their personal lives, spend some time for themselves, engage in a hobby, and learn a new skill without missing out on their work. Also, not to mention that remote working employees can save time on the commute.
Brings a Wider Talent Pool
Not every role requires an employee to work in the office. Some employees can complete their tasks working remotely. For such roles, organisations don't need to restrict themselves to the talent pool available at their workplace. 
Employers can source employees from a wide range of talent pools available to them across the globe. Hiring an expert from a different world can improve your results. Also, having the necessary employees on-site can be helpful for your customer satisfaction. A customer is more likely to place their trust in you with employees working on site.
Contributes to Employee Satisfaction
Employee satisfaction is crucial for every organisation. It contributes to employee retention. Having a flexible work location gives the employee the freedom to choose the work model that fits them. 
In a hybrid work model, employees are responsible for getting their job done without the need for someone to micromanage them. This increases the employee's job satisfaction, thereby contributing to the company's culture and employer branding.
Improves Mental Health
Working from the office has a lot of stressors that take a toll on the mental health of employees. These stressors do not affect every employee, but for those who take in a lot of stress due to work, it is better to let them work from their own comfortable space. On the other hand, employees who have been working from home for a long time may feel lonely and want to work in the office. 
Without a doubt, being stress-free will help improve the mental health of any human being. In a hybrid work model, employees can choose their work style and stay stress-free, which positively impacts their mental health.
Cuts Cost for Employers
On the employers' side, since the office does not simultaneously contain all the employees, it saves costs on various expenses for employers. In the case of office expenses, employers can reduce electricity costs, food expenses, water bills, and other expenses. 
If you are renting office space, it might be time to consider reducing the size of the working area since the employees will likely not be working at 100 percent capacity.
Do not try to cut costs on hardware for remote employees. Try to keep all the hardware up to date to work at its full potential without issues.
Final Thoughts
Employees prefer to have a choice in their working style. Letting them work in their preferred settings can keep their engagement high and make it easier to work on their task. The hybrid work model offers precisely that. The traditional working model does not provide you with such benefits as the hybrid work model. It is high time that employers consider the advantages and work towards a more future-forward working model that benefits everyone.
LogicMelon
Award-winning recruitment software that will find, attract, hire and analyse the way you want to work. At LogicMelon, we have experienced software recruitment marketing specialists to help you build effective recruitment solutions supported by the best customer service you'll find anywhere!
Email: sales@logicmelon.com or call LogicMelon (UK) +44 (0) 203 553 3667 (USA) +1 860 269 3089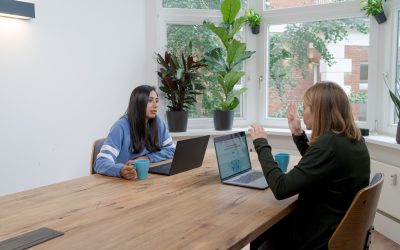 Cloud talent assessments are organised to evaluate the cloud computing skills, knowledge, and capabilities of individuals or teams.
read more
Love what you're reading?
Subscribe today and get insights straight to your inbox