In-House Recruitment vs. Agency Recruitment: Similarities and Differences
The recruitment process can take multiple forms. Not every organisation requires an entire team dedicated to talent attraction. Most of them depend on an external agency for their recruitment needs. At the same time, an organisation that constantly indulges in finding new talents to help them expand may require an in-house recruitment team.
In-house recruitment is hiring new candidates for your organisation through a recruitment team that works as a part of your organisation. 
The in-house team works directly for the organisation and gets regular input from the managers to recruit candidates who suit the company's requirements.
On the other hand, agency recruitment is when an external agency provides a service sourcing candidates and helping the organisation fill their recruitment needs.
A recruitment agency might have multiple clients who have various needs. They might even specialise in a specific sector and help organisations hire candidates for that sector.
Similarities Between In-House Recruitment and Agency Recruitment
Although in-house recruitment and agency recruitment have a core difference in how they operate, they exhibit the following similarities.
The essential duty of both in-house and agency recruitment is to source candidates for a crucial role. They achieve this by writing job descriptions, conducting assessments, and screening the candidates for the role.
Both in-house and agency recruitment use a variety of channels at their disposal to source top talent. The channel might be their connections, social media platforms, or job sites.
Both recruitment methods will require ways to manage and handle all the tasks involved in a recruitment process. They both employ tools and technologies that make the recruiter's lives easier when managing these tasks.
Whether you go for in-house or agency recruitment, the recruiters involved must be good relationship builders. This is a necessary skill that makes it easier for them to communicate with candidates and build a talent pipeline to simplify the process.
Differences Between In-House Recruitment and Agency Recruitment
The differences between in-house recruitment and agency recruitment are aplenty. These differences stem from the fact that they both differ in their relationship with the organisation for which they are recruiting candidates.
Agency recruitment does not always work for a single organisation. They work for multiple clients at the same time. On the other hand, the in-house recruitment team works entirely for their organisation and gives it all their recruitment efforts.
As a result of looking for candidates of multiple sectors, the agency recruitment process usually involves hiring candidates across various industries. In-house recruitment focuses more on the industrial fit.
Agency recruitment helps to hire candidates for a bulk workforce. The in-house recruitment team is usually not large enough to handle bulk-hiring at the scale of a recruitment agency.
In agency recruitment, the recruiters take the initiative to use their resources to source candidates. An in-house recruitment team usually has procedures and practices to hire candidates and their preferred channels.
Agency recruitment usually involves sourcing candidates, and the organisation screens them further to find the right fit for them. On the other hand, the in-house recruitment team is involved in the entire recruitment funnel. They source the candidate, assess them, and filter them based on the organisation's needs and the candidate's cultural fit.
An agency recruiter usually works on a commission basis. The in-house recruitment team works on a salary basis, since they are part of the organisation. 
Agency recruitment focuses on building its brand to attract more clients for its business. In-house recruiters bank on the organisation's employer brand to attract more candidates for their recruitment process.
A recruitment agent might have a bit of an edge over an in-house recruiter when it comes to the depth of knowledge they have about the candidate's requirements. This is because agencies usually specialise in specific sectors.
Which Method of Recruitment Is Suitable for You?
Both recruitment methods have their advantages and are suitable for specific jobs. How can one decide which one to choose for their hiring needs? The following are some tips that can help you make that decision.
It is good to have a strong understanding of the company's needs. This can help you decide the method of recruitment you should adopt. For instance, when it comes to a single vacant position that needs to be filled quickly, it is better to go for a recruitment agency. On the other hand, if there are instances where you need a person for a directorial role, it is advisable to use the in-house recruitment method.
The other most crucial factor to consider before starting your recruitment process is the budget you can spend for the recruitment. This determines the method you should choose for your organisation. The recruitment agency may need you to get into contract with them before entering the business. But, if the in-house recruitment team can offer the same results within the same budget, it is better to go for that.
Take the future of the company into consideration. If the organisation is not planning to expand their workforce and the hiring needs are only occasional, it would not justify an in-house recruiter. On the other hand, if you plan to expand your organisation and there is a regular need for hiring, in-house recruitment may be needed.
Involvement in the recruitment process plays a huge role. If you need little involvement in the recruitment process, a recruitment agency is the best option. They will source the candidate and perform an initial screening before sending them your way for interviews and onboarding. With in-house recruitment, you need to stay involved with the candidate from the beginning. This can help you have control over whether their candidate experience is positive or not.
Closing Thoughts
The recruitment process is vital for an organisation. Employers must give proper care to that. It is crucial to understand that no one style suits every organisation. It is necessary to understand both recruitment methods before making a solid decision for your hiring process, whether in-house or agency recruitment.
LogicMelon
Award-winning recruitment software that will find, attract, hire and analyse the way you want to work. At LogicMelon, we have experienced software recruitment marketing specialists to help you build effective recruitment solutions supported by the best customer service you'll find anywhere!
Email: sales@logicmelon.com or call LogicMelon (UK) +44 (0) 203 553 3667 (USA) +1 860 269 3089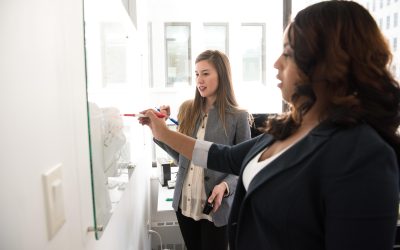 Transfer of knowledge is essential in the workplace to ensure that the employee understands the activity to be performed.
read more
Love what you're reading?
Subscribe today and get insights straight to your inbox