Inclusive Hiring Practices for Your Organisation
As a society, it is important that we treat everyone equally. It is also important to follow this philosophy with our recruitment process, too. Hiring employees from underrepresented communities for a limited number of roles does not make your organisation diverse, nor does it mean that you practise inclusive hiring. It is important to set up some practices so every candidate gets an equal opportunity to join the organisation.
Most of the time, organisations stick to hiring practices that work well for them. The advantage of such a style is that it does not damage the candidate experience since it works well for them already. The negative aspect is that they might not have established well-defined plans like inclusive hiring to ensure that everyone gets a fair chance in the recruitment process.
Inclusive hiring is a method of ensuring that the recruitment pipeline in your organisation helps candidates from various cultural backgrounds and ethnicities to join your workforce without facing issues because of their background.
Creating more opportunities for everyone without bias is a good way to improve the branding of your organisation. Including candidates from various backgrounds in your organisation can also have a positive impact on the employees and can help improve your company culture.
Inclusive hiring practices also help your organisation build a good customer relationship on a global scale. As your business develops, it is important to think of your long term goals and build a global talent pool. Working on inclusive hiring practices now can definitely go a long way.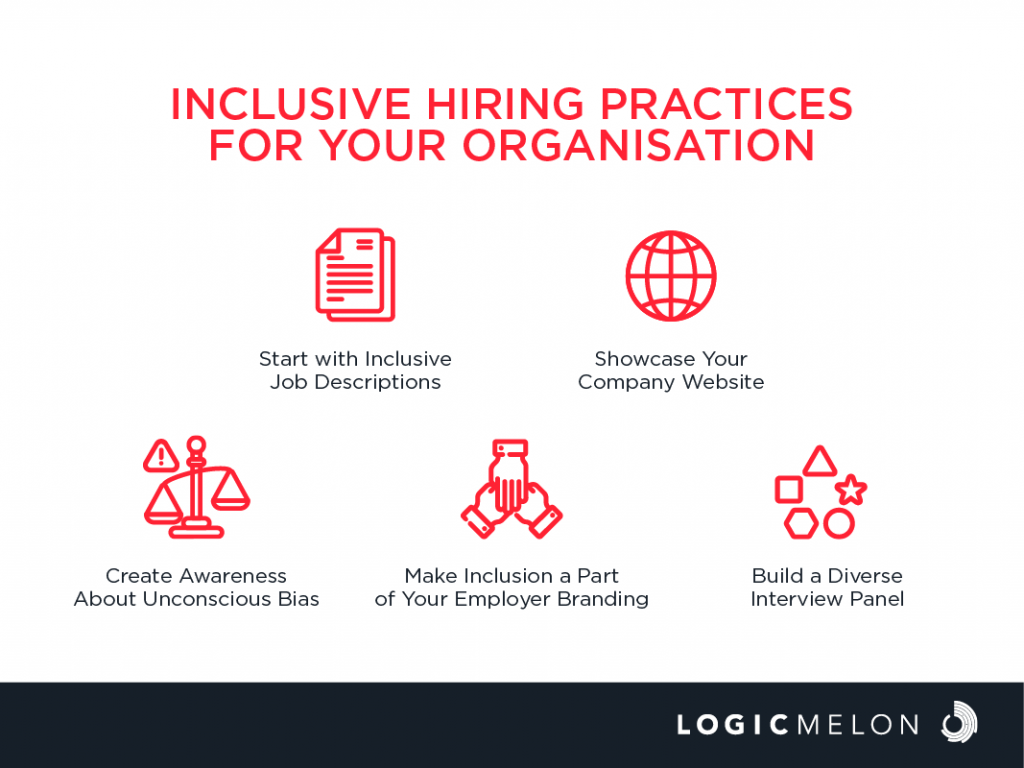 Start with Inclusive Job Descriptions
It all starts with the job description. There are sections in the job descriptions that address the ideal candidates for the role and the skills they must possess. To ensure that you are inclusive in your hiring practices, avoid using gender-coded words in the job description. Certain job titles that include words like "rockstar", "ninja", and "guru" will reduce the number of women who apply for the job.
At the very least, mention your equal opportunity culture to encourage people of various backgrounds to apply for the job.
Showcase Your Company Website
Just like with the job description, it is important to use inclusive language on your website. The company website is where the candidates applying for your job will likely go next. Avoid using any gender-coded words that can put the candidates off.
To ensure that everyone can easily view your site, include a dyslexic-friendly font for the website. Similar to this, use videos on your company site so everyone can easily view the content. The videos should also include transcripts so that people can read the content within.
If you are already into inclusive hiring, it is better to include testimonials from those diverse employees of your organisation to generate an impact on your candidates. A candidate is more likely to trust an employee already working for the organisation.
Create Awareness About Unconscious Bias
As the employer, it is your responsibility to ensure that the employees in your organisation show no willful bias toward anyone in your organisation. But, when it comes to unconscious bias, there is nothing much to do, since it is something the employees themselves are unaware of.
The best way to ensure that employees show no unconscious bias to anyone is by educating them. This is especially important for the recruitment team of your organisation. But do not limit yourself to educating only the recruitment team or only employees involved in the hiring process.
Before you begin inclusive hiring, it is important to have an inclusive workforce that does not let unconscious bias affect their work. For the recruitment team, training them and helping them to identify unconscious bias is mandatory to ensure inclusive hiring.
Make Inclusion a Part of Your Employer Branding
Employer branding usually includes the core values of the company, the vision and mission of the organisation, and the work culture your company represents. This can determine how people perceive your organisation.
The reputation you build can go a long way in attracting more candidates for your recruitment. Inclusive hiring is not just to showcase that your organisation has a wide range of employees. It also shows that you are an organisation that cares only about the potential of the candidate without any regard for their race, gender, ethnicity, or background.
The workforce of your organisation will have a wide range of skill sets and unique perspectives that helps you stand apart from your competitors. Inclusive hiring can help you bring a good reputation for your organisation.
Build a Diverse Interview Panel
The best way to implement inclusive hiring is to make use of a panel with different perspectives. This can help the organisation to have different points of view while interviewing the candidate, which can better reveal their potential to become a suitable employee of the organisation.
The easiest way to add a different perspective to the interview panel is to include employees from underrepresented backgrounds. The diverse panel can contribute unique ideas to the interviews, ask different questions, and evaluate the candidate in their own way before making a final decision.
This can make the interview process more streamlined. The same can be applied to the recruitment team. When the recruitment team is diversified, the way they source candidates includes a more diverse set of candidates.
Conclusion
Inclusive hiring might take some time to implement. Trust the process and integrate every step you deem worthy to help your organisation with inclusive hiring. Start by tweaking your hiring process with small changes and move to reform the entire recruitment process to involve inclusive hiring. As mentioned earlier, inclusive hiring can benefit your organisation in many ways.
LogicMelon
Award-winning recruitment software that will find, attract, hire and analyse the way you want to work. At LogicMelon, we have experienced software recruitment marketing specialists to help you build effective recruitment solutions supported by the best customer service you'll find anywhere!
Email: sales@logicmelon.com or call LogicMelon (UK) +44 (0) 203 553 3667 (USA) +1 860 269 3089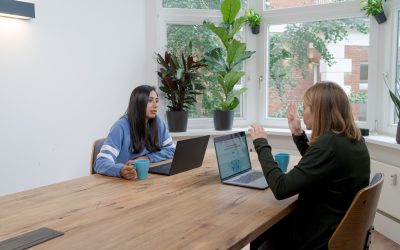 Cloud talent assessments are organised to evaluate the cloud computing skills, knowledge, and capabilities of individuals or teams.
read more
Love what you're reading?
Subscribe today and get insights straight to your inbox