Innovative Recruitment Strategies for Hiring Top Talent
Finding and hiring the right people is a challenge for recruiters. However, innovative recruitment strategies have emerged due to advanced technology that can help you make the best hires. This article will discuss the reasons why innovative recruitment methods are important and cover some of the most popular and distinctive recruitment strategies used today.
Why Innovative Recruitment Methods Are Important
Recruiters often prefer candidates with industry experience. However, recruiting outside of your industry can provide special value to your employees. Here are some reasons why innovative recruitment methods are important: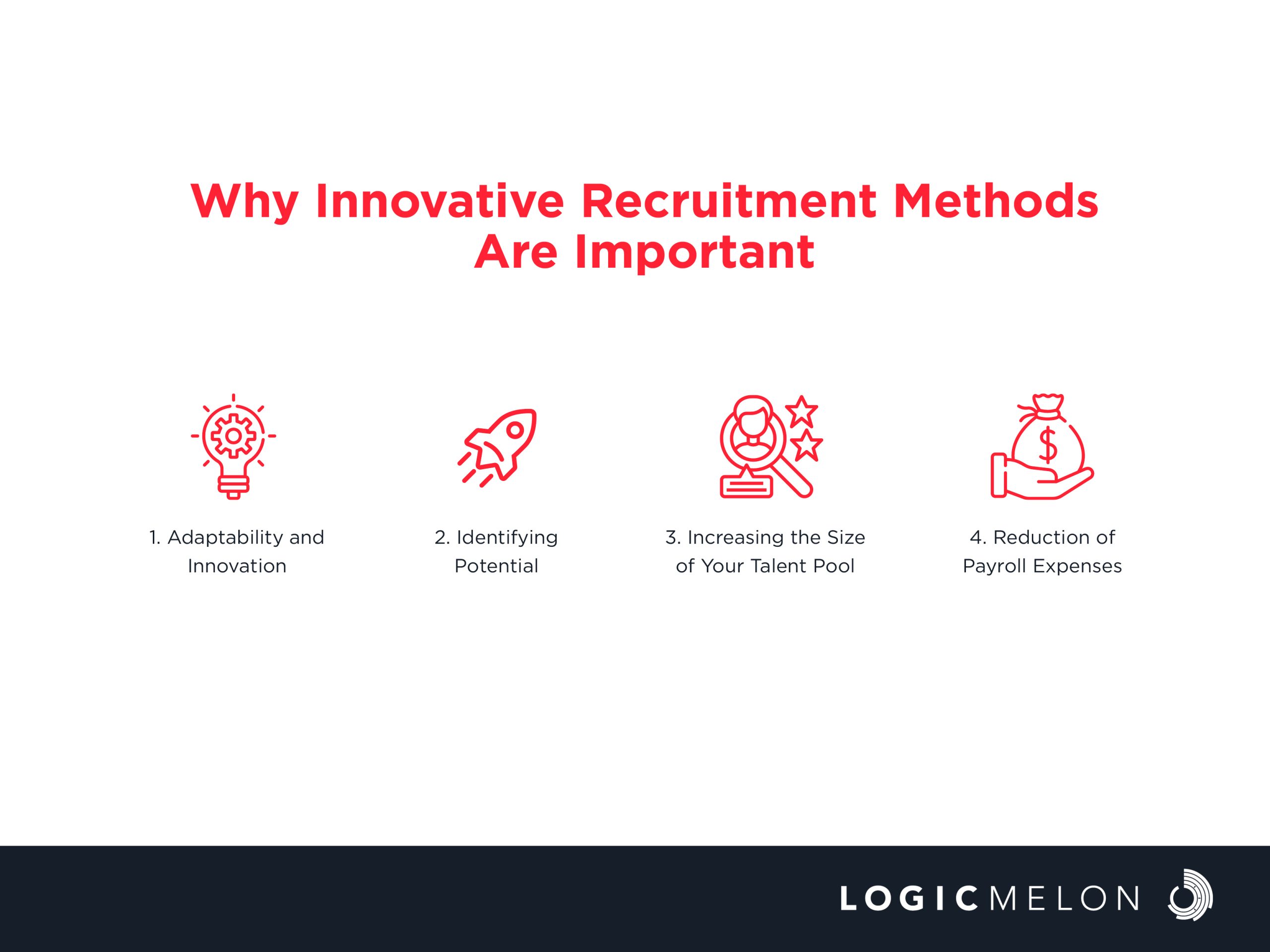 1. Adaptability and Innovation
New hires from outside your sector can bring fresh ideas to the workplace. These new ideas can lead to creative improvements that help your business grow. Additionally, new hires often show greater adaptability and a willingness to learn new ways of working.
2. Identifying Potential
Instead of looking for an exact match, consider individuals with potential. Developing employees and advancing their careers with you prolongs employee engagement and helps raise your business's retention rate. Offering personal development and growth opportunities will attract candidates who fit well with your company's culture.
3. Increasing the Size of Your Talent Pool
If your talent pool and usual recruiting methods have reached their capacity, search for individuals outside of your industry. This will help you increase the size of your talent pool and find a new prospect with transferrable talents. This also helps you develop a diverse culture.
4. Reduction of Payroll Expenses
Hiring someone from a different sector allows you to offer prospects the excitement of working in a new field where their abilities are unique. This eliminates the need to compete with other employers based on salary.
Innovative Recruitment Strategies for Finding Candidates
Here are a few innovative recruitment strategies that help find new candidates:
1. Posting Jobs Inclusively
Inclusive advertising copy is necessary for effective recruitment marketing. It maximises the exposure and potency of your advertisement while avoiding rejecting some target prospects.
2. Alternate Websites
There is a good chance that your target candidates will visit one of the several available websites suited to their interests. Spend time learning about your target candidates and the websites they hang out on to get them via their preferred platform.
3. Employer Review Sites
Use websites that provide reviews of employers to pinpoint areas for improvement and strengthen your internal operations and employer brand.
4. Social Media
Promote your employer brand and communicate with applicants on Instagram, Facebook, Twitter, and LinkedIn. Knowing your target and understanding where to locate them is key to success.
Innovative Recruitment Ideas for Screening
Here are a few innovative recruitment ideas for screening candidates:
1. Video Interview
Conduct interviews and pre-screens through video to significantly expand your search area and save time setting up in-person interviews.
2. Texting
Embrace text messaging as the preferred form of communication for quick and effective communication with applicants.
3. Structured Interviews
Ask each candidate the same questions in the same order and give them a score based on the same scorecard. This ensures your selection of candidates for the screening stage was made in accordance with objective criteria.
Strategies for Optimising Processes
Here are some strategies for optimising your recruitment process:
1. Data-Driven Methods
Use data-driven methods to optimise your recruitment process, such as performance metrics and predictive analytics.
2. Artificial Intelligence
Leverage artificial intelligence to analyse data, improve candidate experience, and automate repetitive tasks.
3. Virtual Reality
Use virtual reality to enhance the candidate experience by creating immersive experiences that showcase your company's culture and values.
Frequently Asked Questions
1. What are the different types of recruitment approaches?
The following are some of the types of recruitment approaches:
Direct advertising

Talent pool databases

Employee referrals

Boomerang employees

Promotions and transfers
2. What is the best method of recruitment?
Although every organisation has unique recruitment needs, employee referrals are considered the most effective recruitment method. When employees are involved in the hiring process, they can advertise job openings to people in their networks who are the right fit for the job. Additionally, existing employees are familiar with the corporate culture and can recommend individuals who are a good match for the company's values and ethos.
Closing Thoughts
Innovative recruitment strategies can help you find and hire top talent. By expanding your talent pool, identifying potential, and embracing new technologies, you can make better hires and create a more diverse workplace culture.
LogicMelon
Award-winning recruitment software that will find, attract, hire and analyse the way you want to work. At LogicMelon, we have experienced software recruitment marketing specialists to help you build effective recruitment solutions supported by the best customer service you'll find anywhere!
Email: sales@logicmelon.com or call LogicMelon (UK) +44 (0) 203 553 3667 (USA) +1 860 269 3089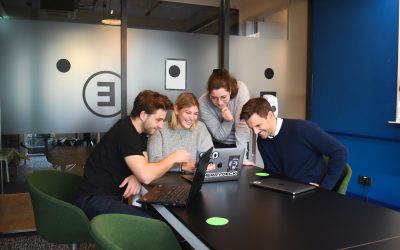 Self-managing teams can foster creativity, strengthen organisational relationships, and accelerate goal achievement.
read more
Love what you're reading?
Subscribe today and get insights straight to your inbox