7 Creative Ways to Boost Your Job Advertisement
Are you in the middle of hiring new employees for your business? Finding the right candidates can be a challenge, but fear not! A well-crafted job advertisement is one of the most effective ways to attract qualified candidates. As a recruiter, I know that job advertisements are your opportunity to make a good first impression on potential applicants and attract them to apply for your vacant positions. In this article, we'll explore the key features and unique approaches to creating a successful job advertisement, as well as some tips to help you attract top talent to your organisation.
What is a Job Advertisement?
A job advertisement is a post or notice that a company publishes to inform people that they are recruiting. It's like an ad for a job! The job description, responsibilities, and qualifications are frequently included in the advertisement. It may also include information such as the job's salary, benefits, and location. It's an excellent way for businesses to locate qualified individuals for open positions and for job seekers to find new opportunities.
How to Write a Job Advertisement
In simple steps,
Grab candidates' attention

Keep it concise

Be specific

Highlight company culture

Make it easy to apply
Being a recruiter, I have come up with seven unique ways to advertise jobs: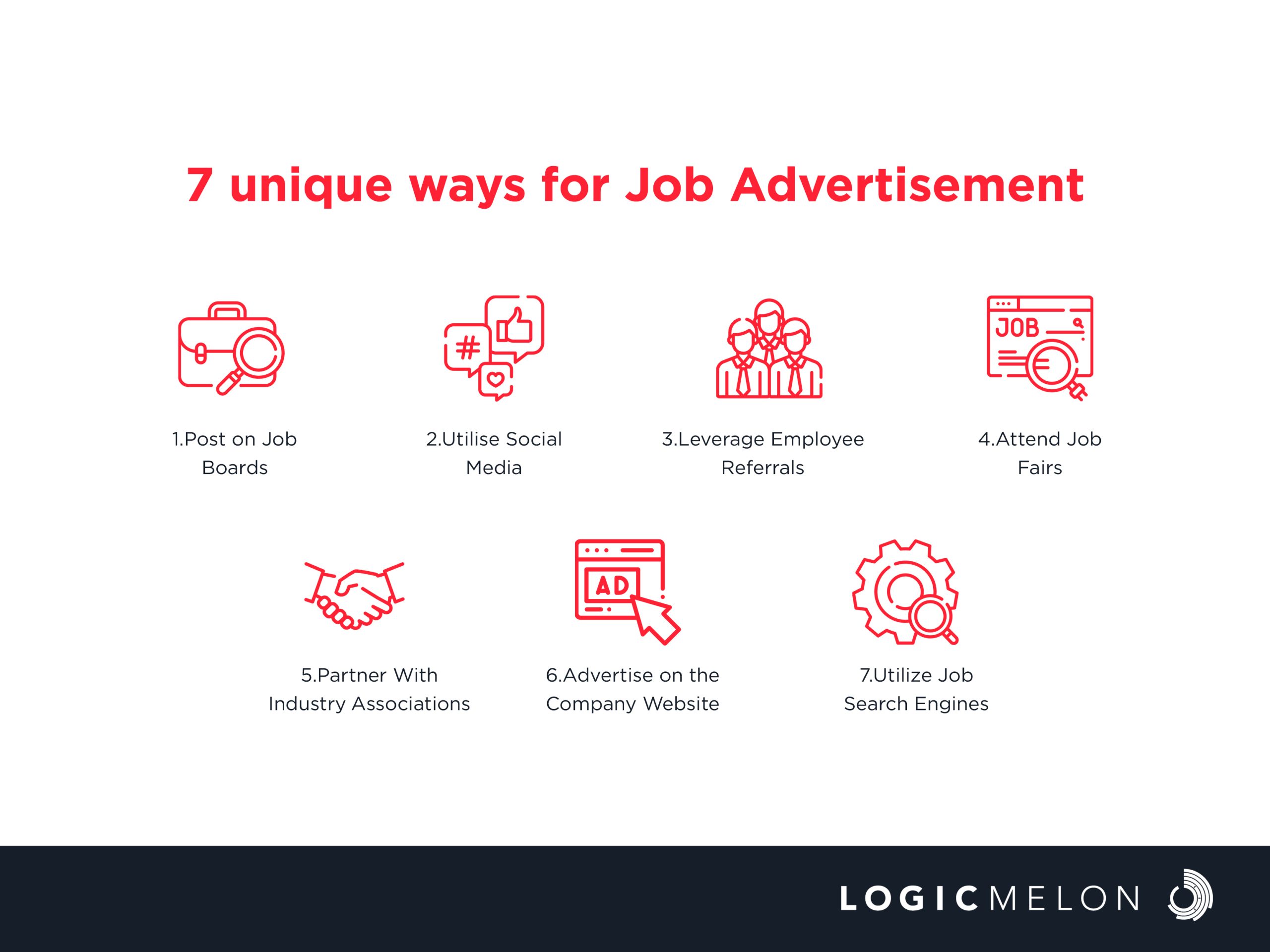 1. Post on Job Boards
Posting job opportunities on job boards is one of the most common and successful ways to advertise them. There are numerous job sites, both general and industry-specific, that can assist you in reaching a large pool of candidates. Indeed, Glassdoor and LinkedIn are among the most popular employment boards.
When posting on job boards, make sure to include relevant keywords in your job title and description to enhance your exposure in search results. Consider posting your job openings on speciality employment forums that specialise in certain industries or job categories.
2. Utilise Social Media
Social networking is an excellent approach to reaching a larger audience and marketing your job openings to passive prospects. Platforms like LinkedIn, Facebook, and Twitter allow you to post job vacancies, communicate company news and culture, and engage with possible candidates.
To get the most out of social media, use relevant hashtags, tag industry influencers, and share posts from your company's social media accounts. You can also try running tailored ads to attract specific audiences.
3. Leverage Employee Referrals
Employees you already have can be a terrific source of new hires. Incentivise them to refer qualified candidates by granting bonuses or additional vacation days.
To maximise employee recommendations, communicate job opportunities to your staff, provide clear job descriptions, and track their referrals.
4. Attend Job Fairs
Job fairs are an excellent way to meet potential applicants in-person and advertise your firm and job openings. Look for employment fairs in your industry or geographic area and set up a stand with information about your company and available positions.
Engage with guests, collect resumes, and follow up with possible prospects after the event to make the most of job fairs.
As of February 2023, there were estimated to be 205,000 job openings in the human health and social work activities industry sector in the United Kingdom.
5. Partner with Industry Associations
Associations in your industry might be a valuable source of competent candidates. Consider collaborating with relevant organisations and publicising your job openings in their publications, job boards, or events.
Attend industry association events, network with members, and engage in their committees and activities to get the most out of them.
6. Advertise on the Company Website
Your company website is an excellent way to post job openings and attract qualified people. Make a dedicated careers page on your website that offers your job openings, job descriptions, and application instructions.
To get the most out of your company website, optimise your job names and descriptions with important keywords, utilise visuals like photographs and videos to represent your company culture and work environment, and make it simple for people to apply.
7. Utilize Job Search Engines
Google for Jobs and Indeed are two popular job search engines that compile job ads from various sources and display them in search results. To make the most of job search engines, optimise your job titles and descriptions with relevant keywords, include the job opening's location, and provide clear directions on how to apply.
Key Points to Remember When Describing the Job
1. Be Clear and Concise
Candidates should be able to understand the position, responsibilities, and credentials required for the post. Avoid using jargon or ambiguous wording that could mislead potential candidates.
2. Highlight Your Company Culture
Candidates want to know what it's like to work for your company. Use your job advertisement to showcase your company's culture, beliefs, and mission.
3. Use an Attention-Grabbing Headline
The headline is the first thing candidates will notice, so make it count! Use an attention-grabbing headline that represents the position and its primary selling qualities.
4. Sell the Benefits
Candidates want more than just a paycheque. Highlight the benefits of working for your organisation in your job advertisements, such as flexible work arrangements, professional advancement opportunities, and employee incentives.
5. Use Keywords
Include relevant keywords in your job posting to improve its visibility in search results and attract eligible candidates.
6. Include a Call to Action
Encourage prospects to take action by including a clear call to action in your job advertisement. This might be as simple as pointing them to your website to apply or contacting a specific recruiter.
7. Make it Visually Appealing
Use visuals such as photographs, videos, or infographics to make your job advertisement stand out and catch the attention of candidates.
Frequently Asked Questions
1. How important is the job advertisement in attracting qualified candidates?
The job advertisement is critical for recruiting competent individuals. It is frequently the first impression candidates receive of the firm and the job, so it should be informative, interesting, and enticing.
2. Should job postings be targeted to specific job boards or websites?
Yes, job postings should be tailored to specific job boards or websites. Each job board or website has a unique readership, and the advertisement should be suited to that population.
3. How can recruiters make their job advertisements stand out?
Recruiters can make their job adverts stand out by using eye-catching headlines, emphasising unique elements of the job or firm, and using engaging language.
4. Should employers include wage information in job postings?
Salary information should normally be included in job advertisements. This can help attract skilled candidates who are looking for a specific wage range while also saving time by eliminating individuals who are not interested in the salary offered.
Wrapping Up
Crafting an effective job advertisement is crucial for attracting quality candidates as a recruiter. It should be educational, engaging, and personalised to the job board or website where it is posted. Include information about the position, company culture, remuneration, and benefits to attract the best candidates. Using catchy wording and emphasising the unique qualities of the job or firm can make the advertisement stand out. Finally, providing pay information can save time by eliminating individuals who are not interested in the provided compensation.
LogicMelon
Award-winning recruitment software that will find, attract, hire and analyse the way you want to work. At LogicMelon, we have experienced software recruitment marketing specialists to help you build effective recruitment solutions supported by the best customer service you'll find anywhere!
Email: sales@logicmelon.com or call LogicMelon (UK) +44 (0) 203 553 3667 (USA) +1 860 269 3089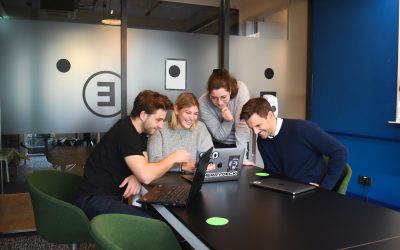 Self-managing teams can foster creativity, strengthen organisational relationships, and accelerate goal achievement.
read more
Love what you're reading?
Subscribe today and get insights straight to your inbox