Necessary Skills of an Executive Search Consultant
There are many ways to successfully recruit candidates for your organisation. But, can the same recruiter handle recruitment for the management roles of your company? Is there a particular role that specialises in recruiting executives for a company? The answer is…yes. There is a role that specialises in recruiting CEOs and executives of the organisation. This is where an executive search consultant comes in.
An executive search consultant is an important role. It requires meticulous work to source candidates by using various channels, assess them based on the client's requirements, and ensure that the proper paperwork is carried out while making sure the candidate gets a smooth onboarding experience.
Such a vital role requires an array of mandatory skills that can help them handle the challenges their job can offer. Having the following skills makes it easier for them to perform well with their duties and fulfil the client's requirements: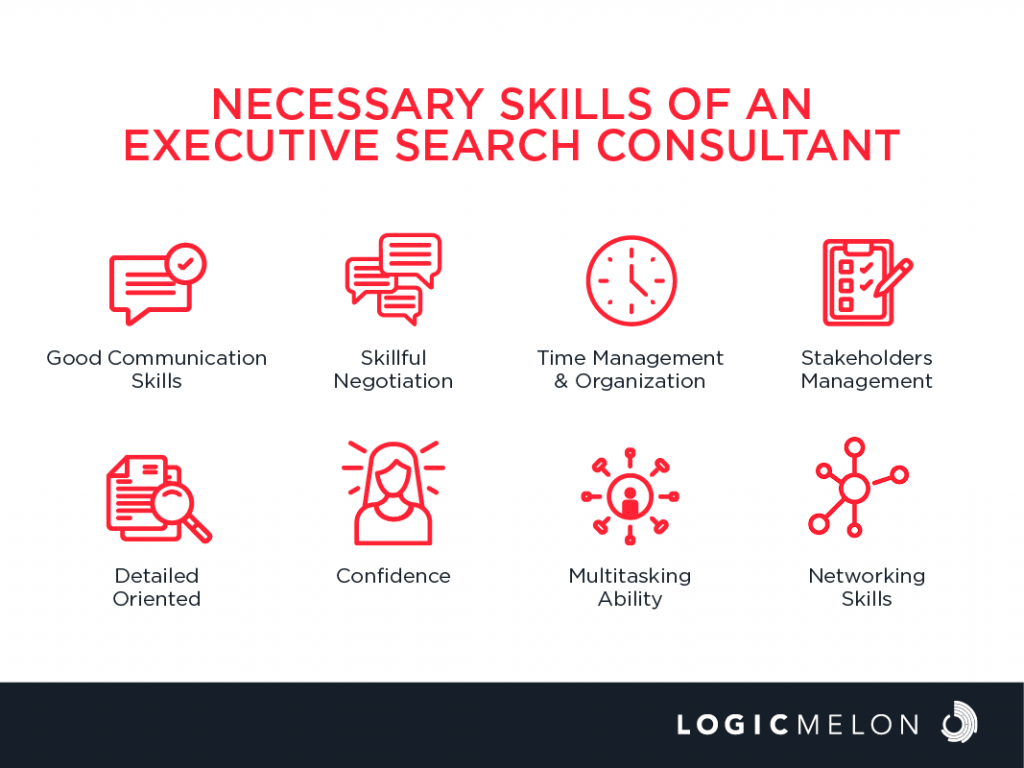 Good Communication Skills
An executive search consultant needs to handle communication between the client and the candidates. This alone makes it mandatory for them to possess good communication skills. Along with being good communicators, they should also be good listeners. This helps them understand the client's requirements and plan their recruitment and sourcing accordingly. From the candidate's side, they must be able to communicate all the necessary expectations from the client. This makes the task of onboarding the candidate much more manageable.
Skillful Negotiation
An executive search consultant must constantly negotiate through various parties to find the best possible candidate for an executive role in an organisation. Negotiation is a required skill for any recruiter. It is mandatory for someone who deals with sourcing candidates for executive-level employees. They also actively seek out new clients. This involves their negotiation skills to initially get them into new businesses. Negotiation skills are also essential when it comes to communicating with the candidates.
Time Management and Organization
For recruiting executive level employees, some organisations may be on a tight deadline. Executive search consultants would also need to schedule interviews with other candidates and might be in the process of onboarding a different candidate. The same requirements can happen  for multiple clients concurrently , while also searching for new clients for their businesses. An executive search consultant must manage their time and prioritise their task with multiple tasks to handle.
Stakeholders Management
An executive search consultant needs to understand the client's requirements. Each organisation may require executives with varying skill sets and experiences. The search for an executive should satisfy all the stakeholders of the client's organisation. The same applies to the candidate. It is also essential to find a suitable candidate for their client's needs. Sourcing the candidate takes time, and not having proper communication with the stakeholders can be a loss for the executive search consultant.
Detailed Oriented
The main difference between a recruiter and an executive search consultant is hiring for executive roles. This comes with a big catch, the executive search consultant cannot afford to make even the slightest mistake. This includes any mistake from their end with the background verification, a miscommunication, or the candidate's experience. They should be a detail-oriented person to ensure no room for mistakes.
Confidence
In any recruitment job, there are bound to be hardships. The candidate might not turn up, the deadline might be too short, or candidates might not find the position attractive. As executive search consultants, they must stay confident and continue with their responsibilities. The confidence they exhibit also impacts their ability to encourage the candidate to try for the job role.
Multitasking Ability
An executive search consultant usually juggles multiple tasks with different clients. They have to develop job descriptions, contact potential candidates, communicate with the clients, conduct interviews, and help with the onboarding process. They should be able to handle all these tasks side by side and perform well under pressure. They need to complete all these tasks and do them well. Multitasking ability is necessary for them to achieve their responsibilities.
Networking Skills
Networking skills are mandatory for all recruiters. Candidates can enter the recruitment funnel through various means. Recruiters of every nature must have the ability to network with people from in and around their industry. For an executive search consultant, these networks can aid them in finding suitable candidates for their requirements. This could ramp up their referral programs by getting help from their networks.
Conclusion
The skills mentioned above are necessary for an executive search consultant to do their jobs. The role of an executive search consultant has lots of hardships, and these essential skills will help them overcome the challenges. An aspiring executive search consultant may not have all these skills, but they can start building these skills to make their tasks easier.
LogicMelon
Award-winning recruitment software that will find, attract, hire and analyse the way you want to work. At LogicMelon, we have experienced software recruitment marketing specialists to help you build effective recruitment solutions supported by the best customer service you'll find anywhere!
Email: sales@logicmelon.com or call LogicMelon (UK) +44 (0) 203 553 3667 (USA) +1 860 269 3089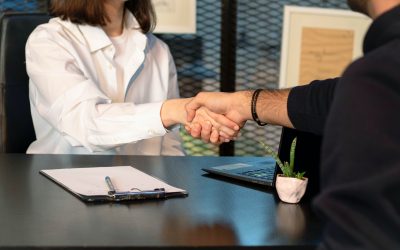 To successfully implement an ATS, it is important to consider certain factors. Learn more by reading this blog.
read more
Love what you're reading?
Subscribe today and get insights straight to your inbox