10 Tips For Recruiter Training
An efficient training program for recruiters may find the best talent for your organization. Recruiters with the proper training might be more dependable and better listeners. Businesses can depend on highly trained recruitment staff to select the most suitable talent due to their sharp observation and assessment abilities. They are a trusted and valuable resource on the job.
Tips for Recruiter Training
The following are some of the top tips for recruiter training: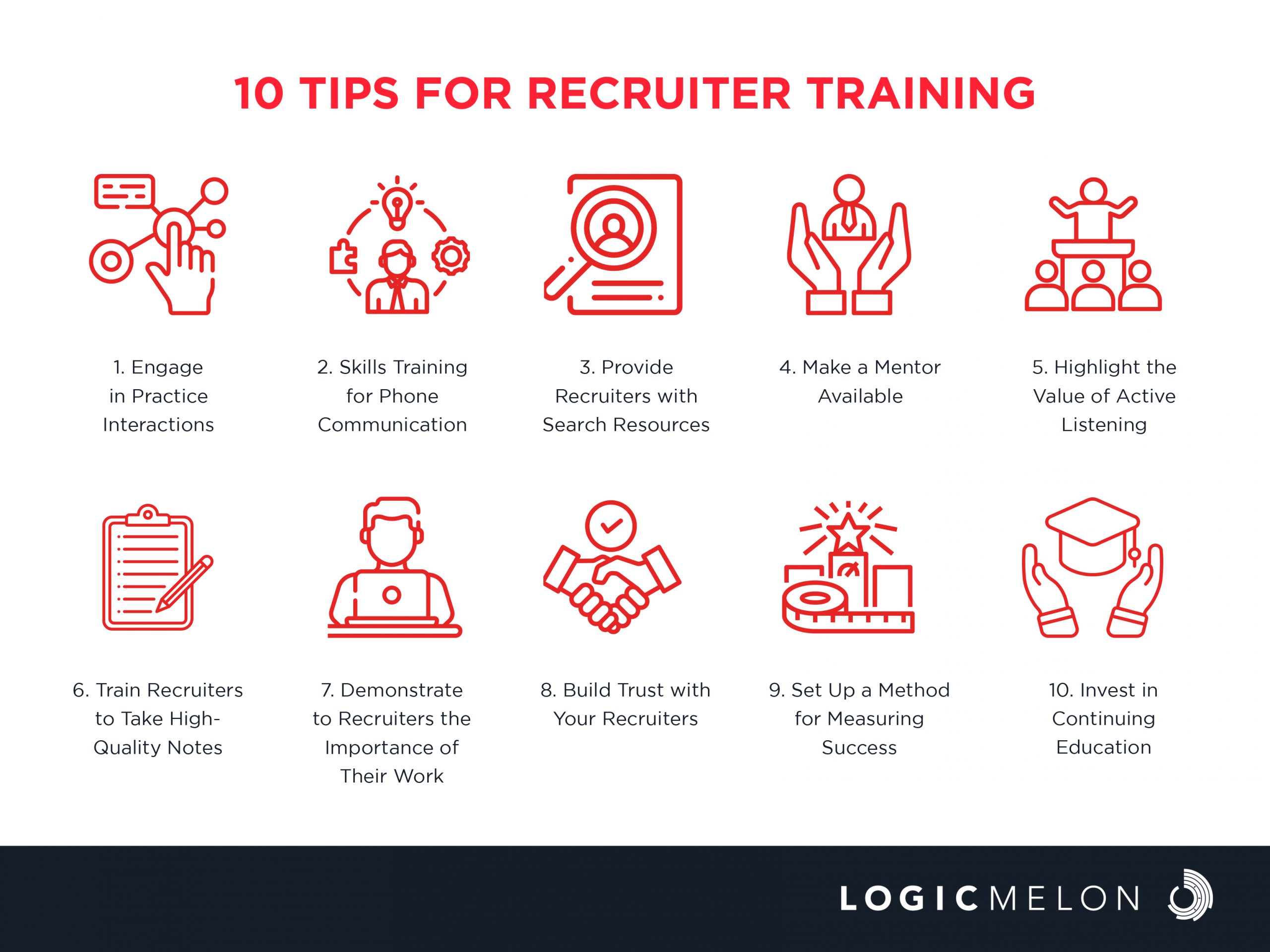 1. Engage in Practice Interactions
Giving your recruiters a chance to grow their abilities is crucial when you are training them. Exercises, including role-playing, can help you with this. For instance, you could pretend to be a candidate while the aspiring recruiter questions you and pays attention to your answers. They can gain confidence and useful abilities from these exercises, such as bargaining and communicating effectively.
2. Skills Training for Phone Communication
Most interactions with candidates happen over the phone, so it is important to train recruiters to do so successfully. They can get the necessary information from potential employees and enhance their performance by learning basic telephone etiquette. Being certain and composed is essential if you want fruitful phone conversations with interviewees. It's necessary to practice doing calls since some may involve video chat.
3. Provide Recruiters with Search Resources
Being aware of where to look for potential candidates and how to start conversations with them is equally crucial to the recruitment process. You can help trainees in their work by having information in your training program regarding where to find the best talent.
4. Make a Mentor Available
New recruiters can learn the strategies and tactics of your leading recruiters by being paired with more experienced recruiters. The more experienced recruiters can provide in-depth responses to newer recruiters' questions. A mentor is a valuable resources for rookie recruiters since they can use them to build organizational ties.
5. Highlight the Value of Active Listening
Listening abilities are an important component of the professional toolkit for recruiters. To fully understand the requirements of the process, recruiters communicate with coworkers and senior managers while performing their duties. Also, they frequently chat with potential candidates to find persons who fit these qualifications.
Since they want to ensure they hire the ideal candidates for open positions, they strongly rely on good listening skills. Developing active listening skills in recruiters can aid in acquiring relevant information. It also demonstrates to people that they are paying attention to them.
6. Train Recruiters to Take High-Quality Notes
Finding the right information requires the use of listening skills, as well as effective note-taking skills. Because of this, training sessions frequently emphasize taking effective notes while remaining attentive throughout a conversation with a candidate. This enables recruiters to keep their professionalism while acquiring the data they need.
7. Demonstrate to Recruiters the Importance of Their Work
Recruiters significantly improve a company's productivity and profitability. Recruiter training on their impact on firms can inspire and motivate them to succeed. This may also give your students the motivation to keep helping them grow.
8. Build Trust with Your Recruiters
Make sure recruiters know where to find the tools they need to accomplish their work well since this can boost their self-assurance. Explain to trainees the value of confidence and how it can assist them in attracting the most competent individuals. Being secure in one's position can also lead to job happiness, persuading recruiters to stick to the company for an extended period.
9. Set Up a Method for Measuring Success
Creating a structure that rewards excellent behavior and holds individuals accountable is a terrific way to support recruiters in their work. Before recruiters complete their training or start working, a business might implement the system. Starting it while in training can make it easier for them to become acclimated to it and encourage them to keep improving their skills both during and after training.
10. Invest in Continuing Education
Invest in continuous education. Ideally, the training program for your recruiters should never end. Implement a system of continuous education so that your recruiters may learn about new industry standards and frequently check their abilities and expertise, as opposed to completing training and letting them go to work. You can consistently enhance your capacity to locate and hire excellent prospects by continually upgrading your recruiters.
Benefits of Recruiter Training
The following are some benefits of recruiter training:
1. Maximise Business Profits and Influence
Your company's efficiency and influence should grow if your recruiter successfully hires the best candidates. Profits and workplace satisfaction can rise in an organization if every position has the best candidate.
2. Expect Recruiters to Be Trust Worthy
You may rely on your recruiters to provide top-notch applicants if you properly train them. By relying on your recruiters, you can concentrate on your responsibilities without having to supervise the hiring process.
3. Develop Outstanding Hiring Practices
By starting training as soon as possible, you can stop bad recruiting practices and develop a set of successful recruiting practices in each of your recruiters.
4. Improving Candidate Profiles
Business owners should value candidate summaries because they help them make wise judgments. Compared to less-trained recruiters, recruiters who have been trained in this can create applicant summaries of a high-quality standard.
5. Attract Top-Tier Industry Professionals
The ability of organizations to hire the top candidate available on the job market is the biggest advantage of having an efficient recruiter. Hiring talented individuals who can deliver excellent work and enhance organizations makes sense.
Frequently Asked Questions
1. What is End-to-End Recruitment?
The complete recruitment process, from beginning to end, is referred to as end-to-end recruitment. Planning, role definition, resource sourcing, interviewing, decision-making, and onboarding are all included. In what is known as a recruitment process outsourcing agreement (RPO), end-to-end external recruiters typically oversee the full hiring process while collaborating with the hiring manager or HR.
2. What is recruitment process outsourcing (RPO)?
According to the Recruitment Process Outsourcing Association (RPOA), recruitment process outsourcing (RPO) is a type of business process outsourcing (BPO) in which an employer transfers all or a portion of its hiring procedures to an outside service provider. An RPO provider may offer resources or take over the company's personnel, technology, working methods, and reporting.
3. What is the difference between recruitment and hiring?
Recruiting involves looking for potential employees with the necessary skills and qualifications and motivating them to apply for positions inside the company. This is the initial process. Hiring is offering a selected individual a job at a specified salary; this is the final process.
Closing Thoughts
Organizations must have an efficient training plan for recruiting professionals if they want to hire the best candidates. Businesses may rely on highly qualified recruitment employees to identify the greatest talent utilizing their excellent observation and evaluation skills, making them more dependable.
LogicMelon
Award-winning recruitment software that will find, attract, hire and analyse the way you want to work. At LogicMelon, we have experienced software recruitment marketing specialists to help you build effective recruitment solutions supported by the best customer service you'll find anywhere!
Email: sales@logicmelon.com or call LogicMelon (UK) +44 (0) 203 553 3667 (USA) +1 860 269 3089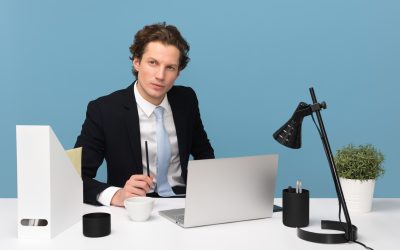 Recruitment crisis management requires adaptability, strategic thinking, and a proactive approach to address talent shortages and avoid disruptions.
read more
Love what you're reading?
Subscribe today and get insights straight to your inbox