What Is Recruitment Advertising?
Finding the right talent for your business can be extremely challenging, especially when filling niche job openings. It's also essential that you not only find the most qualified applicant but also get one that fits with your company culture. After all, the right people will help bring your business to new heights. 
What can help make the process easier? Recruitment advertising is what you're looking for. It brings together the best elements of recruiting and advertising to help you find the best talent out there.
Recruitment Advertising Definition
Recruitment advertising is the practice of using marketing processes, principles, and strategies to promote the value of working for an employer. This can help to attract, engage, recruit, and retain talent for the business. 
It promotes not just the job opening, but also gives a glimpse of what your company culture is. It helps job applicants understand who they'll be working for and what kind of environment they'll be working in. It also helps to establish branding, builds awareness, and increases visibility across multiple channels.
The Importance of Recruitment Advertising
The traditional method of transactional recruitment is just not working anymore. Times have changed and people are not finding jobs just on newspapers, flyers, and posters anymore. Instead, they are going to social media platforms, professional networking sites, and digital ads. Candidates are now more immersed in the online community so naturally, they'll find job postings there.
Aside from that, applicants are not just looking for job openings with high-paying salaries and good benefits anymore. They are now more interested in who the company is and what kind of culture they have. 
With this in mind, recruitment advertising helps you meet the demands of your applicants while enticing them to apply for the job. 
The Differences Between Recruiting and Recruitment Management
In recruiting, jobs are advertised across various channels and job boards. As a result, it attracts talents to jobs. 
In contrast, recruitment advertising attracts talents to employers, not just jobs. It develops an array of employer brand content and it markets content through different recruiting platforms. Aside from just finding talent, it also aims to create awareness, build followers, capture leads, and encourage referrals. 
How Recruitment Advertising Affects the Marketing Funnel
Top of the Funnel
Recruitment advertising creates brand awareness for your company. It introduces who you are to your audience even before they start looking for a job. These people are called passive job applicants and they're a great audience to target.
According to statistics, 70% of the global workforce are passive job applicants. Since recruitment advertising comes with creating content that is posted in different channels, it can find its way to a lot of passive applicants. This hits 2 birds with one stone!
Middle of the Funnel
Once you've introduced who you are, it's time to generate interest for your audience. This part includes creating high-quality content that ties up with who you are as a brand. This content should be published on all of your available channels like social media and your website.
The key to generating interest is to make sure that your recruiting team is aligned with your marketing team. Your recruiting team can work with the marketing team to make sure that the content they release nurtures the interest of the target job applicants. 
What kind of information do your target job applicants need to want to become part of your company? These include your company culture, outreach programs, and benefits and perks, as well as growth and career development opportunities. Your job applicants want to know why your company is the right choice. They don't focus on just the compensation anymore. 
Not a lot of companies release this kind of information but making sure that your audience can find it is a great step to getting their interest. You can post this information as blog content or on your dedicated webpage for company culture.
Bottom of the Funnel
This is the final stage where your potential job applicants are seriously thinking about applying for a job position in your company. On your end, it's your job to make it an easy and seamless experience for them to do so.
The first obstacle that most job applicants face is that they can't find how they're supposed to apply. Your call to action button for an application should be easily visible and accessible. 
The next obstacle that they face is that sometimes, the recruitment application is painfully difficult. There are numerous problems that can arise in this part. For example, it can be hard to find where to submit resumes or cover letters. It can also be hard to answer unnecessarily long questions and forms. 
Making it easy for potential job seekers to send in their applications can help motivate them to become part of your company.
How to Make a Recruitment Advertising Strategy
In recruitment advertising, it's important to keep in mind that no matter what position you're advertising, your branding must be consistent throughout all your content. This includes elements like:
Company culture.

Company mission and vision.

Company values.
Once you've established a solid foundation of who you are as an employer, it's time to create your recruitment advertising strategy.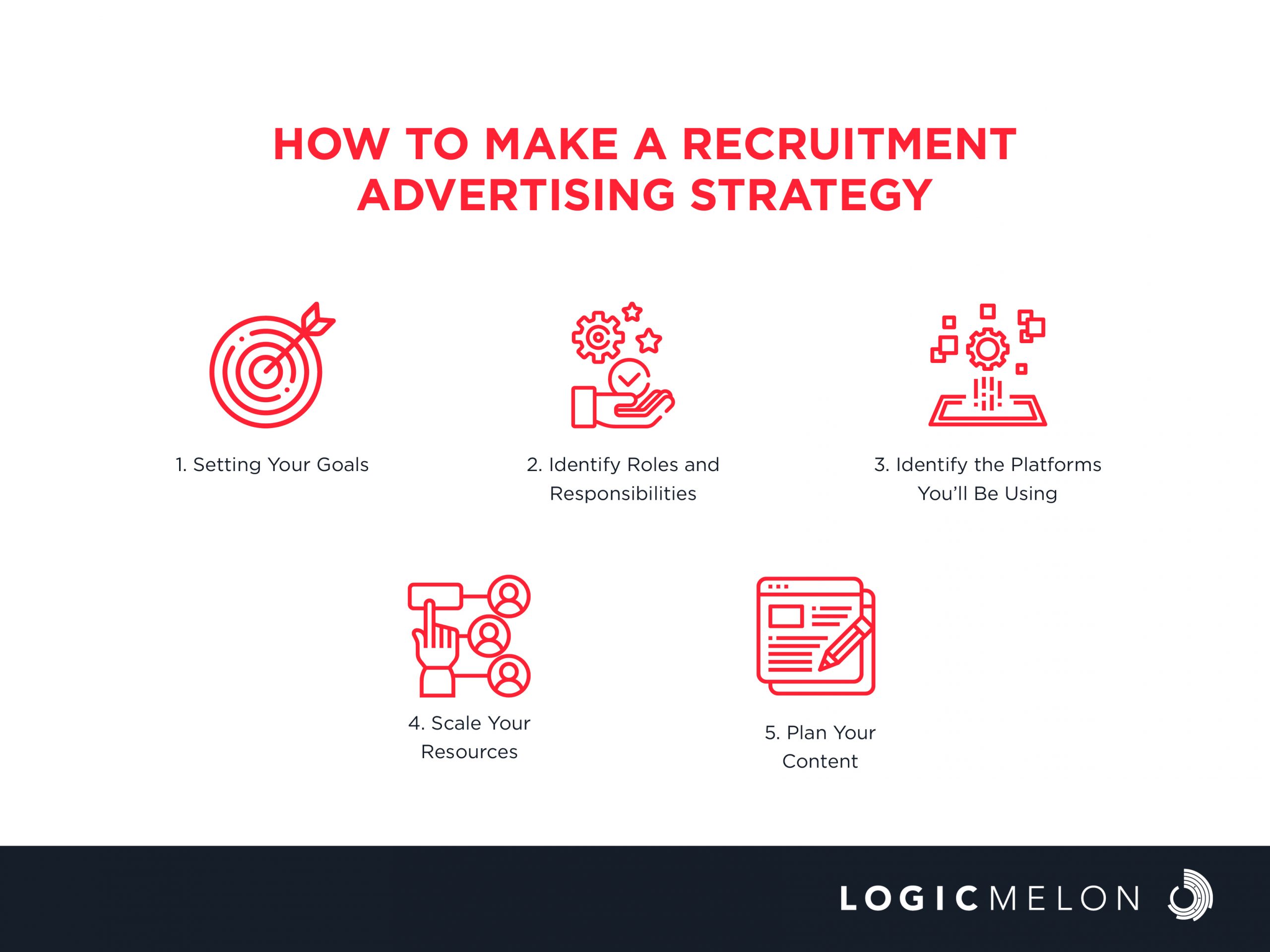 1. Setting Your Goals
Setting goals can help you understand if you have become successful with your recruitment advertising. It also helps you focus on what you want to achieve so you can plan accordingly on how to achieve these goals. 
Keep in mind SMART when planning your goals. This stands for Specific, Measurable, Achievable, Relevant, and Time-Bound.
Make sure that your recruiting team and marketing team are both involved in making these goals. It takes both teams to ensure that your goals are SMART.
2. Identify Roles and Responsibilities
Job openings must have definite roles and responsibilities to be able to properly advertise them. This means that you must have clear job descriptions and requirements to make good advertising campaigns. 
On the job applicant's end, it is also easier to identify if the job opportunity is something they want and are qualified for. 
3. Identify the Platforms You'll Be Using
You'll be targeting a wide range of applicants, even more so if you're targeting passive job applicants. This is why it's important to identify which platforms will be most effective to use to target the right candidates. 
For example, when you have an opening for a very niche job opportunity. You might want to advertise on a platform that has numerous skilled talents. This can be professional networking sites, like LinkedIn. 
4. Scale Your Resources
Recruitment advertising can be a bit overwhelming if you try to do everything at once. There are so many strategies to try out, and so many platforms to post your content. It would therefore be wise to work slowly and more efficiently by identifying which efforts are worth the time and resources.
You'll have to identify whether you have the budget and the manpower to run all of your recruitment advertising efforts. If not, a great option would be to outsource these tasks to a team that is capable of bringing you quality results.
5. Plan Your Content
Content is going to be at the centre of your recruitment advertising strategy. It is therefore essential for you to plan your content so that it stays consistent and relevant. 
This is where content calendars come in. A content calendar is used to schedule and control content to be posted on various media platforms within a given time period. It includes details of the content like the following:
Target date and time of publication.

Title, headline, or topic.

Author or contributors to the content.

Status of content completion.

Deadline for content completion.
Having a content calendar can help you visualise and strategize how you'll release your content. It can also help you stay organised by knowing what topics you've already discussed and when you've discussed them. This can help prevent you from being repetitive. 
Conclusion
Recruitment advertising is a powerful way to attract the right talent to your business. It helps advertise not only your job opportunities, but also who you are as an employer. This can help potential applicants get to know you better and see if you're exactly what they're looking for.
Aside from that, it's also a great strategy to target passive job applicants, which can put your business on the right platforms and in front of the right people. Overall, it's a great practice to have, not only for your current job openings but also for future vacancies.
LogicMelon
Award-winning recruitment software that will find, attract, hire and analyse the way you want to work. At LogicMelon, we have experienced software recruitment marketing specialists to help you build effective recruitment solutions supported by the best customer service you'll find anywhere!
Email: sales@logicmelon.com or call LogicMelon (UK) +44 (0) 203 553 3667 (USA) +1 860 269 3089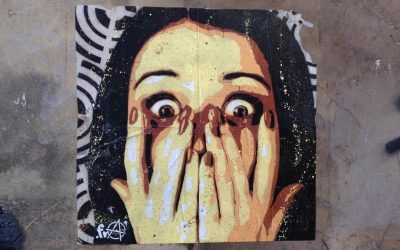 Applicants who know their worth won't invest their time or energy jumping through hoops. And why should they? They have the power.
read more
Love what you're reading?
Subscribe today and get insights straight to your inbox