8 Strategies for Conducting a Recruitment Drive
A recruitment drive is an affordable method for locating and hiring the most qualified applicants for a position. The process of enrolling a new candidate involves analysing the requirements of the job, recruiting the representatives for that position, screening and selecting candidates, enrolling them, and incorporating them into the company. The recruitment drive involves more than just finding new candidates who have the required skill set for the open positions.
Why is a Recruitment Drive Important?
Nowadays, everything in the world is fast-paced, and people try to save time in everything they do. Before the internet age, hiring candidates would have taken a whole day for companies. They would have used various strategies, including advertising. But with the recruitment drive, it has become easier to hire people. The following are some of the reasons why the recruitment drive is important:
Saves time and effort.

Out-of-the-box candidates.

Higher retention rate.

Skilled and qualified candidates.

Good relationships with candidates.
Strategies for Conducting a Recruitment Drive
The following are the different strategies for conducting a recruitment drive: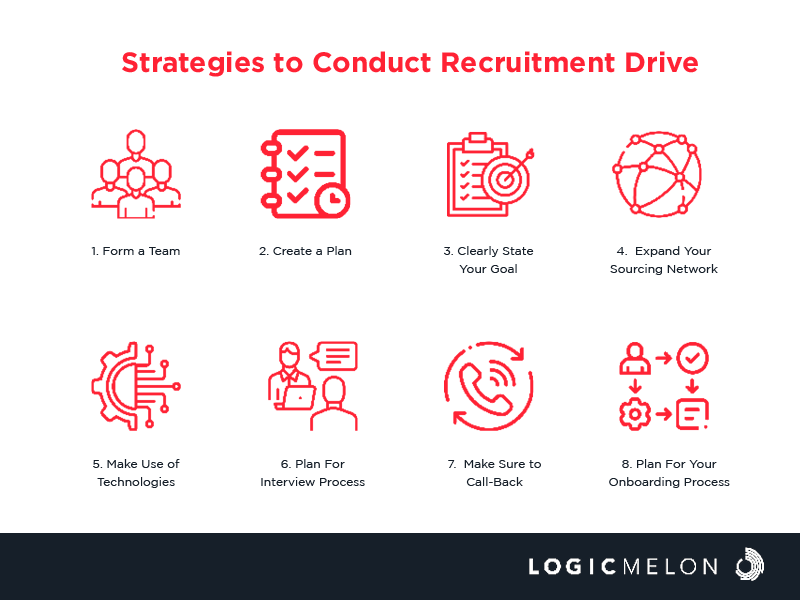 1. Form a Team
The key to a successful recruitment drive is assembling a strong team that can support your goals. You might have to rely on recruiters and recruitment agencies to source and screen candidates, but your greatest strength lies in leveraging existing employees who have prior knowledge of the subject for which you are hiring.
If your company wants to hire a large number of candidates, it is better to have agencies on the hiring committee since they can help identify the required qualifications for the position and advise you on how to conduct the interviews. You might ask them to contribute a few hours per day or make them a temporary delegation for recruitment. In any case, the recruitment drive process will be significantly impacted by their efforts and insights.
2. Create a Plan
The next step is to create a plan for the recruitment process. This involves sourcing, screening, hiring, and onboarding the candidates. For the mass hiring drive, you should have a goal in mind. This will give you an idea of all the tasks you must carry out to achieve your goal. Making a hiring timeline is important, and it must be established. All those participating in the hiring process will pay closer attention as a result of this. All your goals will be achieved by creating a timeline. You must also plan for cost metrics. Large-scale hiring procedures are typically very expensive. From the beginning of the planning process, take expenses into account.
3. Clearly State Your Goal
Now that you have a team and a strategy, organise a meeting with your team to talk about the qualities you are looking for in a candidate. Each position's roles and responsibilities should be detailed instead of just providing an outline. Finding the best candidates will be made easier by doing this. To create a thorough list of qualifications and talents for your ideal applicant, you can enlist the help of your current high-performing staff. Specify your top priorities and the requirements for your top applicants. You can accomplish your objective more rapidly if you have a thorough job description.
4. Expand Your Sourcing Network
Your current recruitment drive and sourcing strategies won't result in a successful mass hiring effort. Increasing the number of ideal applicants you can reach through your sourcing network is a crucial part of recruitment techniques. Use several channels if you want to reach a wider pool of candidates. This is related to marketing in that you let everyone know that you are hiring and then wait for responses to come from all departments. The following are some of the ways to contact candidates:
Planning recruitment campaigns.

Working with local organisations.

Marketing ads are placed in appropriate publications and places.
5. Make Use of Technologies
As soon as you start your active sourcing effort, you can expect to receive a flood of responses from job seekers eager to fill your vacancies. In this situation, it will be necessary to use technology to examine each application and rank individuals appropriately.
Technology can be a great help to you with the initial sourcing and applicant screening processes by skimming through candidate profiles and categorising them according to their relevant abilities. This can help you narrow down a list of potential candidates to the best-fit candidates, enabling you to better organise your interview process. Using technology will increase the effectiveness of your screening procedure.
6. Plan the Interview Process
Research has shown that the optimum method for evaluating a candidate is a structured interview procedure rather than an unstructured assessment process. Also, having a structure is essential if you need to hire a lot of people quickly. You will be less likely to hire the incorrect candidates, your hiring process will be more objective, and you will save time and money with a planned interview. All of your recruiters involved in the preliminary interview stages should cover the same set of inquiries and be given clear guidelines on the qualities to look for in a candidate. The fittest candidates can be narrowed down for an in-person interview.
7. Make Sure to Call-Back
Following up is crucial during the hiring process. You are communicating with a large number of people via numerous outreach methods. In this situation, you may think of skipping the call-back procedure. Keep in mind that your company's reputation is on the line, and keeping many applicants in the dark regarding the outcome of their interview can damage their perception of your organisation and could impact your hiring process.
8. Plan for Your Onboarding Process
Onboarding is one of the most important factors in a mass hiring drive. Mass onboarding can be used when you need to hire lots of people for the same position. Instead of onboarding a small group of candidates every day, it is preferable to start the process for a large group of candidates once a week. This helps you create a great candidate experience in addition to organising your workflow. It will also help you plan the interview process.
Frequently Asked Questions
1. What Are the Recruitment Metrics?
The efficacy of the company's hiring and recruiting processes is measured by recruitment metrics. They assist you in assessing the effectiveness of your current hiring procedure in terms of hiring and retaining candidates. The hiring process can be improved in areas that are more clearly identified by performance indicators.
2. How to Choose a Recruitment Agency
Before choosing a recruitment agency, follow these steps:
Research their background.

Interview the agency.

Understand what you want.

Be sure they provide the services you require.

Examine evaluations.
3. How Do You Set a Recruitment Goal?
To set a recruitment goal, follow the SMART goal-setting framework:
Specific

Measurable

Achievable

Realistic

Time-based
Closing Thoughts
There is no such thing as a job drive that is error-free. Every hiring process has some problems that must be corrected or adjusted to improve it. This is particularly true when recruitment drives are underway. This may greatly benefit businesses by interacting with candidates online, creating a compelling brand, and assembling a diverse staff. The procedure will be further improved by utilising the most recent digital techniques and technology. It also guarantees that the relationship is mutually beneficial. 
LogicMelon
Award-winning recruitment software that will find, attract, hire and analyse the way you want to work. At LogicMelon, we have experienced software recruitment marketing specialists to help you build effective recruitment solutions supported by the best customer service you'll find anywhere!
Email: sales@logicmelon.com or call LogicMelon (UK) +44 (0) 203 553 3667 (USA) +1 860 269 3089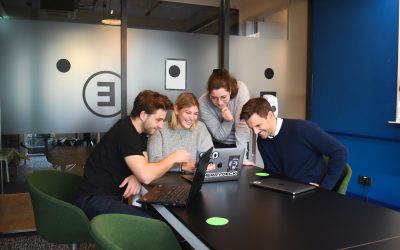 Self-managing teams can foster creativity, strengthen organisational relationships, and accelerate goal achievement.
read more
Love what you're reading?
Subscribe today and get insights straight to your inbox