Every Recruitment Role You Need to Know
Recruitment has always been a collective effort. It is not possible for just one person to handle everything related to recruitment. It takes more than one person to handle all your needs when finding the top talent for your organisation. With so many recruitment roles, it is essential to learn about them to understand which ones are required for your organisation.
Sometimes, depending on the size of the company and your budget, you need to make hard choices and choose the roles that encapsulate multiple responsibilities for your company's hiring needs.
When it comes to recruitment, you can find candidates using your internal team or work with a recruitment agency. In the long run, going for an internal recruitment team is better if your company hires new candidates regularly.
Regardless of the size of the organisation, recruitment is a necessary aspect that helps you bring in more candidates who eventually become employees and can help you grow. With such an important department, you need to understand the various roles that are associated with recruitment.
Recruitment Roles You Need in an Organisation
The following are the recruitment roles that you need to be aware of:
Recruiter
When your company is small, and you are just starting your business. The budget might not allow you to hire many employees. In this case, you'd need a recruiter who handles all the end-to-end recruitment processes.
The recruiter is a standard term, and it refers to someone involved in sourcing candidates, talking with them, setting up interviews, and assessing the candidate as per the requirements.
The recruiter coordinates across various teams and helps to pick the most qualified candidates for your job. This recruitment position entitles them to play an active role in all parts of the recruitment process.
Sourcer
A sourcer, is a recruitment role that is always confused with a recruiter. However, the distinction is much simpler. A sourcer, is involved in finding the candidate to apply for the open role in your organisation. 
The sourcer looks for the right talent and collects the CVs of the candidates to cross-check them with open critical job roles. Once they match them with the open roles, the screen and send candidates to the recruitment funnel.
To perform their duties, the sourcer needs to understand the goals and vision of the company to source a proper culturally fit candidate, as well as the roles and responsibilities of the open position to find the right candidate for the job.
Hiring Manager
A hiring manager is a person who opens a job role since they need a new member to join their team. They are the ones who directly hire for the positions. Hence, they are called the hiring managers. 
The hiring manager creates a job requisition and is directly responsible for defining the roles and requirements for the job role. In a startup, usually, the CEO takes this responsibility. But, the hiring manager can be an employee who manages the department or team.
This is because hiring manager satisfaction with the candidate selection is one of the recruitment KPIs used to track the company's recruitment efforts. That is how much importance this recruitment role possesses.
The hiring manager works with the recruiter while handling the candidate's recruitment process. The hiring manager is the one who makes the decision. 
Recruitment Coordinator
A recruitment coordinator is an entry-level recruitment role. A recruitment coordinator assists the recruiter and the sourcer with finding suitable candidates, drafting an offer letter, following up with candidates, scheduling interviews, posting jobs on various boards, and many other tasks involved in recruitment.
Since recruitment is time-consuming, certain tasks must be delegated to the team members. This is where the recruitment coordinator comes in. Since this is an entry-level role, they can assist the recruiter and get to develop their skills.
When the organisation needs a new recruiter, the recruitment coordinator can be promoted to a recruiter to take additional responsibilities.
Recruitment Consultant
A recruitment consultant acts as an intermediate between the candidate and the employers to help the candidates get a job based on their skillset. The recruitment consultant helps the organisation by identifying the areas for their improvement and finding the right candidate for their job openings.
They do not in-house role in an organisation. Instead, they work as a part of a recruitment agency and help candidates and employers. They might gain multiple clients and work on finding candidates for their job roles.
A recruitment consultant is usually best when the organisation fills a bulk-hiring requirement and does not need an in-house recruiter.
Technical Recruiter 
Most businesses need some form of tech support to help them run smoothly. In this case, a company would require someone with technical knowledge for the job roles. So, someone in the recruitment role should know how to make a sound judgment.
This is the role of a technical recruiter. They specialize in recruiting candidates with technical expertise. For instance, roles such as programmers, data scientists, UX developers, and engineers would all be handled by a technical recruiter.
Having a technical recruiter on the team can help make it easier for you to source the candidates. It also helps when the recruiter has sound knowledge of which candidate would suit the company's needs.
Campus Recruiter
For entry-level roles and internships in your organisation, you must look into the recent graduates and students. Universities and colleges are the right places to start when looking for fresh talent.
The role of a campus recruiter is to build a good relationship with colleges across their regions and find potential candidates for their job roles. They achieve this by frequently visiting various colleges, attending job fairs, and building a talent pool of college graduates.
A campus recruiter also helps put a good word in for your open roles and enables you to build a good brand image for your company.
Executive Recruiter
Every organisation takes care in hiring each of their employees. This is especially true for C-suite roles. Extreme care goes into hiring executive-level employees. The main reason for this is that they are highly paid jobs requiring huge responsibilities.
An executive recruiter specialises in sourcing candidates for C-suite roles. They build connections with the right places and source the best candidate for the leadership position. An executive recruiter cannot afford to make a bad hire, which can impact the company.
An executive recruiter is only required in an organisation that is expanding and has a lot of open positions for leadership roles. They also look into the candidate for their soft skills and the organisational fit to make the perfect choice for the executive role.
Make Recruiters' Lives Easier
Every recruitment role comes with its challenges and pitfalls. To avoid these problems and make the best decisions for the organisation, they need to use tools specifically built to make the recruiters' lives easier.
An applicant tracking system (ATS) helps the recruiter by providing a single platform to access the data of the candidates and keep track of them. It helps find the right match for your job roles based on multiple filters, gives you a complete analysis of the hiring efforts, and enables you to manage the talent pool.
LogicMelon is an ATS that offers you a complete end-to-end recruitment solution. It has intuitive features that can help you hire the right candidate for your open positions while making the recruiter's task more manageable.
Book a free demo today to learn more about LogicMelon.
Closing Thoughts
The recruitment role varies with their duties and responsibilities. In comparison, they all share the exact role of bringing in new candidates to fill the vacancies in the company. The only difference between various recruitment roles is that they all go about it differently. Understanding each recruitment role is necessary to decide which roles you require in your company.
LogicMelon
Award-winning recruitment software that will find, attract, hire and analyse the way you want to work. At LogicMelon, we have experienced software recruitment marketing specialists to help you build effective recruitment solutions supported by the best customer service you'll find anywhere!
Email: sales@logicmelon.com or call LogicMelon (UK) +44 (0) 203 553 3667 (USA) +1 860 269 3089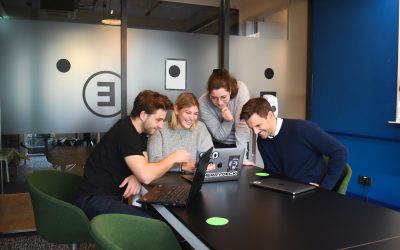 Self-managing teams can foster creativity, strengthen organisational relationships, and accelerate goal achievement.
read more
Love what you're reading?
Subscribe today and get insights straight to your inbox