Impact of Recruitment Tech on Sourcing Candidates
Employers and Tech recruiting firms use technology as an efficient way to find the best people, saving time, money, and resources. Using the latest recruitment tech tools makes the process easier to source qualified candidates and screen them for skills, experience, and personality traits.
Benefits of Recruitment Technology
For HR professionals to remain effective in their roles, it is essential to make the best use of the technological trends impacting the industry. Hiring an recruitment tech platform streamlines and simplify the hiring process, which can lessen the workload for recruiters and HR departments.
1. Faster Screening
Screening technology can help speed up the process, and evaluate candidates based on their soft skills, personality traits, and logical reasoning.
This process also eliminates the risk of bad hires, while also saving time and resources by automatically using a platform to screen, grade, and shortlist candidates.
2. Efficient Operations
This technology increases the ability of an organisation to reduce waste in time, effort, and materials, while still producing a high-quality service or products. Recruitment tech platforms help to quickly prepare and send acceptance letters and rejection letters to the candidates, which eliminates the process of manually sending out results to the candidates.
3. Eradicating Bias in Hiring Practices
Bias is the tendency to prefer and favor one person or thing. Every person in this world has their own unconscious bias, but when it comes to recruiting a diverse range of the workforce for your company, it can be a hindrance.
Unconscious bias happens when you form an opinion about candidates based solely on first impressions, or when you prefer one candidate over another candidate because the first one seems like someone you would easily hang out with outside of work.
One of the latest hiring trends is making parts of the hiring process anonymous.
4. Effective Candidate Experience
A recruitment system improves the candidate experience by speeding up the process and lessens human error during the process. The faster results help the candidate to figure out their next move according to their results.
5. Improves Communication
This process improves communication with the candidates, keeps them updated with the recruiting process, and makes the process very simple.
Impact of Recruitment Tech on Sourcing Candidates
The business world is constantly evolving and for the company to source the right candidate, they must have the necessary skills to offer candidates the opportunity to work with the organisation. For this process recruitment technology helps the business to find the best talent and they can potentially play a key part in the organisation.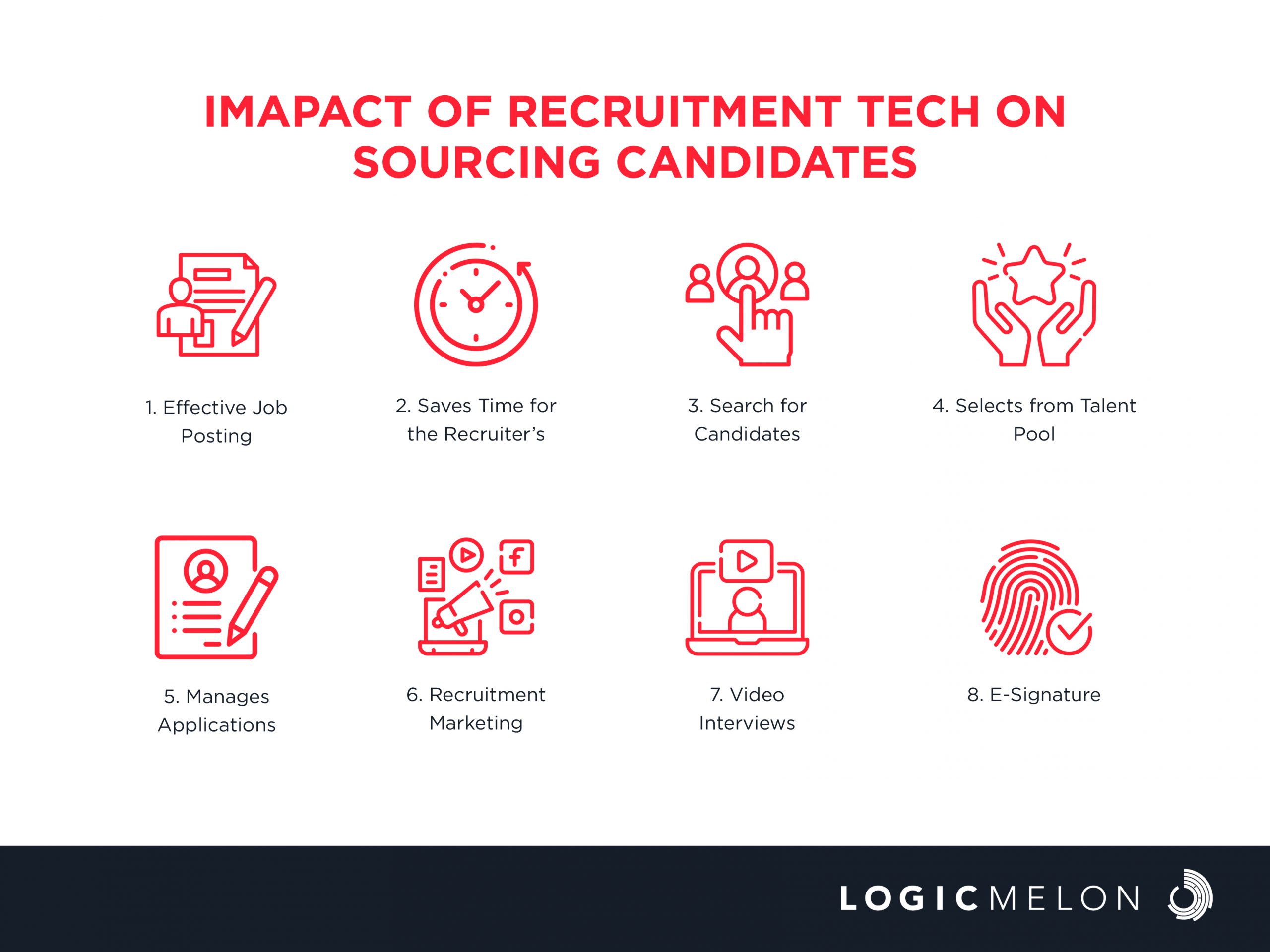 1. Effective Job Posting
Recruitment tech helps in speeding up the process of job posting by recommending the job boards that are likely to generate the largest number of quality applications based on the job ad. Consider your career page as a tool to boost your employer branding. A powerful career page can help you to attract the right fit candidate. Make sure to provide the information job seekers need, show off your company personality and optimize the page.
2. Saves Time for the Recruiter's
Recruitment tech saves time for recruiters by offering self-scheduling options for candidates, taking advantage of templates, enabling mobile-friendly recruitment, introducing e-signature, and using user-friendly recruitment processes. Hiring managers can even use video interview technology which can speed up the recruitment process significantly. Candidates do not necessarily have to fly in from other locations and hr managers can assess for personality fit for a role.
3. Search for Candidates
The recruiter must know how much time can be spent communicating when planning for a phone screen, a video interview, or an in-person interview at any stage in the process.
Techs include software developers and programmers, computer support, database and systems, technology and engineering-related positions, and computer and information system managers.
As technology becomes more important for business across many industries, the need to hire software engineers to develop recruitment tech in companies is essential.
4. Selects from Talent Pool
A talent pool is a database of potential job candidates from diverse talent that has the potential to meet an organisation's immediate and long-term needs. To hire, select the essential talent and keep a human approach in recruiting, companies can either hire internally, use personality assessments, or reach out to recruiting companies that use more than technology.
Hiring internally gives employees and employers opportunities for growth. Employees have room to grow and employers have the time to learn about their employees. Using personality assessments gives both the employees and employers whether they can work in the company's cultural fit.
5. Manages Applications
The organisation receives applications from interested candidates, and recruitment tech helps to manage these applications. The applicant tracking system is a foundation upon which you can build your tech stack. This platform acts as the system of records for your talent acquisition program. The recruitment tech helps to screen faster for the hiring process. This process also helps to keep the candidates engaged.
6. Recruitment Marketing
The job market is candidate-driven and applicants have more power and confidence to reject an offer that they see as undesirable or simply avoid applying to jobs that are not well marketed to them.
Employers are developing recruitment tech marketing software to improve the likelihood of qualified candidates finding and applying for desirable jobs. Recruitment software applies marketing strategies and best practices to the recruitment processes.
Automating the distribution of job postings and optimising them for the modern ways in which job seekers find openings. It also identifies the best internet sites and social media platforms you can use to reach top candidates. After identifying the best sites, automated marketing enables companies to schedule ads, watch impressions, and track expenses.
7. Video Interviews
Recruiters can speed up the interview process by using video technology. This technique helps to conduct interview questions in an effective manner by screening more applicants and deciding on which people a company wants to invite back for a face-to-face interview. Scheduling multiple interviews, and dealing with serval schedules is also easier with video technology.
8. E-Signature
Getting the candidate to sign the job offer so you can close the books especially when it is a remote candidate or new employee from another location.
Having contracts delivered to and from the new hire is a time-consuming process, and that piles up when you are handling multiple hires at once.
Pros and Cons of the Recruitment Tech Hiring Process
Recruiting technology can help employers find, attract, and ultimately hire the people they need. Technology benefits both the recruiter and the candidate. Candidates can search and apply for jobs rather than filling out applications and dropping them off at the front deck. Recruitment tech benefits candidates and employers in regard to saving time, but it can take away the human interaction aspects. Technology helps to weed out unqualified candidates at a much faster rate, leading to finding the best candidate faster for the recruiter.
The human approach helps both the recruiters and candidates find the best job. A person may look good on paper, but that person may not fit in the work culture. The recruiter should test candidates on their personality skills in their recruitment process. Knowing both the personality of the candidate, as well as the culture of the workplace, gives recruiters the ultimate advantage.
Frequently Asked Questions
1. How is artificial intelligence used in the recruitment process?
Artificial Intelligence represents an opportunity for recruiters to reduce the time spent on repetitive, time-consuming tasks for businesses, such as screening resumes, automatically triggering assessments or scheduling interviews with candidates.
2. What is the advantage of using technology in recruiting?
Technology in recruiting will lessen the workload for recruiters and HR departments and simplifies the hiring process.
3. How recruitment tech helps to speed up the candidate sourcing process?
The recruitment tech platforms help to speed up the candidate sourcing process by conducting video interviews and introducing e-signatures.
4. What is a recruitment marketing platform?
A recruitment marketing platform is a software that is used to market your job and your company so that you can attract candidates and convert them into applicants ad new hires.
Closing Thoughts
In recent years, with an extremely competitive work environment, the benefits of recruitment technology play a vital role in recruiting top talent for organisations, which includes speeding up the employer and the candidate process, streamlining recruitment marketing, and managing applications.
While technology continues to advance, companies have to keep the human touch in regard to the workplace. Finding and retaining the right talent depends on many key factors. Those factors include finding a candidate that matches the company's culture, using the right platform to find those candidates, and keeping up with technological advances in regard to recruiting. 
LogicMelon
Award-winning recruitment software that will find, attract, hire and analyse the way you want to work. At LogicMelon, we have experienced software recruitment marketing specialists to help you build effective recruitment solutions supported by the best customer service you'll find anywhere!
Email: sales@logicmelon.com or call LogicMelon (UK) +44 (0) 203 553 3667 (USA) +1 860 269 3089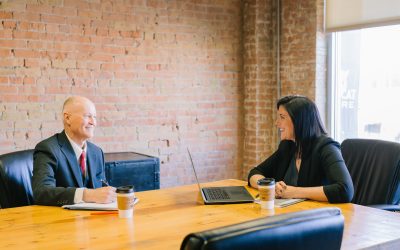 The capacity to influence stakeholders is the quality a business analyst should have, especially in the success of strategic initiatives.
read more
Love what you're reading?
Subscribe today and get insights straight to your inbox