10 Screening Techniques for the Recruitment Process
The candidate screening techniques refer to determining if a candidate is eligible and qualified through the hiring process based on their skills, experience, and expertise.
Screening candidates is a part of the overall hiring process and comes before the interview stage. HR screening techniques allows you to create a shortlist of qualified individuals who have the potential to be successful at your organisation.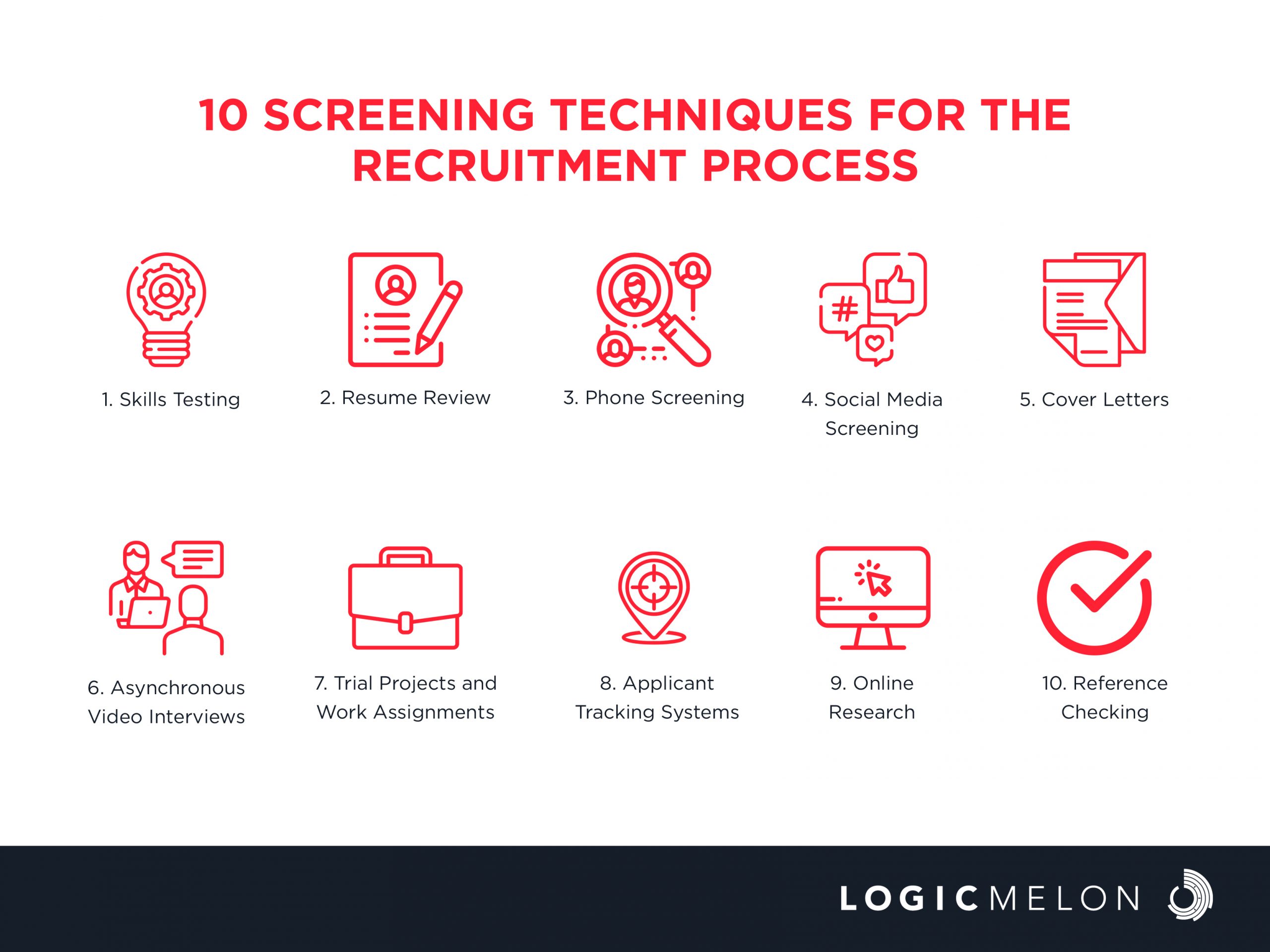 10 Screening Techniques for the Recruitment Process
1. Skills Testing
Skill testing helps analyse a candidate to see if applicants can do the job before making the offer. Skill tests can be customized virtually for any position, providing a great candidate experience in addition to verifying someone's skill level.
An assessment is used to provide an unbiased validated evaluation of a candidate's ability to perform the duties listed in the job description. Generally, the skills test is based on different formats to see how the candidates perform on-the-job tasks.
2. Resume Review
Resume screening is one of the most widely used methods to screen candidates for a job. Hiring managers who rely mostly on resumes to make decisions cannot fully assess the candidate's potential, and can often be replaced by skills assessments or phone screenings.
3. Phone Screening
Companies use phone interviews to verify and screen a candidate's qualifications. These screening techniques in recruitment are shorter than a traditional interview, but still time-consuming.
A typical phone screening can take up to 30 minutes and covers high-level questions designed to learn more about candidates without hustling to re-scheduling their life for a full interview.
4. Social Media Screening
Recruiters often use social media for candidate outreach and screening processes, and they often check candidates' profiles to see how they represent themselves online. Hiring managers are able to view pictures of job candidates and information related to their education, political views, hobbies, interests, and geographic location.
5. Cover Letters
Resumes are a great way to present themselves, and cover letters give opportunities to express their written communication skills, the cover letters that stand out usually show creativity and out-of-the-box thinking.
A cover letter is a one-page document that you submit as part of your job application. Its purpose is to introduce you and summarize your professional background.
6. Asynchronous Video Interviews
Pre-suggested interview questions make the candidate screening process effortless. Recruiters can watch videos as they come in without worrying about scheduling.
Asynchronous video interviewing standardizes recruitment, and the recruiter can ask the same questions and send out invitations to candidates, they can respond to these interviews on their own time. This helps to cut down on the amount of time in screening candidates.
7. Trial Projects and Work Assignments
Work assignments measure the candidate's ability to perform given by the company during a work trial candidates are asked to carry out an assignment or challenge in the office, whether they complete the task or not is not important. employers often look for certain capacities that lie outside of the task, in the approach to the problem.
It is extremely important that any candidate on a trial gets along with their potential team and adds to the company culture in a positive way. The work trial allows the company to see how well the candidate fits in with the company's culture and team.
8. Applicant Tracking Systems
An applicant tracking system (ATS) software solution runs automatically through resumes and finds the best candidate on your behalf. They are an essential element of the hiring process in enterprise businesses that get a large volume of applicants per position.
An ATS helps to manage the end-to-end recruitment process from sourcing to hiring and helps to automate the organisation's recruiting and staffing operations.
9. Online Research
Online research is one of the easiest methods of screening candidates. The details of the candidates are shared in their profiles, and the recruiters, by doing simple research, can find out if the candidate has a website, public portfolio, or strong social media presence online.
Online recruitment is usually a method used by HR professionals to assist the recruitment process by using technology, and web-based tools. It is mainly an automated process of tracking, attracting, interviewing, and hiring candidates by utilising online stages and HR software.
10. Reference Checking
This is generally an objective evaluation of an applicant's job performance based on information collected from key individuals. A reference check is conducted alongside other screening methods, which gives candidates a good all-around check on the candidate history.
Frequently Asked Questions
1. How do employers screen applicants?
Resume screening is the most traditional way of showcasing skills and experience to potential employers. Scan candidates' resumes to find out about their educational background, work history, and most related certifications.
2. What is the purpose of the pre-screening process?
The pre-screening process is a step employers take to verify the credentials of a job candidate. Employers also use it to conduct background checks to see if a candidate has a criminal history. The purpose of the pre-screening process is to find a candidate that is trustworthy and would be a good fit for the organisation.
3. What is the objective of screening in the selection process?
The main objective of using various techniques to screen candidates at different levels of the screening process is to find the best candidates and eliminate the candidates who do not meet the standards set by the organisation.
4. How does an asynchronous interview work?
Asynchronous means that you do not do the interview at the same time as the interviewer. The interviewer is not online at the same time as you, but instead, you do the interview independently, one at a time, and in the place of your choosing.
Closing Thoughts
Screening techniques for recruitment help in the hiring process to shortlist candidates who have the potential to be a success at your organisation. The various screening techniques are skills testing, resume review, phone screening, social media screening, cover letters, asynchronous video interviews, trial projects, applicant tracking system (ATS), online research, and reference checking. 
LogicMelon
Award-winning recruitment software that will find, attract, hire and analyse the way you want to work. At LogicMelon, we have experienced software recruitment marketing specialists to help you build effective recruitment solutions supported by the best customer service you'll find anywhere!
Email: sales@logicmelon.com or call LogicMelon (UK) +44 (0) 203 553 3667 (USA) +1 860 269 3089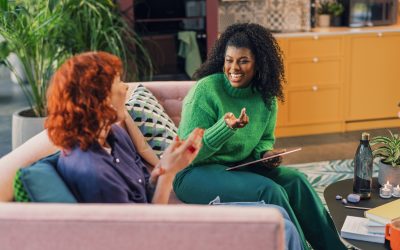 Deskless workers are employees who do not have a designated workspace. They are becoming a permanent fixture in the workforce.
read more
Love what you're reading?
Subscribe today and get insights straight to your inbox