What Is Strategic Workforce Planning?
Strategic workforce planning is a well-designed strategy organisations use to hire the right people for the right roles. Thereby making a positive step towards creating a workforce that has the right skills to face any challenges in the future that may come their way.
Strategic Workforce Planning Definition 
 A skilled workforce with great motivation is an essential ingredient for a top-tier organisation. By creating a strategic workforce plan, business managers and human resources can collaborate and work to hire the right people who fit in the right roles. This will ensure the workforce stays motivated and can also help to make any changes in the skill sets that might occur in the future.
The Importance of a Strategic Workforce plan
A good workforce plan can be a great help for your organisation in the long run. Workforce plans are a must if you want to assess internal needs and make improvements for the growth of your organisation. It can also help to identify any skill gaps that may exist within the organisation that needs acknowledgment and can help you fill those gaps. When you have a hiring process that knows what to look for, their work will be made much easier. It will also improve the relationship between HR recruiters and managers since both of them have to collaborate to create this strategy. Therefore, a strategic workforce can play an important role in the growth of your business.
The Benefits of having a Strategic Workforce Plan
 The following are some of the benefits of having a strategic workforce plan: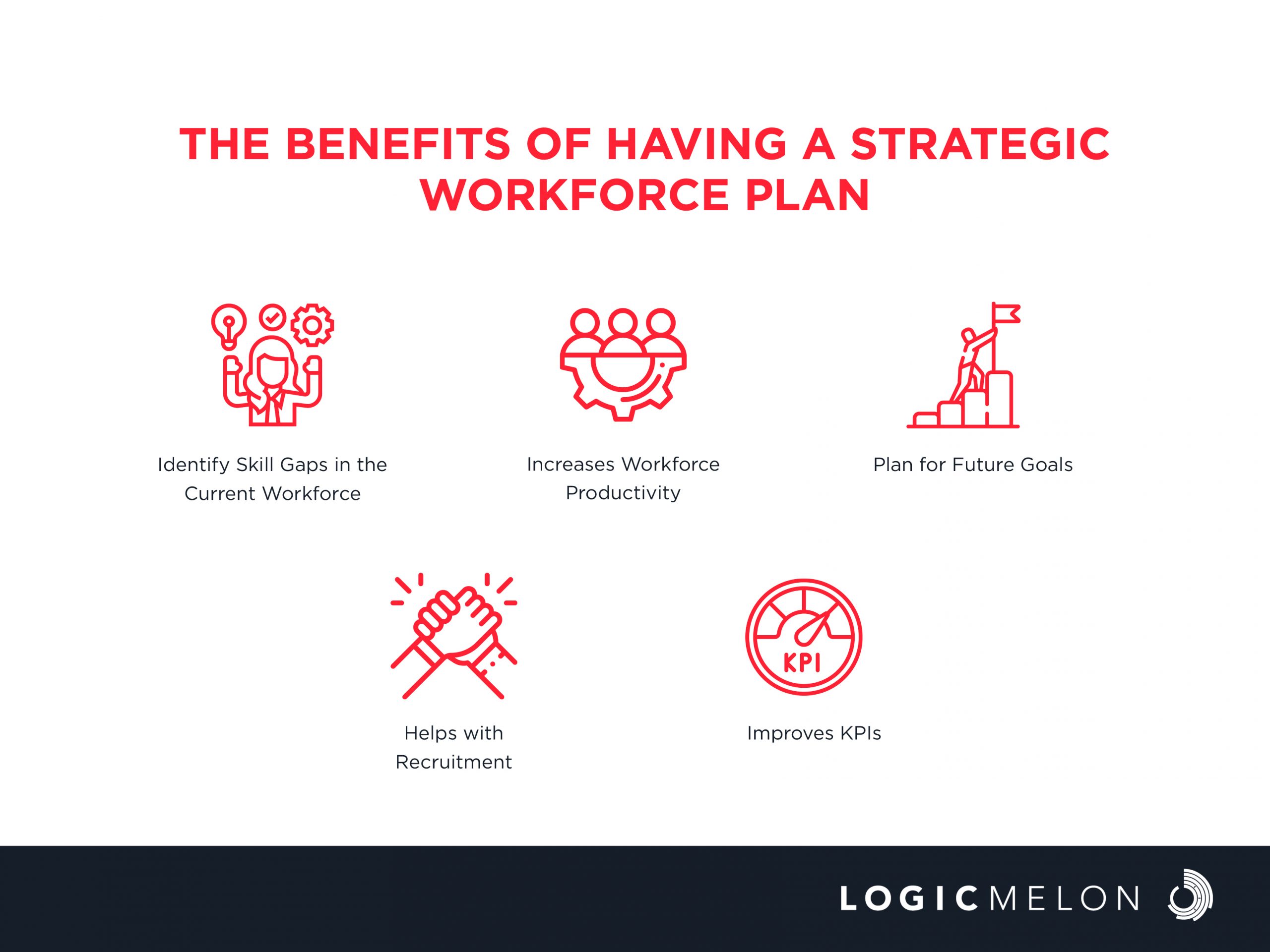 Identify Skill Gaps in the Current Workforce
By identifying skill gaps that your workforce currently has, you can make changes to fill those gaps. It will also help to identify any skill gaps that might occur in the future by being prepared for them. Having a strategy in place can be a great benefit for any occurrences that might arise in the future, but can also help with the growth of your organisation.
Increases Workforce Productivity
A strategic workforce can boost the productivity of your organisation. An increase in productivity means an increase in the profits of a business. Also, the overall mindset of the organisation shifts towards a positive outlook. This is essential as a good workforce with a positive mindset can change an organisation.
Plan for Future Goals
When it comes to the long-term benefit of a strategic workforce plan, being prepared in advance for any workforce issues that might occur in the future is an important one. The leaders in an organisation can equip themselves with the tools to identify any talent issues so that it does not affect the workflow. By knowing in advance what to expect in the future, you can improve business plans to meet the organisation's goals.
Helps with Recruitment
Strategic workforce planning can help you identify the skills required for a role. With this information, the hiring team can learn and understand what characteristics to look for in potential candidates. Also, it helps to save time and resources during a recruitment process when you already know exactly what to look for.
Improves KPIs
You can improve the key performance indicators by gathering the data you receive from a strategic workforce plan. This way you can constantly improve your performance and meet new objectives which can greatly benefit you as well as your organisation.
Essential Components Required for a Strategic Workforce Plan
The aim of a strategic workforce plan is to use talent in the most efficient way for the growth of the organisation.
Therefore, to create an effective workforce plan, you must hire the right people for the right roles. Make sure the skill set they possess fits in with the roles they are hired to do. This can ensure that people with the right experience and skill set can do their job efficiently. Also, hiring them at the right time so that the goals of the organisation are met is another key factor in creating a great strategic workforce plan.
How to Create a Strategic Workforce Plan
To create a great workforce, there are a few guidelines that you must keep in mind when creating your business plan.
1. Analysing the Present Workforce
To develop an outstanding workforce plan, you must first analyse the strengths and weaknesses of the workforce that you possess at the moment. This can give you an idea of where your current workforce is in terms of skill sets and then use this information to develop areas where improvements are needed to meet the current and long-term goals of the organisation.
2. Establish Long-Term Goals
Having a long-term goal can help your organisation have a sense of direction. Setting up actionable goals can help you figure out the type of talent you may need in the future. This way, you know exactly who to hire. You can set up goals to meet necessary business needs, which also increases the organisation's profits.
3. Anticipate Future Needs
By planning for the future needs of the organisation, you are much more prepared to meet any obstacles that may head your way. Assess the current state of your business and where you want to be in the future. Then, take the necessary steps towards improving your current state.
4. Identify Skill Gaps
If you have an understanding of where the current state of your workforce is, you can begin working on filling in those gaps. This can also help you realise whether new employees are needed to fill in those gaps, or if the existing workforce can improve their skill sets. This information is helpful for your organisation as it gives insight into the strengths and weaknesses of your workforce.
5. Adapt to Unforeseen Changes
Even if you have a strong workforce plan, you must be prepared to face any unforeseen changes in the future. You can reassess and restructure your hiring strategy to adapt to new changes you may face. Therefore, it is necessary to keep track of your growth, make adjustments as you go, and implement changes wherever needed.
 Frequently Asked Questions
1. Does strategic workforce planning work?
If you have a proper plan in place along with the cooperation of the people in your organisation, a strategic workforce can help your business.
2. What is the disadvantage of strategic workforce planning? 
Strategic workforce planning requires a lot of time and expenses for extra training. Sometimes companies may not have the necessary finances or resources to go through with it. 
3. Which department is responsible for strategic workforce planning?
The HR department, along with other managers of the organisation, collaborates to create a strategic workforce plan. It is a process that requires a combined effort from the HR team and the managers. 
Conclusion
To conclude things, strategic workforce planning is a powerful strategy that can have a very big impact on the growth of your organisation. When you gather so much information to create a workforce plan, you can take the necessary steps to use that information and implement the necessary actions to meet the goals of your organisation.
LogicMelon
Award-winning recruitment software that will find, attract, hire and analyse the way you want to work. At LogicMelon, we have experienced software recruitment marketing specialists to help you build effective recruitment solutions supported by the best customer service you'll find anywhere!
Email: sales@logicmelon.com or call LogicMelon (UK) +44 (0) 203 553 3667 (USA) +1 860 269 3089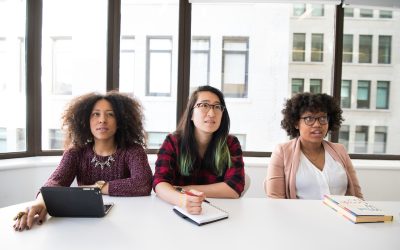 By embracing diversity and fostering inclusiveness, organisations can unlock the potential of their workforce and drive sustainable growth.
read more
Love what you're reading?
Subscribe today and get insights straight to your inbox