How to Build a Successful Talent Pool
Are you a talent acquisition specialist looking to fill positions effectively? Building a talent pool can help! The talent pool involves collecting the necessary information about candidates suitable to fill vacant positions in organisations. Having a talent pool has a positive impact on employer branding. Discover the types of talent pools, their benefits, and how to create a successful one in this engaging blog.
Types of Talent Pools
Internal Pool: 
The internal talent pool consists of employees of the organisation who show interest in taking up additional roles and advancing in their roles. Combine internal and external training to nurture their skills.
External Pool:
Learn how to select qualified candidates for future vacancies through effective screening and monitoring. These candidates are selected based on their skill set and contacted if any future vacancies arise within the organisation. Like succession planning, the talent pool has to be planned and monitored. 
Benefits of the Talent Pool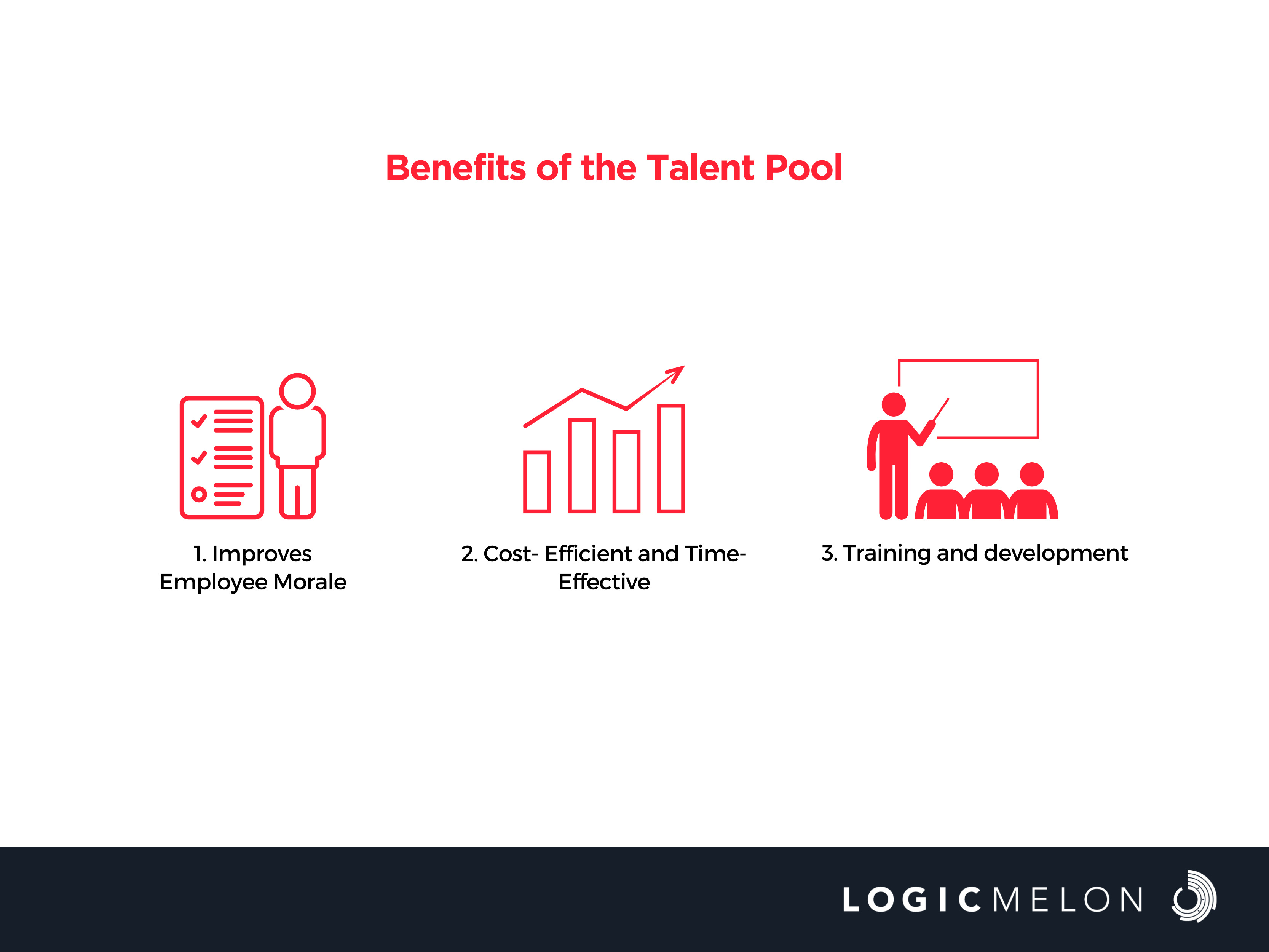 1. Improves Employee Morale:
Find out how offering training opportunities to high-performing employees can boost motivation, skills, and confidence, benefiting both individuals and the organisation. It helps to motivate the employees and helps them achieve organisational objectives by developing their skills and knowledge. It will also help them perform better and feel more confident in their job role. The employees' performance improves their personalities and skill sets, and this has a positive impact on the organisation. 
2. Cost-Efficient and Time-Effective: 
Explore how talent pools save money and reduce time-to-fill by bypassing initial screenings and focusing on proven candidates. The recruiters can create a talent pool to fill the gaps in the organisation. These are candidates within a database with proven qualifications who have passed the initial screening process. The recruiters do not have to advertise their jobs to reach potential candidates; instead, they can hire people through talent pools. Thereby saving money for recruiters and reducing the time to fill. Since organisations hire employees through job advertisements, they must assess their skills and have the necessary interview tests to know whether these candidates are the right fit. But with talent pools, organisations skip the initial screening process, know that they are qualified candidates, and can proceed to the final stages of hiring. 
3. Training and development
A talent pool is a group of people who can be trained and developed to take on more responsibilities in the organisation. The training procedures are vital for the internal talent pool. Since recruiters seek them as potential employees, organisations can assess the necessary skill gap in the workplace and their capability to identify whether they could be the right candidate for a job role or not. 
How to Build a Successful Talent Pool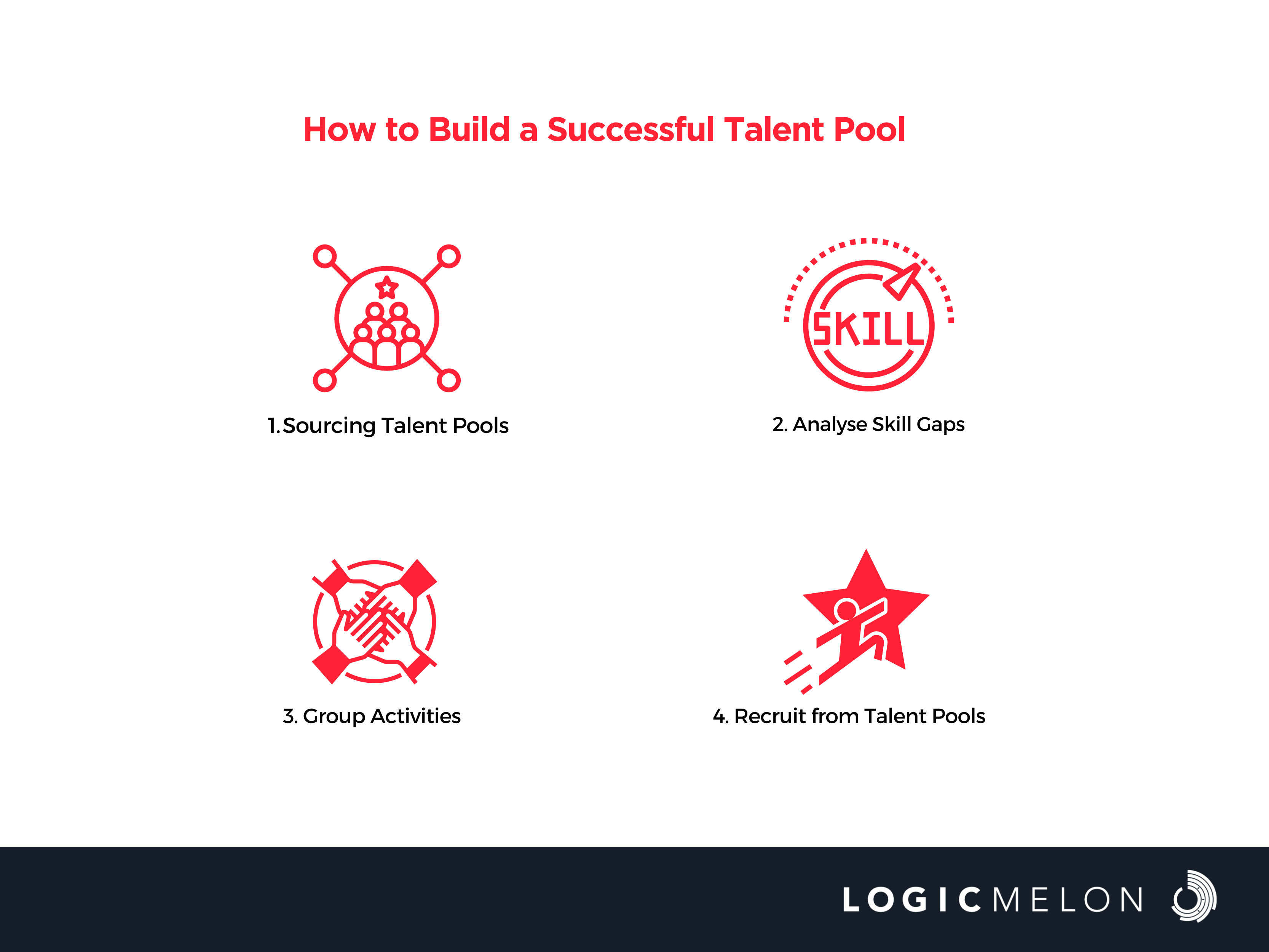 1. Sourcing Talent Pools:
Discover effective methods such as career fairs, employee referrals, and online recruitment to find the right candidates.
70 % of the global workforce is made up of passive talent who aren't actively job searching, and the remaining 30% are active job seekers. Talent pools consist of high-performing and high-potential individuals with the right skills and qualifications required for the job role.
2. Analyse Skill Gaps:
Learn how to segment talent pools based on location, department, and specific qualifications to ensure a perfect fit. Analyse the skills required for each department and location and select qualified candidates based on that. It is vital that the set of qualified candidates thrive once they start to work. 
3. Group Activities:
Engage talent pool members with personalised interactions, market insights, and competitive advantages to foster a strong connection. Engage your talent pool by sending birthday greetings, invitations to trade fairs, feedback on the recruitment process, and general information about the company. The organisation has to conduct regular market research and be up-to-date to give the talent pool community insights on their recent impact on society. This will provide a solid understanding of why they have to choose your organisation compared to others. It enhances the competitive advantage in the market. 
4. Recruit from Talent Pools:
Understand the long-term benefits of hiring from talent pools, including time and resource savings. The approach to maintaining a talent pool is that these people will help the organisation in the long term, be successful, and achieve future objectives. If organisations do not have a talent pool, they are wasting opportunities, as the applicants themselves show a strong interest. Recruiting from a talent pool helps organisations save time and hire faster to fill vacant positions in a shorter period of time. 
Frequently Asked Questions
1. Why do you need a talent pool?
Explore the advantages of having a reserve of qualified candidates for rapid expansion and efficient hiring. Having a reserve of talent for your organisation means that you can hire more people in an effective and efficient manner. 
2. What kind of employees fit into a talent pool?
A talent pool consists of both internal and external candidates. The talent pool consists of second-choice applicants and potential candidates from career fairs and social media. Employees who fit into the talent pool must meet the skill-set criteria for companies to nominate them. 
3. What is the key to a great talent pool?
A great talent pool consists of preparation and potential. These candidates are already within the system and have been through the process. A great talent pool should consist of employees meeting the skill-set criteria required by the organisation.
Closing Thoughts
Discover the flexibility and benefits talent pools bring to emerging industries. Prepare for the dynamic environment by maintaining a well-executed talent pool that aligns with future organisational needs. Engage with passive candidates and create a positive brand image through regular communication. Talent pools provide flexibility in emerging and developing industries. It is vital for organisations to maintain a good talent pool in this dynamic environment to hire faster and more efficiently. Maintaining a good talent pool requires a well-executed plan and the ability to recruit candidates and individuals within a shorter period. This helps build collections of talent based on the future needs of the organisation. This will essentially help your organisation prepare for and establish a workforce to plan ahead of time. Engage with the talent pool regularly and implement the strategy to connect with passive candidates. That is because even though you are dealing with passive candidates, regular communication gives the impression of maintaining a connection with your company, thereby maintaining touchpoints with them and creating a positive influence on the brand image.
LogicMelon
Award-winning recruitment software that will find, attract, hire and analyse the way you want to work. At LogicMelon, we have experienced software recruitment marketing specialists to help you build effective recruitment solutions supported by the best customer service you'll find anywhere!
Email: sales@logicmelon.com or call LogicMelon (UK) +44 (0) 203 553 3667 (USA) +1 860 269 3089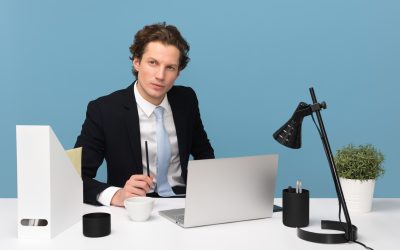 Recruitment crisis management requires adaptability, strategic thinking, and a proactive approach to address talent shortages and avoid disruptions.
read more
Love what you're reading?
Subscribe today and get insights straight to your inbox