5 Key Trends in Talent Management Systems for 2023
Hello there, my dear reader! Have you ever heard of Talent Management Systems (TMS)? If not, no worries, let me tell you all about them! TMS is a fantastic tool that businesses use to manage their personnel, ensuring that they have the necessary skills and knowledge to succeed. It's essentially a software solution that assists firms in attracting, developing, and retaining elite talent.
In 2019, 92 percent of medium sized organisations expressed that they already adopted talent management applications for recruitment. Talent Management Systems can be used for a variety of tasks, from recruiting and onboarding new employees to tracking employee performance and providing professional development opportunities. Companies can use these tools to optimise their personnel and build a more productive and engaged workforce.
If you're curious to learn more about TMS, how they work, and the latest trends, keep reading!
What is a Talent Management System?
A Talent Management System is software that assists firms in managing and optimising their human resources. It recognises and develops employee talents, skills, and abilities. Common features include talent acquisition, performance management, learning and development, pay management, and succession planning. The purpose of TMS is to attract and retain the best candidates while also ensuring that employees are engaged, motivated, and productive.
As we enter an era of rapid technological advancements and ever-changing business landscapes, it's essential to stay updated with the latest trends in TMS. In this post, we will go through five important TMS themes that will impact the future of talent management.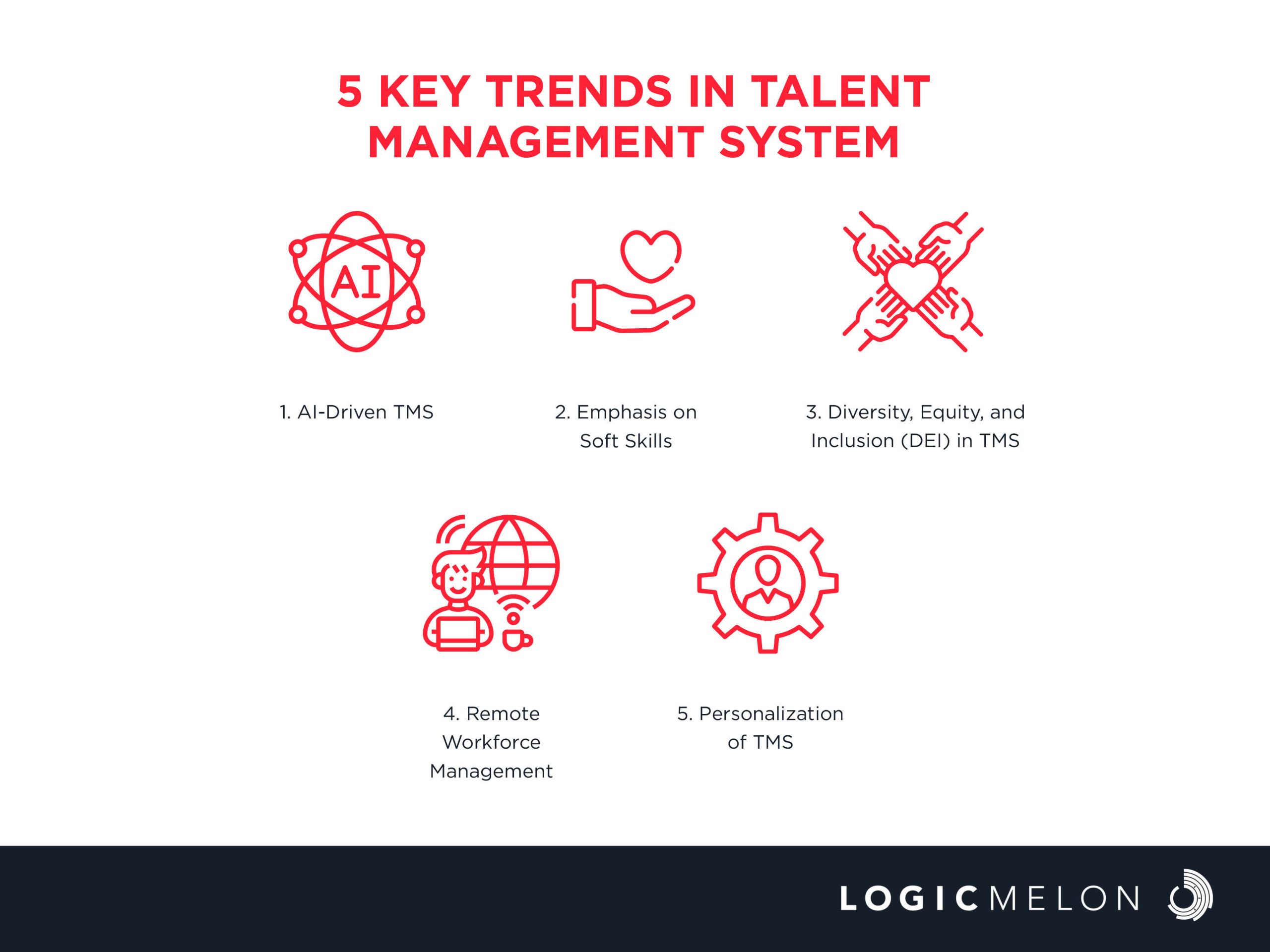 1. AI-Driven TMS
One of the most significant trends in TMS in 2023 is the rising use of Artificial Intelligence (AI). TMS powered by AI will be critical in automating numerous HR tasks including recruiting, candidate screening, employee engagement, and learning & development. HR departments will be able to evaluate massive volumes of data using AI-powered TMS to make informed decisions on personnel acquisition, retention, and development. This technology can also assist firms in identifying skill gaps and providing staff with personalised learning routes.
2. Emphasis on Soft Skills
Another significant trend we may anticipate in TMS in 2023 is a greater emphasis on soft skills. While technical abilities remain important, businesses have realised the value of soft skills in developing a high-performing workforce. Soft skills, such as communication, problem-solving, leadership, and emotional intelligence, are critical for building teamwork and creating a healthy work atmosphere. Companies will invest more in recognising and developing these abilities in their staff by 2023.
3. Diversity, Equity, and Inclusion (DEI) in TMS
DEI (Diversity, Equity, and Inclusion) is an essential component of any organisation's talent management strategy. We can anticipate a considerable move toward DEI in TMS by 2023. Employers will prioritise developing a more diverse and inclusive workplace to attract top talent and improve their brand reputation. Organisations will use data-driven insights to identify areas for improvement and adopt focused measures to boost diversity while also promoting fairness and inclusion.
4. Remote Workforce Management
The COVID-19 pandemic has changed the way we work, and we're unlikely to go back to our old habits very soon. Remote work will be a key trend in Talent Management Systems in 2023. Employers will prioritise developing a remote-friendly work environment that allows employees to work from anywhere and at any time. Employee engagement, communication, and cooperation are all problems that come with remote work. Organisations will invest more in technology-enabled solutions, such as video conferencing, collaboration software, and project management tools, to address these difficulties.
5. Personalisation of TMS
Personalisation is no longer just a buzzword in talent management – it's a must. We can see a big transition toward a customised Talent Management System in 2023. Get a load of this! Organisations can suss out their employee's wants and needs by using data analytics and craft their talent management schemes accordingly. Think personalised learning and development plans, career pathways that suit each person's goals, and reward and recognition programmes that truly motivate. This personalised approach to Talent Management Systems is the key to unlocking employee engagement, retention, and productivity. All in all, this is a top-notch indication that businesses are waking up to the importance of talent management when it comes to creating a successful and sustainable company. By investing in their staff and utilising the latest technology, companies can gain a competitive edge in today's fast-paced business world.
Frequently Asked Questions:
1. What are the benefits of using a talent management system?
There are heaps of benefits to using a talent management system. Some of the perks include boosted hiring efficiency, improved employee engagement and retention, better alignment between employee objectives and company goals, and more effective identification and development of high-potential staff.
2. How do I choose the right talent management system for my organisation?
When choosing a talent management system, it's vital to evaluate your organisation's specific objectives and goals. Consider your organisation's size, your sector, the features and functionality you desire, and your budget.
3. How can a talent management system help with diversity and inclusion?
A talent management system can help with diversity and inclusion by offering tools for recognising and resolving recruiting biases, tracking diversity indicators, and providing training and development opportunities for employees from underrepresented groups.
4. How much does a Talent Management System cost?
The cost of a TMS can vary greatly depending on your organisation's size and complexity, as well as the features and functionalities you demand. Some TMS providers charge per employee per month, while others charge a fixed rate for the entire company.
Wrapping Up:
In conclusion, there are five significant trends in the Talent Management System. The future of talent management will be shaped by AI-driven TMS, an emphasis on soft skills, DEI in TMS, remote workforce management, and personalisation of TMS. To stay ahead of the game, it is critical for a company or HR professional to stay up to date on current trends and take a proactive approach to talent management. Stay sharp and keep your eye on the prize!
LogicMelon
Award-winning recruitment software that will find, attract, hire and analyse the way you want to work. At LogicMelon, we have experienced software recruitment marketing specialists to help you build effective recruitment solutions supported by the best customer service you'll find anywhere!
Email: sales@logicmelon.com or call LogicMelon (UK) +44 (0) 203 553 3667 (USA) +1 860 269 3089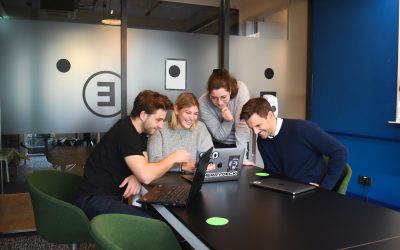 Self-managing teams can foster creativity, strengthen organisational relationships, and accelerate goal achievement.
read more
Love what you're reading?
Subscribe today and get insights straight to your inbox