Teamwork Skills: Importance in Workplace
Ah, the art of teamwork – a symphony of collaboration that makes businesses hum with efficiency and innovation. In this blog, we're diving into the world of teamwork skills, those magical abilities that turn individuals into superstar team players. So, get ready to explore the ins and outs of working seamlessly with others,
Teamwork is one of the most sought-after skills in almost every profession. Employers often seek employees with teamwork capabilities. So they often look for "team player" or "teamwork" in the resume.
It is a combination of soft skills that employers use to work with people to achieve a common objective. They share some important traits with the team members for effective teamwork. Make sure to stick to the deadline and complete the assigned tasks.
Learning how to balance multiple deadlines and assignments will help you focus on a fast-paced and collaborative workforce. If each group project is treated as a learning experience, you can have a more productive team. In this article, learn some tips on improving your teamwork skills and highlight these skills in the interview.
Types of Teamwork Skills in the Workplace
Being a successful team member requires excellent communication, listening, and conflict management skills. Regardless of the role, you must be able to work well with others and convey your teamwork skills to the hiring managers, recruiters, and prospective employers. 
In the workplace, you can showcase your teamwork skills by volunteering for more responsibilities, supporting team members, working towards a common objective, and celebrating with team members.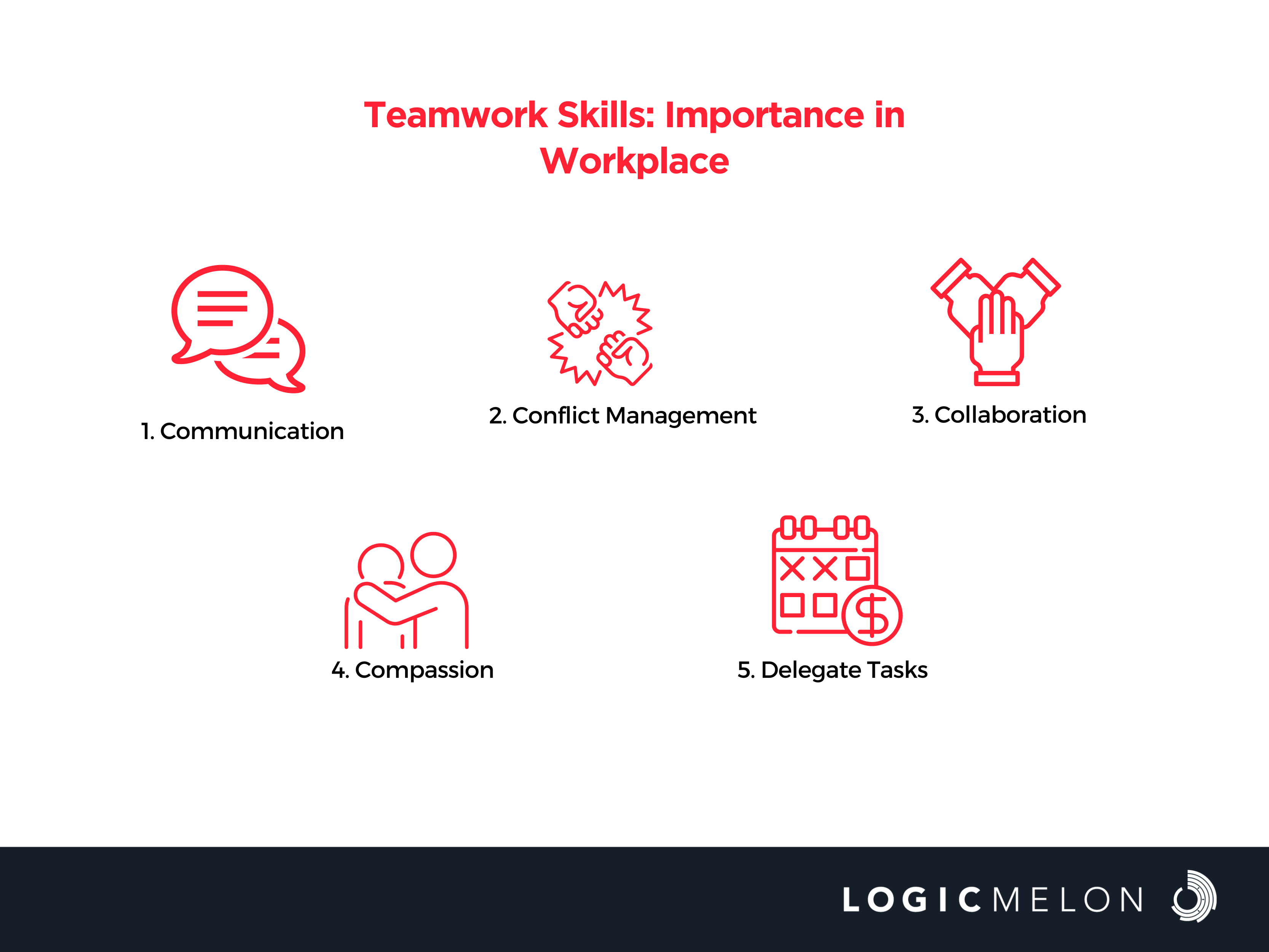 1. Communication
Being a good team member means communicating ideas to the team members clearly. These ideas should be communicated via email, phone, video, and in person. Another vital part of communication is listening. The other person has to listen to the ideas and concerns of their peers to be an effective team member. Employers prefer these candidates to maintain a strong culture and help the company achieve its goals.
Establishing communication promotes trust and a positive team environment. While disagreements might occur, communicating respectfully with other team members will help effectively resolve the issue.
2. Conflict Management
An important teamwork skill is being able to mediate problems between team members. In conflict management, you must settle disputes and ensure everyone on the team is happy. Be a reliable leader to solve conflict effectively in the workplace and to encourage people to share their opinions and thoughts with you before making a decision.
When resolving a conflict, an efficient team player would try to reduce workplace tension and foster effective communication to improve team productivity.
3. Collaboration
Being a team member means clearly communicating the ideas within the group, and this is possible only by collaborating effectively with the team members. For example, "a highly competent and collaborative team member with three years of experience with a proven track record of winning 35% of traffic in five months" can be told in an interview.  
Teamwork is a skill that can be developed through regular practice. Effective communication relies on factors such as: listening actively, asking questions when required, and working towards a common objective.
4. Compassion
People will more often communicate with you if you convey respect for them and their ideas. 90% of employees believed empathy was vital in the workplace, and eight out of ten employees were likely to leave an employer who was not empathetic. Acknowledging ideas or any other information shared by team members makes them feel appreciated.
Effective problem solvers are able to think outside the box when issues arise. Rather than focusing on negative outcomes, they stay calm and help their team focus on solutions.
5. Delegate Tasks
Delegation is important when working in a group setting. It involves sharing their tasks with other team members to focus on other important tasks or when the workload is too hard to manage.
There are a variety of teamwork skills, but they are all related to the ability to manage and work well with others. Being a successful team member requires excellent communication, listening, and conflict management skills. Some other teamwork skills include active listening, responsibility, honesty, authority, and adaptability.
Frequently Asked Questions
1. Are teamwork and leadership skills the same?
Yes, but teamwork skills can be possessed by anyone, not only by a leader. The subordinates have to work as a team. Strong leaders help their team members achieve success, collaborate, and share ideas. A leader who works well with others within his own department or across departments will help spread knowledge and awareness.
2. How do I highlight teamwork skills in a resume?
Employers prefer candidates who have the ability to work in teams. That is why mentioning teamwork skills during interviews is a good idea, so employers understand your ability to collaborate effectively with others.
3. How do I improve my teamwork skills?
It can be challenging to identify areas for improvement when giving feedback. But asking a friend, colleague, or mentor will give you honest feedback about your teamwork strengths and weaknesses so that you can improve on them.
Highlight Your Teamwork Skill: On Your CV
Employers often look for candidates with effective teamwork skills. Furthermore, if you use this keyword on your resume, it will be easy for the ATS (Applicant Tracking System) to highlight your resume over others. It will automatically increase your chances of being selected for the next round. Being a successful team member will enable you to work well with others—teamwork is required for every industry, ranging from business to business. Also, be sure to emphasise the specific skills mentioned in the job description.  
LogicMelon
Award-winning recruitment software that will find, attract, hire and analyse the way you want to work. At LogicMelon, we have experienced software recruitment marketing specialists to help you build effective recruitment solutions supported by the best customer service you'll find anywhere!
Email: sales@logicmelon.com or call LogicMelon (UK) +44 (0) 203 553 3667 (USA) +1 860 269 3089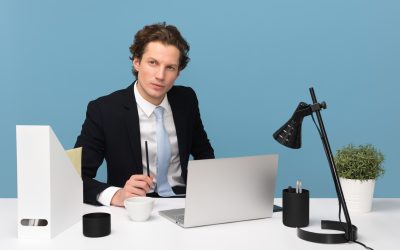 Recruitment crisis management requires adaptability, strategic thinking, and a proactive approach to address talent shortages and avoid disruptions.
read more
Love what you're reading?
Subscribe today and get insights straight to your inbox