Tips to Develop Workplace Ethics Among Employees
All organisations need highly passionate employees to bring their company to greater heights. It all starts with workplace ethics. Employees keen on achieving their goals can help their organisation improve, and it is essential to understand that it all begins with individual efforts.
Workplace ethics help to foster the relationship between the employees. It helps to improve the productivity of the organisation. This can enhance the work culture, and, in turn, build a safe work environment for every employee in the organisation.
It is also crucial to understand that even though workplace ethics are an individual effort, imparting these practices to every employee can help give the organisation faster growth.
The Characteristics of Workplace Ethics
To understand ways to develop workplace ethics, it is crucial to understand the characteristics of workplace ethics. The following are some of the virtues required from every employee to build proper workplace ethics.
Punctuality
Every employee likely has a lot of tasks to handle that takes up most of their time. Employees should develop the skills to handle everything within the given timeframe so they can show up to meetings and meet deadlines in that given time.
Dedication
Employees should do their jobs with dedication. Their performance can only improve when they put in continuous effort. To do that, they need to stay dedicated to their work. Every other aspect of workplace ethics improves when the employees are dedicated to their job.
Teamwork
In an organisation, employees need to work on their tasks with their peers. Sometimes various departments of the organisation come together to work on a huge task. This requires them all to work together as a team. Teamwork plays a huge role in many organisations and is a necessary skill for every employee.
Professionalism
It is not always that an employee can stay focused and perform to their best abilities. There are days when an employee could have a lot on their mind, which could hinder them from working efficiently. The employee must work efficiently by actively finding ways to stay productive on such days.
Integrity
Every employee in an organisation faces tough choices. The only way to determine whether they possess good work ethics is by looking at their choices. The choices should not only be favourable for everyone, but they should also be morally right.
Determination
There may come a situation where an employee may not have the necessary skills required to efficiently handle a task. The employee's approach to such problems can make all the difference. If they are determined to face the problem and work on it, it would mean that they possess workplace ethics.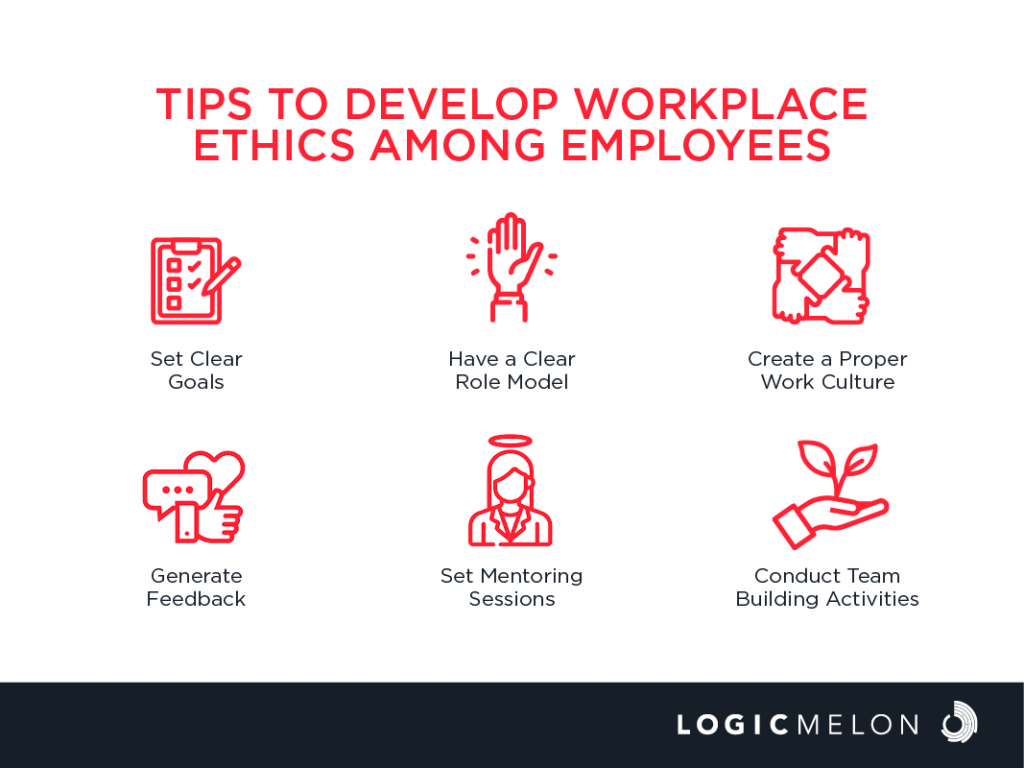 Tips to Develop Workplace Ethics
Set Clear Goals
Most of the time, employees might remain unproductive because they lack an understanding of their goals. This may make them work on tasks that contribute very little to their overall performance indicators.
It is better to lay down the goals and objectives of an employee's routine tasks. This can ensure that the employee knows what is expected of them and help them work on ways to achieve their goals.
Have a Clear Role Model
The most efficient way to help employees build workplace ethics is to have someone from the organisation exhibit those ethics. People from the management level should behave how the employees are expected to behave.
When workplace ethics are observed from the top employees, the lower employees can feel motivated to build such ethics. If they do not have a role model at the top level of the organisation, employees may not feel the need to take the initiative to develop good workplace ethics.
Create a Proper Work Culture
Work culture is a culmination of the employees, their mindsets, their characteristics, and their attitudes. This should help employees develop good workplace ethics, and, as a result, the work culture should improve.
Building a safe environment where employees feel comfortable is necessary to learn and grow with the organisation. This makes it easier for them to create new initiatives and build a good bond with their peers.
Generate Feedback
Feedback is vital for every employee to understand the areas where they are lacking and the areas where they perform well. This can also act as a way to appreciate your employees, encouraging them to develop in other aspects of workplace ethics.
Conducting a regular feedback session can ensure that employees understand what they should do and should not do. This also lets managers find ways to correct employees who are not on the right path.
Set Mentoring Sessions
Employers should mentor their employees, at least during their initial days. Managers should teach them about the various codes of conduct and organisation workings.
For more specific mentoring sessions, managers can use one-on-ones to ensure that employees get proper training on the various requirements of the organisation. They can also conduct team meetings if most of the team members have the same skill gap.
Conduct Team Building Activities
Team collaboration can help employees efficiently handle their tasks and help with their peers' tasks as well. This can improve the overall productivity of the organisation.
To ensure that the collaboration goes smoothly. The team should work as a single unit. To achieve this, team members must have a good working relationship. To foster such relationships, conduct various team building activities that ensure they get to work together and form a bond with each other.
Final Thoughts
Building an organisation and safely navigating the market is a challenging task. To achieve this, employees must make a constant effort to cultivate proper workplace ethics to enjoy the promising result. Constantly working on ways to boost your employee's morale and experimenting with various initiatives can improve your organisation's productivity.
LogicMelon
Award-winning recruitment software that will find, attract, hire and analyse the way you want to work. At LogicMelon, we have experienced software recruitment marketing specialists to help you build effective recruitment solutions supported by the best customer service you'll find anywhere!
Email: sales@logicmelon.com or call LogicMelon (UK) +44 (0) 203 553 3667 (USA) +1 860 269 3089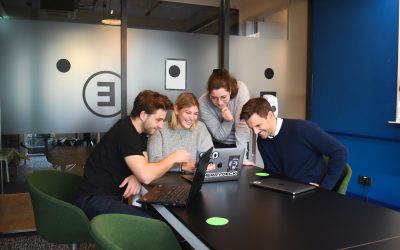 Self-managing teams can foster creativity, strengthen organisational relationships, and accelerate goal achievement.
read more
Love what you're reading?
Subscribe today and get insights straight to your inbox