Importance of Transfer of Knowledge in the Workplace
Knowledge transfer is the process through which experienced employees share and distribute their skills to the employees replacing them. This means sharing knowledge and information to provide input for problem-solving. This is not the same as training. The process involves the use of many tools and methods. These include peer-to-peer and team training activities such as mentor networking, coaching, and work shadowing.
Knowledge transfer and knowledge sharing are not interchangeable. These refer to the methods that pass critical skills and information from experienced employees to new hires or people coming into a new project.
Passing on company knowledge is a vital part of the induction process. It eliminates time constraints in communication, provides valuable experience, respects individuals, and provides a platform to network among workers.
There is also a transfer of organisational knowledge from one entity to another, through which scientific and technical knowledge is effectively transferred. Knowledge transfer can be a way of gaining new perspectives.
Memorizing activities requires knowledge and training, and training involves learning how to do them in practice. Transferring knowledge is time-consuming but effective in helping employees perform tasks efficiently and effectively.
The Importance of the Transfer of Knowledge Plan
Developing a strategy to transfer knowledge can help gather important information and spread it across the organisation.
Increasing the collection and dissemination of information within the organisation motivates the team members to broaden the pool of information. A strategy that organisations can use to innovate new methods enables organisations to take action and make changes accordingly.
The knowledge management plan gives the team access to the information and resources it needs to do its job effectively. 
You can easily access these ideas by storing them in a well-organized system. These data are essential to retaining knowledge within the organisation.
This also helps to retain the information, which promotes efficiency and a better experience. The process is done through peer-to-peer interactions, where the employees discuss ideas and the best ones are implemented. 
How to Develop an Effective Knowledge Transfer Plan
A knowledge transfer plan systematically identifies and captures critical document plans across the business. It requires the use of a variety of tools and methods. It is a major part of the induction process and allows streamlining by collecting information. It would be useful to store data and share the data when required.
The objective of the knowledge transfer process is to help organisations transfer their knowledge, information, and skills from one person to another within the organisation.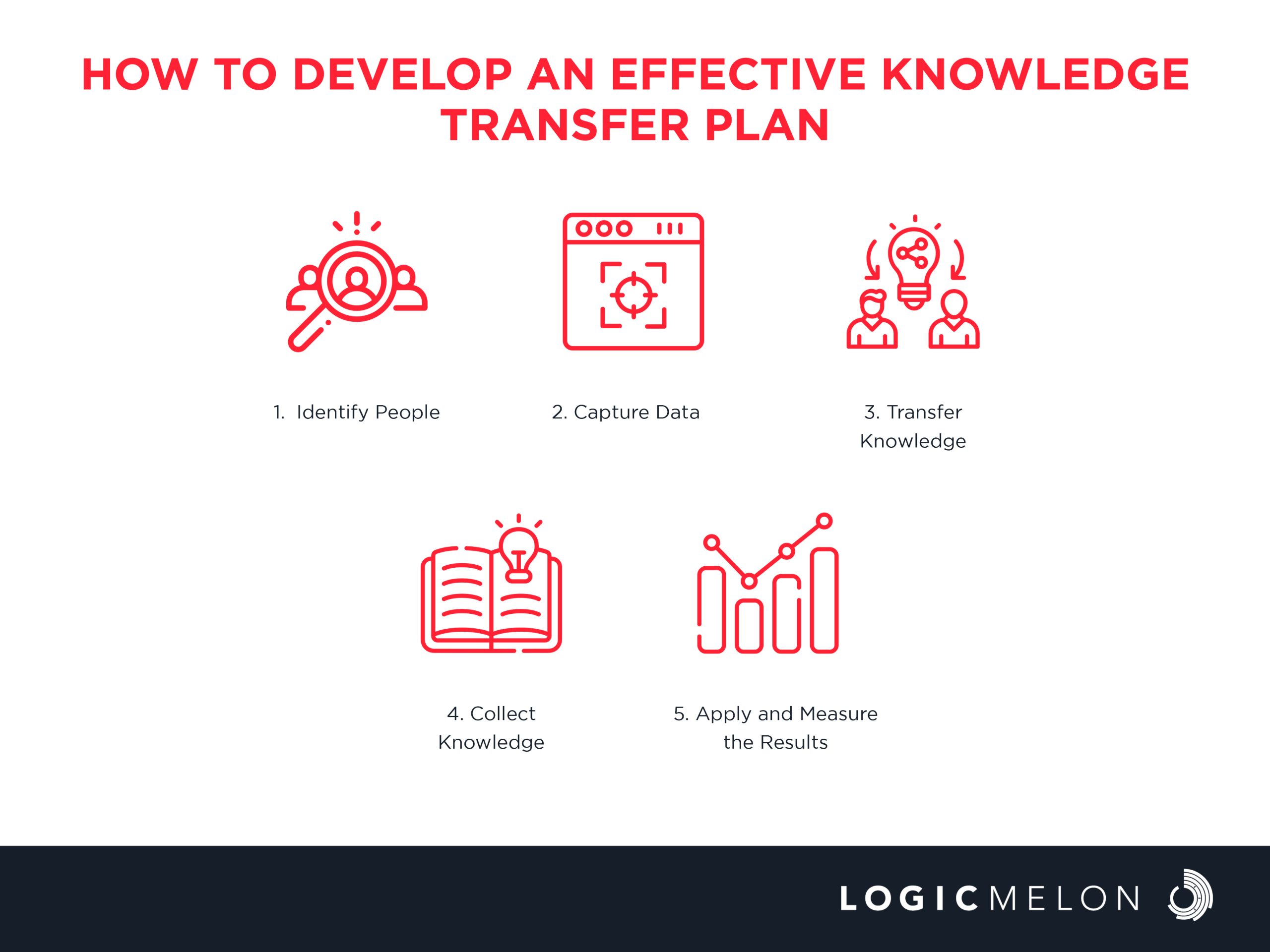 1. Identify People
Look for people who can transfer knowledge in the workplace, know how to do a particular task, and whose duties can be covered when they take a leave of absence. These people have knowledge that must be shared for others to perform their duties when they leave.
This process is important to ensure continuity in performing their duties without compromising the quality of the work.
2. Capture Data
After identifying the people who have the necessary knowledge, they can be approached to share it. Give them the space to share their knowledge at a particular time and location. Streamline the process by collecting information and contributing to the knowledge banks.
3. Transfer Knowledge
This can be done directly from person to person or by a group of people in order to transfer the required knowledge and can help to ensure that important information is collected and passed on to every person. It seeks to help employees stay updated and makes them aware of the work they have to do and the instructions they have to follow.
4. Collect Knowledge
This process starts with cultivating knowledge. This can be done through job shadowing, which allows the interested employee to observe another employee performing the job. The employees must be conscious of learning in order to observe details.
5. Apply and Measure the Results
Apply the knowledge transfer in practical work and review the process. Organisations can use knowledge transfer tools since it is a form of Key Performance Indicators (KPIs). 
Frequently Asked Questions
1. How does knowledge transfer help employees perform activities in the workplace?
This ensures that each employee or team has the information required to run the organisation effectively and efficiently. It helps the team learn from colleagues' experiences and mistakes and focuses on developing the skills and knowledge necessary to do the job.
2. Are knowledge transfer and on-the-job training the same?
No, knowledge transfer and on-the-job training are not the same. This is a method of sharing or distributing knowledge, but it does not train employees, whereas training involves sharing knowledge and training employees in the workplace.
3. How to create an effective knowledge transfer plan
Creating an effective knowledge transfer plan includes identifying people who know how to do a particular task, capturing data from those who have the necessary inputs, storing this data, transferring knowledge to the employees, and finally collecting the knowledge from the person.
Closing Thoughts
In the workplace, information transfer is crucial to ensuring that the employee comprehends the task at hand. There are certain challenges faced by an organisation in the absence of an effective knowledge transfer plan.
It is an outlined process that has to be shared in the organisation; it includes documenting the data to be transferred as knowledge, a dedicated person to communicate the knowledge to the appropriate departments, and a follow-up process to confirm whether the knowledge transfer reaches the concerned person.
Knowledge transfer systems help organisations avoid stagnation when it comes to new ideas and problem-solving. This assists the organisation in streamlining knowledge so that everyone on the team has the information needed to keep the organisation running smoothly.
LogicMelon
Award-winning recruitment software that will find, attract, hire and analyse the way you want to work. At LogicMelon, we have experienced software recruitment marketing specialists to help you build effective recruitment solutions supported by the best customer service you'll find anywhere!
Email: sales@logicmelon.com or call LogicMelon (UK) +44 (0) 203 553 3667 (USA) +1 860 269 3089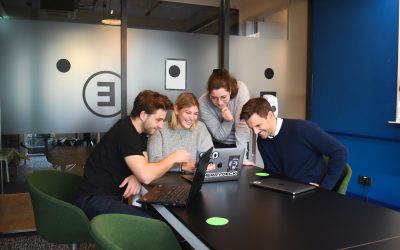 Self-managing teams can foster creativity, strengthen organisational relationships, and accelerate goal achievement.
read more
Love what you're reading?
Subscribe today and get insights straight to your inbox