Understanding Employer Branding
Employer branding is how you want people to perceive your organisation by creating and influencing an image that will define what your company stands for. 
What Is Employer Branding?
Employer Branding is creating a brand image that perfectly describes the values that your company believes in and promises to uphold. It is a process of inventing and managing a brand image that describes the values, ethics, workspace, and strategic goals of your company.
Why Is Employer Branding Important?
A positive employer brand is essential to project the values and work environment of your company, which is important for recruiting new talent. Acquiring top talent requires you to have a good company name that portrays what your values are and what kind of environment you promise to provide your employees. 
This is an important factor to consider because it can decide who will want to come work for you. If your brand portrays a good image of your company and what kind of workspace you offer, it can have a positive effect on how people within your organisation, as well as outside of it perceive you. 
Benefits of Employer Branding
Branding your company will help build your organisation's reputation and maintain it to portray its values and principles.
Let's take a look at some of the benefits employer branding has to offer: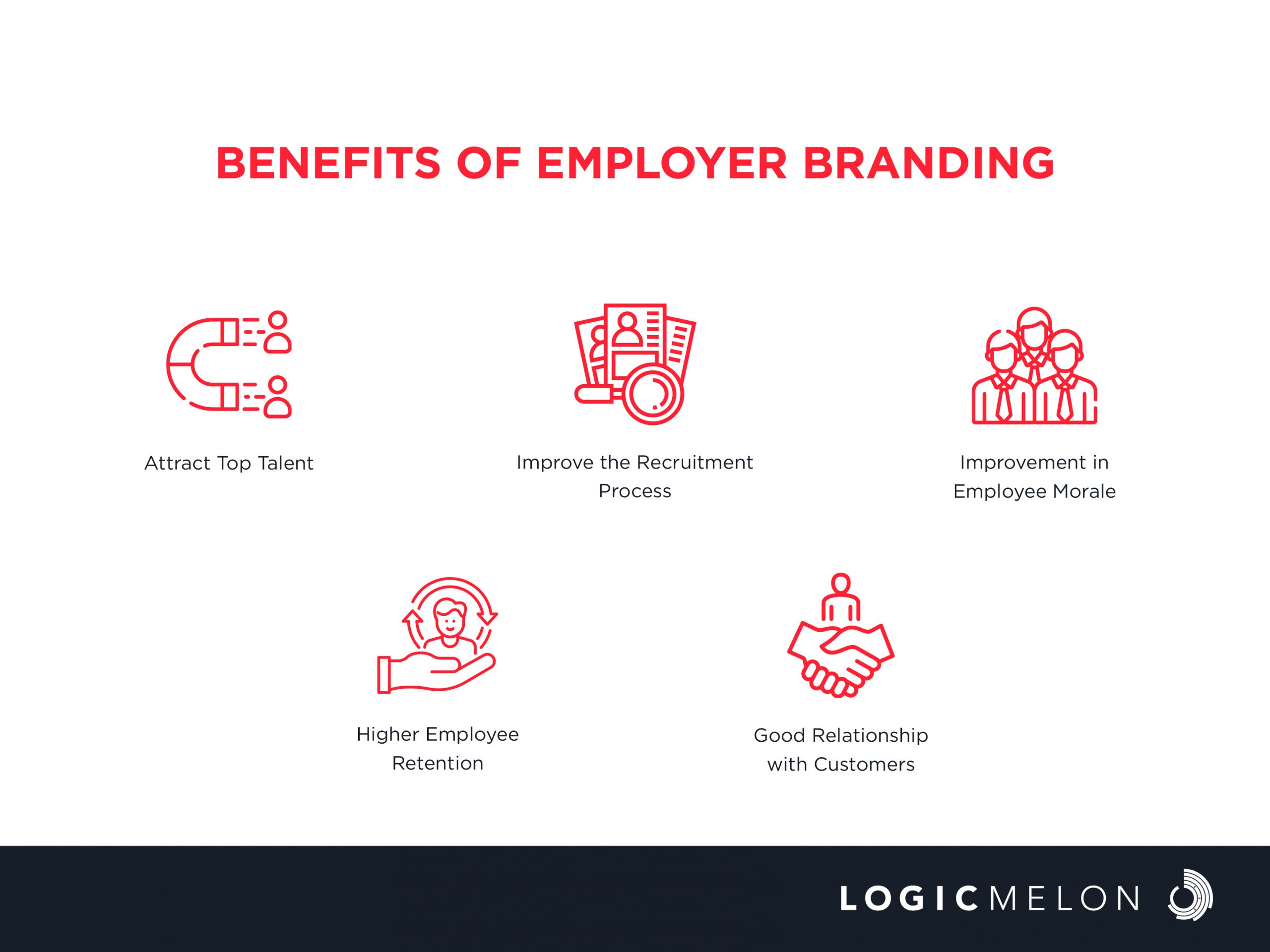 Attract Top Talent
Top candidates may have the desire to work for a company that reflects its values and goals through its branding. If employees are attracted to your company brand, they will be motivated and encouraged to join as soon as possible. Acquiring top candidates can be a tough process sometimes, employer branding can help reduce some of that extra work off the recruiter's hands. 
Improve the Recruitment Process
An excellent employer branding strategy can help boost your company's recruitment process. It can also reduce the time spent and cost per hire of new candidates. Employer branding also contributes by providing you with a great talent pipeline, which can offer amazing prospects to recruiters. 
The recruiters will then have lots of high potential candidates to choose from, which can make their work less cumbersome. Having a large talent pool with top talent is a great asset for any employer because it can also help decide what role works best for them and identify potential candidates suitable for a future role in the company. 
Improvement in Employee Morale
Employees tend to want to be a part of an organisation that presents their growth, values and goals in a way that everyone starts to recognise them. Being a part of something special is something that can boost the morale of your employees and encourage them to produce high-quality work output. 
Higher Employee Retention
Employees will likely remain loyal to your organisation when you combine positive work culture with a great employer brand image. 
A higher retention rate can be good for your business as it leads to less cost when hiring. With a high employee retention rate, you can have a highly skilled workforce on your hands. This can have a direct impact on your company's reputation. 
Good Relationship with Customers
A good employer brand makes your customers feel like they are at the right place. People are interested in working with companies with great values and principles along with an impressive brand image. A brand image would let the customers know what your company is all about and what you have to offer. 
How to Build an Employer Branding Strategy?
You create an employer brand for your organisation the same way you market products. You can market your brand image so that it reaches a lot of people and attracts potential candidates and customers.
1. The first step towards creating an employer brand image is to set goals and establish what you want to achieve through this strategy.
2. Establish your company statement. People should know what your company stands for and in order to do that you must define and establish your company statement. A company statement should cover details like your mission, values, goals, and work culture. These details help others to know what your company is all about. 
3. Be active on social media a lot more. These days having a great social media presence is a no-brainer. Post about the work culture or Employees. You can make photos, videos, and blog posts and share them on your social media accounts to make your brand image lively. Being active on social media also helps HR to identify potential high-quality candidates. Being active on social platforms like LinkedIn can also help other people know about your company through referrals. You may get recommended by people based on how impressive you are on social media. 
4. Have an active presence on career sites. Employees usually share their experiences working for a company. You can use this platform to address any issues your employees or previous employees might have had. Acknowledging any issues and having a good rapport with employees can boost your employer's brand image. 
5. Finally, measure the results and evaluate what steps you can take to make adjustments and improvements if necessary.
How to Measure Employer Branding?
Once you have successfully made an Employer brand image, you must measure them to check how good it is. Let's take a look at some of the ways you can measure employer branding.
Acceptance rates of your job offers

The time taken to hire 

The quality of the candidates hired

Rate of referrals

Employee retention rate
These are some of the metrics you can use to measure employer branding.
Frequently Asked Questions 
1. Who is an employer branding specialist?
An employer branding specialist is someone who oversees and specialises in managing the strategies for developing the company's brand image.
2. Are there any disadvantages to employer branding?
Not putting the required effort to manage a company's brand image can cause damage to your company name. You must carefully create a strategy to manage your brand image, especially on social media platforms to not cause any damage. 
3. What must be the goal of employer branding? 
The primary goal of employer branding must be to develop and strengthen your company's reputation. To showcase what values and principles your company follows and the environment where you work every day.
Final Thoughts
Creating an employer brand image is a vital part of an organisation that can make or break the image of your company. Creating and managing an impressive Employer Brand Image is a necessity that you must consider if you want people to know what your company stands for. 
LogicMelon
Award-winning recruitment software that will find, attract, hire and analyse the way you want to work. At LogicMelon, we have experienced software recruitment marketing specialists to help you build effective recruitment solutions supported by the best customer service you'll find anywhere!
Email: sales@logicmelon.com or call LogicMelon (UK) +44 (0) 203 553 3667 (USA) +1 860 269 3089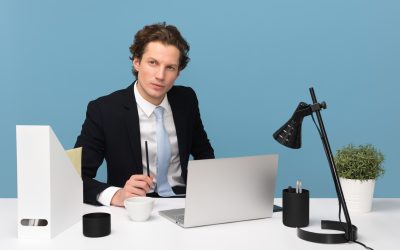 Recruitment crisis management requires adaptability, strategic thinking, and a proactive approach to address talent shortages and avoid disruptions.
read more
Love what you're reading?
Subscribe today and get insights straight to your inbox