A talent pool is crucial to meet an organization's recruitment needs. You shouldn't spend a lot of time sourcing the candidate if you already have a talent pool that helps you with immediate and long-term needs.
Not everyone moves towards the end of the recruitment funnel when you meet candidates. Sometimes, rejecting a candidate has nothing to do with the lack of their skills. They might be a suitable candidate for your organisation, but there might not be an open role to suit the candidate's skills. Maintaining a talent pool will help you with this.
At times like this, staying in touch with the candidate is better so that when a future job role opens up, it is easier for you to fill the position.
What Is a Talent Pool?
A talent pool is a group of candidates interested in working for your company.
Candidates in the talent pool possess the potential to meet the immediate and long-term hiring needs of the company.
The recruitment team usually assigns past candidates and employees to the talent pool since the recruiters and the managers have a good idea about their skills.
Talent pools are necessary when you want your future recruitment to be filled quickly. This is only possible when you have an idea about your future needs.
A talent pool contains details about the candidate, their skills, their expertise domain, their skill gaps, how much they need training, and if the candidate is a cultural fit or not.
Talent Pool vs Talent Pipeline
When understanding the talent pool, it is necessary to know more about the distinction between this and a talent pipeline.
As mentioned above, a talent pool contains candidates who were past employees or candidates who possess the necessary skills to become your employee.
A talent pipeline consists of employees who have already been screened and are already a part of your organisation. 
This refers to the already screened employees in your organisation who are suitable enough to take a new role in your company. A talent pipeline is mainly used for internal hiring.
The most crucial distinction is that a talent pool consists of candidates who have not been screened. A talent pipeline refers to the candidates who have been properly screened. This reduces the time to hire significantly.
A talent community refers to the passive candidates the organisation engages with for their future recruitment. 
Since passive candidates are already a part of a different organisation, recruiters constantly engage them with details about the company and the work culture.
Since the candidates are not for quick recruitment, the talent community strategy is suitable for long-term recruitment.
The Benefits of Talent pooling
Building and maintaining a talent pool requires a lot of work. The effort taken has its rewards. The following are the benefits of talent pooling: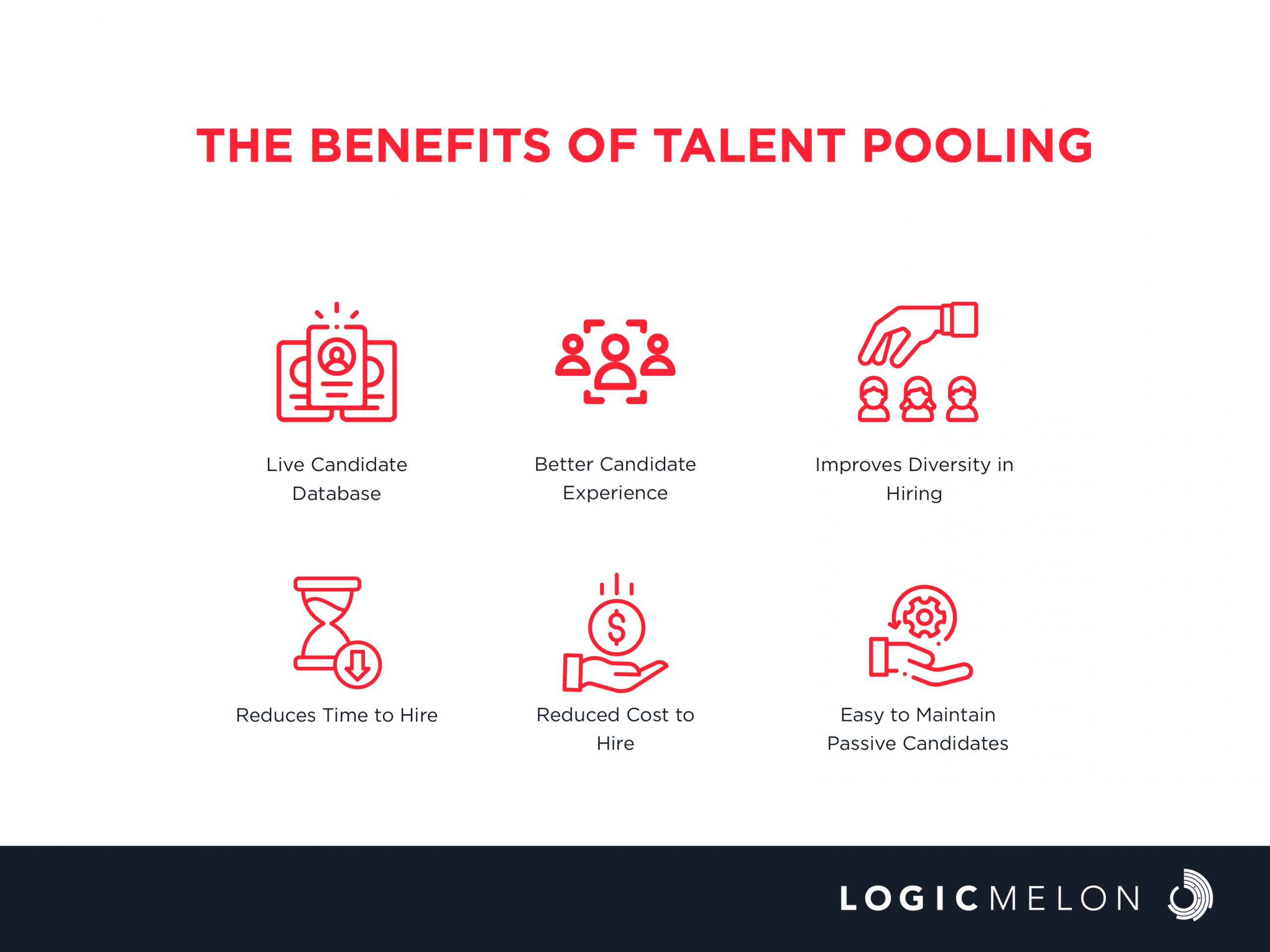 Live Candidate Database
Regarding the talent pool, the database is always up to date with the necessary details about the candidates.
This means that the recruiters and the hiring department will show a boost in their productivity. This helps you to focus on the other aspects of the open role.
Better Candidate Experience
The talent pool can help you have your candidate ready for the job role when it comes up.
This means that when you meet with a candidate and go through the recruitment process, you can improve the candidate's experience for them.
Since you maintain a talent pool, you need not reject the candidate. Instead, you can mention that you will contact them in the future.
This can positively impact the candidate and improve their overall recruitment process experience even when they face rejection.
Improves Diversity in Hiring
Building a talent pool allows you to stay inclusive and create a pool with diverse candidates.
When a candidate applies for your open roles, you might not have a diverse group of candidates.
Since the organisation maintains the talent pool, they have the freedom to discard age, gender, race, and other diversity factors.
Reduces Time to Hire
Time to hire is a recruitment KPI usually considered the standard for measuring your recruitment efforts.
When you spend more time hiring employees for a specific job role, you usually have overworked employees. This might contribute to a negative effort in employees.
Since you have the candidate ready, it is only a matter of contacting them and bringing them into your workforce, which might not take too much of your time.
Reduced Cost to Hire
Similar to time to hire, the other recruitment KPI that helps you identify the weak spots in your recruitment efforts is the hiring cost.
The candidates are already sourced, saving the money you usually spend on recruitment ads and job board postings. 
A decrease in cost per hire will help you focus your budget on other aspects of the recruitment process.
Easy to Maintain Passive Candidates
Passive candidates already work for a different organisation and are happy with their job. This means that they are not actively seeking a job.
When you have passive candidates in your talent pool, it helps you find candidates for job roles requiring people with expertise.
Since passive candidates can take a long time to respond, you can easily maintain many talents who will add value to your workforce through a talent pool.
Best Practices for Talent Pooling
Finding candidates for your talent pool might come off as an easy task, but the most challenging task is the process of maintaining them.
You must understand your candidates and collect all the necessary information about them. 
The more accurate the data, the easier it is to approach the candidate for your job opening.
The following are some of the best practices for maintaining your talent pool:
Just collecting all the details about the candidates may not help you. It is best to have all the details organised and easier to find.

An applicant tracking system is best to manage your talent pool and engage with them.

Keep special track of boomerang employees. Through a talent pool, it is easier to engage with former employees who were part of your organisation.

When you add candidates to your talent pool, ensure that you consider all touchpoints. For instance, references for your new employees.

Mark every talent in your reference pool with special tags that makes it easier for anyone to find the candidate they are looking for.

Engage with the candidates. This is an essential aspect of maintaining a talent pool for your hiring needs. Send personalised messages at regular intervals to keep them interested.

Share regular content regarding the company. This can help you create positive brand awareness, so the candidates show interest in your  job openings in the future.
Frequently Asked Questions
1. What are the benefits of a talent pool?
Building and maintaining a talent pool comes with the following benefits:
Live candidate database.

Better candidate experience.

Improves diversity in hiring.

Reduces time to hire.

Reduces cost to hire.
2. How does a talent pool differ from a talent pipeline?
A talent pool consists of candidates who recruiters can approach based on the future needs of your company. A talent pipeline consists of employees who are already a part of your company and are screened for different roles.
3. How to manage your talent pool efficiently?
To efficiently manage your talent pool, you must engage the candidates and regularly send them personalised messages. It would help if you also kept them updated on the events at your company. The best way to achieve that is through an applicant tracking system.
Conclusion
To get ahead in your recruitment process, you must look for ways to proactively hire and contact candidates before a new job role is created. Building and managing a talent pool is one of the best ways to ensure that you find suitable candidates in a shorter time. You need not worry about immediate recruitment when you have a talent pool. Ensure that the talents in the talent pool are engaged. 
LogicMelon
Award-winning recruitment software that will find, attract, hire and analyse the way you want to work. At LogicMelon, we have experienced software recruitment marketing specialists to help you build effective recruitment solutions supported by the best customer service you'll find anywhere!
Email: sales@logicmelon.com or call LogicMelon (UK) +44 (0) 203 553 3667 (USA) +1 860 269 3089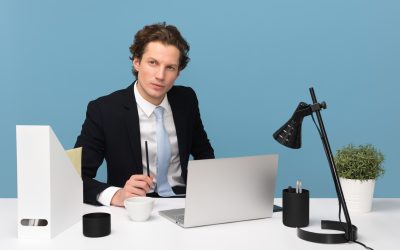 Recruitment crisis management requires adaptability, strategic thinking, and a proactive approach to address talent shortages and avoid disruptions.
read more
Love what you're reading?
Subscribe today and get insights straight to your inbox