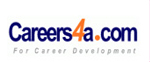 Company
Careers4a.com belongs to a large network of sites within the forgroup range of services, by posting your jobs through Careers4a.com you will gain a broad reach to millions of Internet users through the forgroup network of websites.
Potential candidates will be channelled to your job advertisements.
Careers4a.com is a completely independent platform for candidates to search recruitment agency job advertisements.
Contact name: Andy Manolis
Contact email: pk1@careers4a.com
URL: https://www.careers4a.com