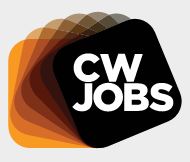 Company
Each month the site draws over 320,000* IT candidates attracted by the opportunity to search thousands of IT jobs from the UK and Ireland's leading employers and generating more than 340,000* job applications.
Hundreds of companies and recruitment consultancies advertise their IT vacancies on CWJobs.co.uk and access CWJobs' CV database of over 185,000 IT professionals. CWJobs.co.uk has offices in London, Manchester and Ireland-based sales representatives.
Every company is different, and so we've a wide range of tools to help you find the candidates that are right for your organisation, whether you've recruited online before or not.
• Personal account management offering specific tailor-made solutions
• Multiple job posting options and ability to manage applications
• Unlimited CV database access – invaluable for headhunting candidates
• Branded banners and button placements across the site and on emails
• Targeted email campaigns to candidates
Click here to find out more about us
What's more, the site's monthly traffic figures have been audited and independently verified by ABC Electronic, the not-for-profit organisation that provides impartial, third party auditing of website traffic, so you can be confident in the value for money offered by advertising your job vacancies on CWJobs.co.uk.
To advertise, trial or access our comprehensive CV database, email us at sales@cwjobs.co.uk or call us today on 020 7572 4090.
*Independently audited by ABC Electronic, October 2008
Pricing available on request
Contact name: Stuart – Manager
Contact phone: 0207 572 4012
Contact email: sales@cwjobs.co.uk
URL: https://www.cwjobs.co.uk/