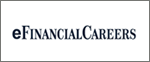 Company
For customers our mission is to help companies engage with and hire the most qualified finance professionals around the world. With sites in 22 markets and 5 languages across North America, Europe, the Middle East and Asia-Pacific, our specialty focus and our audience of highly-skilled banking and finance professionals enable employers to reach hard-to-find, experienced candidates.
eFinancialCareers is designed for the specific needs of the financial services professional: the job opportunities available are from companies around the world and cover a wide choice of positions for investment bankers, traders, asset managers, analysts, risk managers, treasurers, auditors, CFOs, graduate trainees and many others in the financial community.
eFinancialCareers' expanding international network of sites enables recruiters and employers to access the best talent in financial centres around the world. The job posting process enables hiring managers to specify their exact requirements and include questions within the application process. Our advertising options enable employers to highlight their employment brand and our resume database search allows customers to locate candidates with specialised skill-sets quickly and efficiently.
Contact phone: (0)20 7997 7900
Contact email: sales@efinancialcareers.com
URL: https://www.efinancialcareers.com