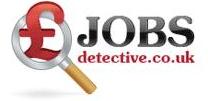 Company
Jobs Detective is unlike any other job board in the UK, especially with their ability to generate application successes through their user-friendly, patented features like CV-Pause and their most innovative Candidate Screening System– JD Score.
CV Pause:
Our exclusive feature allows you to control your access time to our CV Database-all at the click of a button!
Candidate Screening:
JD Score (Jobs Detective Score) is our automatic scoring system, taking the candidate's application experience and the recruiter's candidate search to a whole new level. We will save you time and money as you receive relevant applications.
Our Offer:
With plans to extend Jobs Detective's reach to millions nationwide, we reinforce our ability to become industry leaders as we continuously reinvest our resources into the latest technology, whilst providing dedicated employment solutions.
We are currently offering a Free Trial for you to experience our promising product ranges suitable to your needs. Please contact us to see how Jobs Detective will work for you.
Contact name: Business Development Managers
Contact phone: 0845 524 0973
URL: http://www.jobsdetective.co.uk