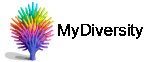 Company
Diversity has great value in the workplace that has long been overlooked in the UK and that is to the detriment of UK businesses.
Studies have shown that heterogeneous teams produce better quality work because team members have different perspectives. There is also the matter of a company's customers and clients. In today's competitive environment, companies must meet and exceed client and customer diversity expectations.
At MyDiveristy.com we connect a broad range of diversity candidates to employment opportunities where they can maximize their potential. And we only feature jobs advertised by employers who promote diversity in the workplace.
Imagine a world where employers were oblivious to age, gender, ethnicity, race, colour and the many other sub-groups comprising the general population in the UK. With MyDiversity it is only a click away
URL: https://www.mydiversity.com