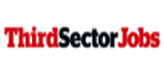 Company
ThirdSectorJobs.co.uk is used by not for profit voluntary and social enterprise professionals at all stages of their careers and with a range of specialist skills. The site is a place for them to find their next job.
• Third Sector Jobs is used by professionals in every area of the charity sector: fundraising, communications, marketing, operations, administration, finance, policy and management.
The site is targeted towards:
• Charity professionals across the UK from the not for profit, voluntary and charity sectors.
• Individuals at all levels of experience – from people starting their careers to senior individuals within the sector.
• Both active and passive job seekers across all disciplines within the sectors including marketing, fundraising, finance, HR, management and governance positions.
sales.thirdsectorjobs@haymarket.com
Contact name: Tim Lomas
Contact phone: 02082674115 or 02082674748
Contact email: onlinesupport@haymarket.com or sales.thirdsectorjobs@haymarket.com
URL: https://jobs.thirdsector.co.uk/