What are you
doing sitting around?
What? Sitting down to work?
 How very 2018!
Bending your knees under a desk? An actual desk? What – a desk that just sits there?
Here at LogicMelon we got sick of backache and stiff necks and clicking knees – so we're celebrating getting sit-stand desks this week. Nobody has to use them, but around here we're up and down like yoyos.
And you know what's got better? All the great mood and energy around the room!
Plus, NHS reports indicate people are actually living shorter lives just from sitting down so much. And all that bad health that's associated with it is costing the NHS £700m a year.
On the plus side you get to keep your lovely LogicMelon accounts managers for that little bit longer – all down to our simple sit-stand new culture.
On the other hand, standing burns about 0.7 calories per minute, that's 30,000 calories a year – the equivalent of running about ten marathons in a single year, so standing up at work even saves running 26 miles at a time dressed as Mr Blobby.
So standing up at work actually saves the NHS a fortune, and helps you live (they reckon) up to two years longer. All that extra time with us as your account managers!
So, are you still sitting comfortably?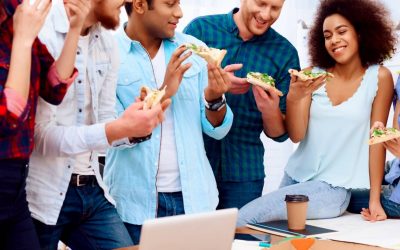 ​Empower your Employees to Champion your Company Culture We're always told how important company culture is to your employer brand and your ability to attract talent. But there's a disconnect between this term and the people who apparently experience it every day –...
read more
Your information is safe with us. We never pass on details to any third parties. You will only receive communication from LogicMelon.