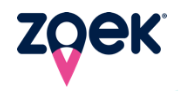 Company
Are you looking to post job vacancies that will reach better matched candidates? Zoek for recruiters and hirers is the new faster, smarter way to target matched candidates to your jobs.
Advertise your jobs for FREE, forever!
We off a wealth of reasons to use Zoek:
Unlimited job adverts for FREE
Job applications sent to your inbox
Account management…. And many more.
Sign up, start posting jobs, and find your next candidate now.
Click on the following link to register and start posting for free: https://zoek.uk/hirer
Contact name: Sales
Contact phone: 08081 561 178
Contact email: enquiries@zoek.uk