Best Practices for High Volume Hiring
High volume hiring is hiring a large number of people to fill positions within a short time frame. High-volume recruiters must source numerous candidates who possess the skills required to fill the roles needed. 
What Is High Volume Hiring?
High volume hiring is attracting candidates and hiring them on a much larger scale to fill positions quickly within a short amount of time. High volume hiring can be a stressful process for many. A high volume of candidates must be evaluated and assessed in a short period of time to make this strategy work. If you don't pay attention to high-volume hiring, you may end up with candidates who are not the right fit for your organisation. 
Common Reasons for High Volume Hiring
Many organisations use high-volume recruiting strategies for numerous reasons, like:
1. Increase the growth of the business on a rapid scale.
2. To fill department or office staff.
3. To recruit new graduates who are usually hired in bulk.
4. Seasonal peaks.
Challenges Faced in High Volume Hiring
Many organisations use high-volume hiring methods to source and hire a large number of candidates. This might be ideal in some situations but it may lead to some hindrances. The high-volume hiring process has its own set of unique challenges:
1. Hiring in bulk can lead to some issues, one of them being the volume of candidates varying. Sometimes the labour market can be very good and you might get a lot of hires, but this may not always be the case. It is better to be informed in advance about the labour market, so you don't run into the issue of not finding enough candidates to hire.
2. Another challenge to keep in mind is that you might lose out on a bunch of candidates by not responding fast enough. Applicants who apply for roles like these usually expect a quick response, and to be hired quickly. If you fail to respond quickly, you may end up losing potential high-volume candidates. In order to not get plagued by such obstacles, make sure to have effective time management and rapid responses to get the job done efficiently.
3. Not having sufficient data or fragmented data is also a challenge you may face when hiring on a larger scale. This makes it difficult for recruiters to have a complete picture of their hiring strategy. 
How to Create an Effective High Volume Hiring Strategy
To implement a high-volume hiring strategy, you must have a clear and precise strategy in place to successfully do it. Let's take a look at some of the best practices to create an efficient, high-volume hiring strategy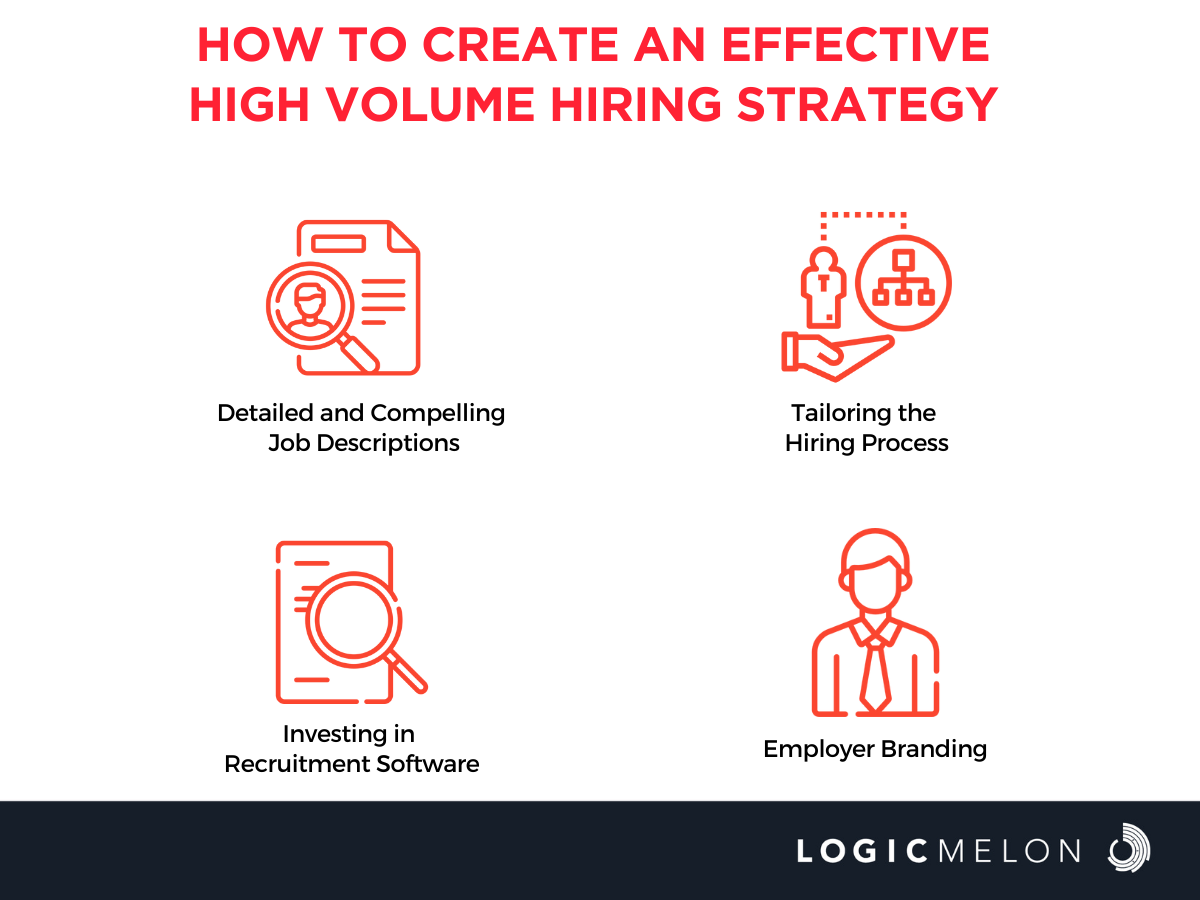 Detailed and Compelling Job Descriptions
You can start by making a compelling job description that contains the requirements needed to fill the role. Make sure to be specific and accurate regarding the details of the job to reduce any miscommunication with the applicants. Details like required qualifications and preferred qualifications can be specified to make it easier for the applicants to decide if their skill sets and qualifications match the role before they apply. This can save a lot of time and resources in the long term.
Tailoring the Hiring Process
Tailoring the hiring process can help you improve the recruitment process, as well as have more engagement with job seekers to simplify the process. You can develop tailored questions to ask the applicants, which may give you an idea about the candidates. Another way is to make tailored emails for the candidates who move further up the process, and for those who won't be considered for further interviews. 
Investing in Recruitment Software
Investing in applicant tracking software, like LogicMelon, can help you manage a bulk recruiting process. An ATS is a human resources software designed to help recruiters and human resources to simplify and streamline the process of recruiting. They can do tasks like resume parsing, candidate sourcing, keyword search, advanced analytics, and reporting. An ATS can help you make the recruiting process smoother and less cumbersome. This can help the recruiters focus on other areas where attention is needed. 
Employer Branding
Having great employer branding can help attract potential candidates. Employer branding can speak for your organisation. The values, beliefs, principles, and work environment of the organisation can attract candidates looking for something similar. Make sure your employer branding reflects the values your company stands for and your work environment. A great employer brand can help you build an excellent talent pool. You can then identify potential candidates with values that align with that of your organisation. 
Mistakes to Avoid When High Volume Hiring
When high-volume hiring is not done the right way, it can slow down the process. These are some mistakes you need to avoid in high-volume hiring:
Poor Job Descriptions
Rushing high volume hires can lead to companies not putting much effort into making detailed job descriptions. A detailed and compelling job description is essential to attract new candidates, and also to give them an idea about the role which they are about to apply for. Failing to make a good, compelling job description can lead to attracting unsuitable candidates for the role. 
Not Focusing on Employer Branding
Many companies do not focus on employer branding even though it is a crucial aspect of an organisation. Employer branding affects how candidates view your organisation. Having the right employer brand can help attract candidates who have a deep understanding of the company culture. Failing to do so can become a nuisance to the recruitment goal of the organisation. 
Inefficient Hiring Process
When designing a hiring process, you must keep in mind the needs of the candidates, as well as the company. An efficient hiring process will focus on both of these aspects. Lengthy hiring processes can make the candidates lose interest and waste the organisation's resources.
Rushing the Hiring Process
The high-volume hiring process is a tough strategy to implement and it must be done with accuracy. It requires a lot of time and resources to create and therefore it must not be rushed. Rushing the hiring process may lead to lower quality hires, even though it can help you fill positions much more rapidly. Rushing the hiring process can become a headache for the recruiters, as well as the candidates.
Frequently Asked Questions
1. How many applicants can high-volume hiring receive?
On average, normal job adverts receive around 59 applicants, whereas high volume hiring adverts receive around 250 applicants.
2. What are the metrics for high-volume hiring?
These are some of the metrics you can use to measure high-volume hiring:
1. Time metrics. 
2. Offer acceptance rates.
3. Job application times.
4. Utility metrics.
5. Source of hires.
6. Return on investment.
3. What are some mistakes to avoid when high-volume hiring?
Mistakes to avoid when implementing high-volume hiring are:
1. Poor job descriptions.
2. Not focusing on employer branding.
3. An inefficient hiring process.
4. Rushing the hiring process.
5. Not using an applicant tracking system.
Final Thoughts
High volume hiring done properly with an effective strategy can provide a high-quality talent pool. Having a large talent pool with high-quality candidates can be a great advantage to your organisation in the future. When done efficiently, high-volume hiring can provide the right candidates needed to suit your business requirements. 
LogicMelon
Award-winning recruitment software that will find, attract, hire and analyse the way you want to work. At LogicMelon, we have experienced software recruitment marketing specialists to help you build effective recruitment solutions supported by the best customer service you'll find anywhere!
Email: sales@logicmelon.com or call LogicMelon (UK) +44 (0) 203 553 3667 (USA) +1 860 269 3089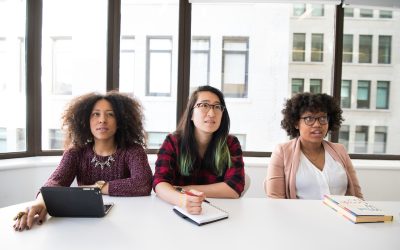 By embracing diversity and fostering inclusiveness, organisations can unlock the potential of their workforce and drive sustainable growth.
read more
Love what you're reading?
Subscribe today and get insights straight to your inbox