How to Encourage High Morale in Your Organisation
High morale happens when an upbeat, positive attitude meets high energy in the workplace. It is the mental and emotional condition of an individual or group with regard to the function or tasks at hand. 
What Causes High Morale?
High morale in a working environment can be described as a positive attitude and high satisfaction levels towards work, with the willingness to give one's best in the workplace.
High morale only occurs when the employees feel they are valued by the company, so ensuring your people are getting the support they need to bring their best selves to work each day is most important.
The Importance of High Morale
Employee morale is significant because it is tied directly to important things, such as employee engagement, job satisfaction, employee retention, and overall productivity. Organisations with high morale tend to have a healthy culture and engaged employees.
How Do You Maintain High Morale?
Giving your people and leaders a structure for having better one on ones can help them make the most of every meeting. They may spend more time improving morale, which can lead to higher levels of trust, engagement, and productivity.
Employees with high morale stay motivated and work towards organisation goals. They also maintain a healthy relationship with everyone in the organisation.
How to Encourage High Morale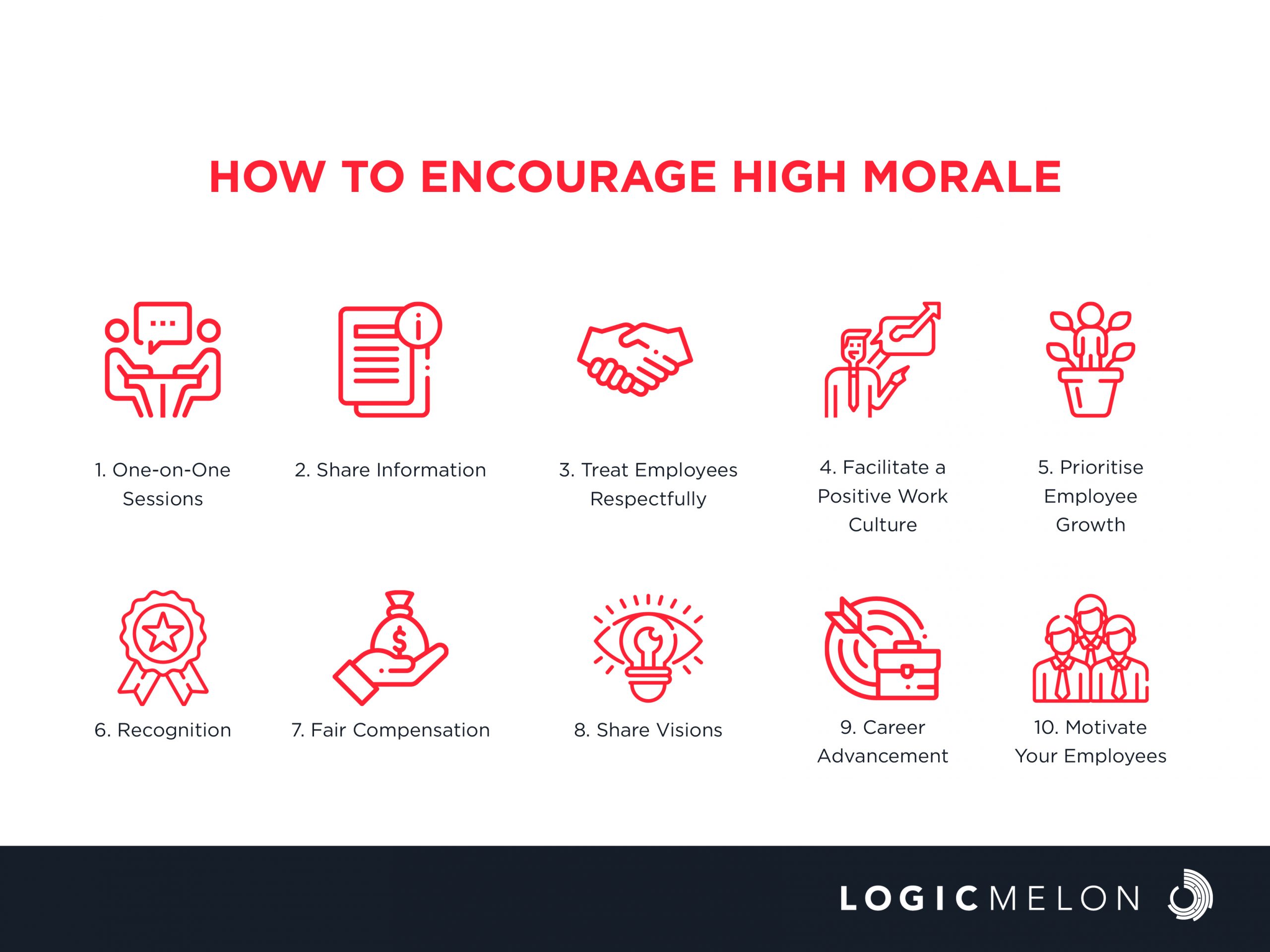 1. One-on-One Sessions
One-on-one sessions with management can help managers to understand how the employees feel about the organisation. A dedicated time for an employee and their manager to connect on work, career development, and growth.
2. Share Information
The organisation has to share its information about objectives and must be transparent regarding its activities to help employees understand the situations they face as a team.
3. Treat Employees Respectfully
The management must respect each and every employee equally and must give credit for the work they have done in a professional manner. Being valued and treating them respectfully helps to promote a positive work culture in which employees are fulfilled, loyal, engaged, and motivated to perform at their very best.
4. Facilitate a Positive Work Culture
A positive work culture helps to encourage employees to improve their work productivity by having a positive work relationship with the other people in the organisation. The employees must feel valued and respected to facilitate a positive work culture in the organisation.
5. Prioritise Employee Growth
The managers and other top-level management must prioritise employee growth in the organisation in order to improve their performance.
Employee development is the process of improving employees existing competencies and skills to develop newer ones to support the organisational objectives.
6. Recognition
Recognition makes the employees feel valued at the organisation, and helps them to reach their maximum potential by giving credit to their work. 
If an employee gets a promotion or raises for their efforts recognised, then the rest of the employee population sees that the company does reward hard work.
7. Fair Compensation
The compensation has to be shared in a fair manner and every employee must be treated equally. The employees have to feel valued by the organisation for the work they are doing in the organisation.
Compensation consists of a combination of an employee's pay, vacation, health insurance, and bonuses. It also includes other perks, such as a company car, free parking, free or cheap meals, and commuting costs.
8. Share Visions
A vision is something that looks to the future, or advancements in a creative and imaginary way. An organisation that is ahead of its time, and that has a powerful plan for change in the future is visionary.
Sharing your vision can help the employees to know the track for achieving their objectives. This Vision gives an idea about the distance between the position where the organisation stands and the objectives to be achieved.
9. Career Advancement
Every employee in the organisation wants to grow and develop their Career. Career advancement programs help employees to build skills and develop in the organisation.
Career advancement is a process by which professionals across industries use their skill sets and determination to achieve new career goals and more challenging job opportunities. Companies offering these programs that allow existing employees to move up with the company.
10. Motivate Your Employees
Motivating your employees helps in boosting the morale of the employees. Motivating comes from a psychologically driven feeling with the aim to work more, and Employee morale increases when the employee gets motivated.
Rewarding employees by giving them more flexibility in their schedule, or by putting them on the path to a promotion.
Frequently Asked Questions (FAQs)
1. How would you describe employee morale?
Morale is how your employees feel about coming to work every day, how they approach their assigned tasks and their attitude toward the company's direction. Employee morale is a culmination of job satisfaction, life outlook, and attitude.
2. Are morale and motivation the same thing?
Motivation and morale are closely related concepts, they are different where motivation is an internal-psychological drive of an individual, which urges them to behave in a specific manner, and morale is more of a group scenario.
3. Who is responsible for employee morale?
The employer's responsibility for employee morale is to ensure employees are recognised with non-monetary gestures so that given reasonable credit for their efforts in the organisation.
4. How does morale affect productivity?
Employee morale is directly correlated to your organisation's overall productivity and competitiveness in the market. Employees who have a higher level of employee morale tend to be more productive, more satisfied with their jobs, and more engaged at work.
Closing Thoughts
The mental and emotional condition of an individual or group with regard to the function or tasks at hand is morale. High employee morale helps the organisation to produce effective results. You can give your employees high morale by having one on one sessions with the employees to share their thoughts, making the organisation more transparent, treating employees respectfully, facilitating a positive work culture, prioritising employee growth, recognising employees by way of non-monetary gestures, ensuring fair compensation, and providing career advancement pathways for employees. 
LogicMelon
Award-winning recruitment software that will find, attract, hire and analyse the way you want to work. At LogicMelon, we have experienced software recruitment marketing specialists to help you build effective recruitment solutions supported by the best customer service you'll find anywhere!
Email: sales@logicmelon.com or call LogicMelon (UK) +44 (0) 203 553 3667 (USA) +1 860 269 3089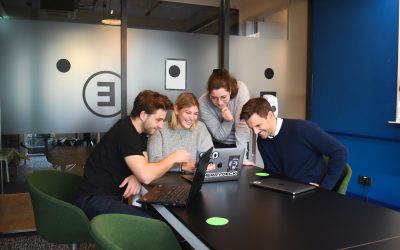 Self-managing teams can foster creativity, strengthen organisational relationships, and accelerate goal achievement.
read more
Love what you're reading?
Subscribe today and get insights straight to your inbox