What Makes a Good Recruiter? 6 Essential Skills
The world of work is fast-paced and competitive, and the role of the recruiter is crucial in identifying and attracting top talent. Recruiters help organisations to bridge skill gaps and find the right candidates for their business needs. They play a vital role in the recruitment process, and therefore, it is essential for recruiters to have a set of skills that are valued by companies and candidates alike. 
In this article, we explore six of the essential skills that make a great recruiter.
So, What Makes a Good Recruiter?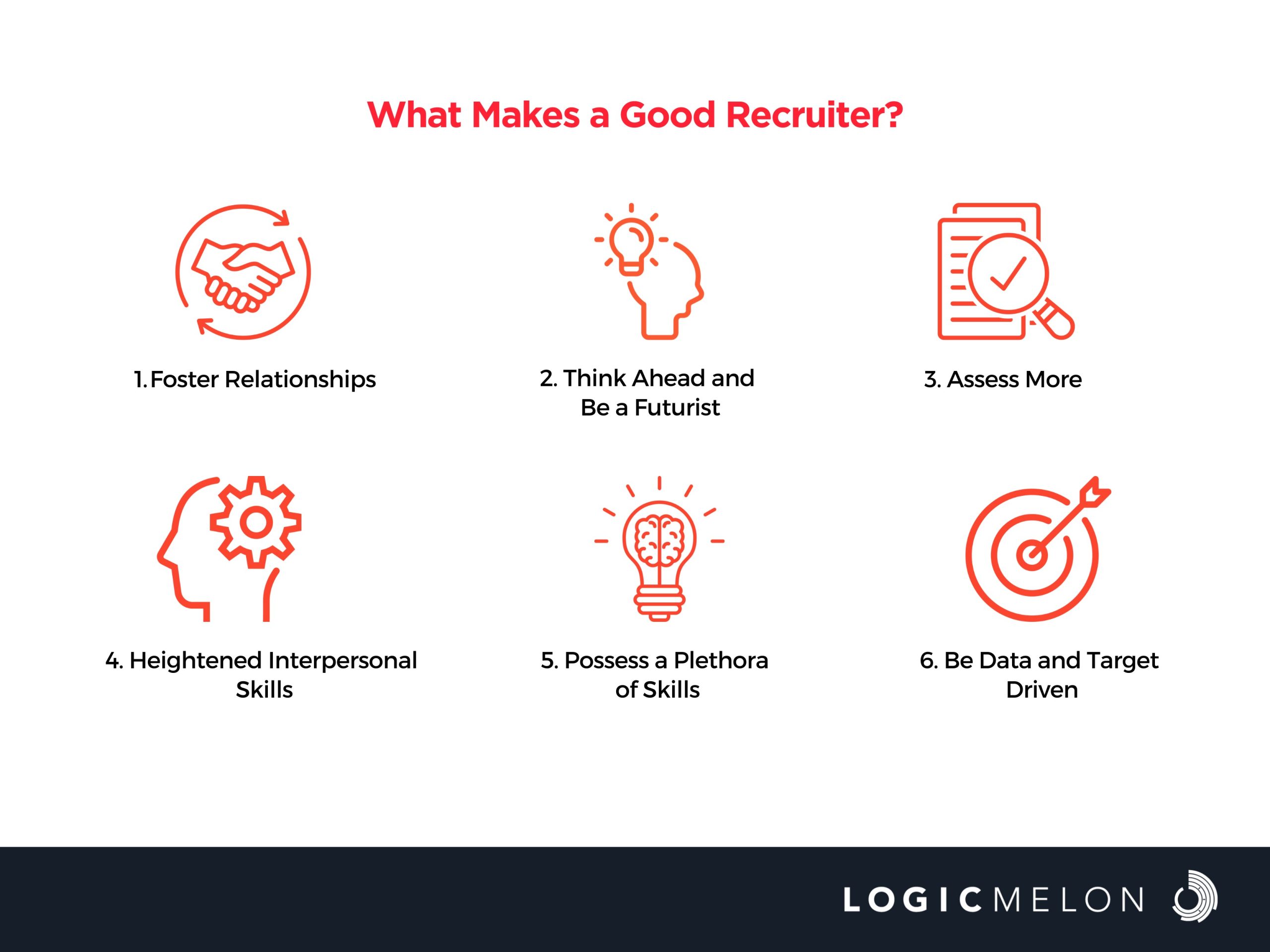 1. Foster Relationships
One of the most critical skills for a recruiter is the ability to build and maintain relationships. As people form a significant part of any organisation, recruiters need to establish positive relationships with everyone, including external candidates, internal staff, managers, and executives.
Great recruiters can build a rapport with rejected or dissatisfied candidates, creating opportunities for future potential relationships. Sometimes there may even be internal disputes between teams or employees, and a good recruiter must know how to navigate these situations to create a harmonious working environment.
2. Think Ahead and Be a Futurist
The job market is volatile, and recruiters must stay on top of changing trends and values to identify potential threats that could disrupt the recruitment process. A great recruiter is always vigilant and proactive in sourcing and engaging with potential candidates to ensure that the business has the necessary skills to function effectively. They must also network with a range of portals, forecast trends and explore ways to improve the hiring process.
3. Assess More Than What Meets the Eye
Great recruiters know that there is more to recruitment than just matching skills and qualifications. They must evaluate and identify people based on both their personal and professional attributes. Conducting technical, behavioural, and operational interviews, real-time tasks, and various behavioural analyses can give insight into a candidate's overall suitability for the role. Great recruiters can identify individuals who align with the company's cultural values and monitor employees' performance over time.
4. Heightened Interpersonal Skills
Possessing excellent interpersonal skills is essential for recruiters. Effective communication helps them build relationships, work towards common goals and add value to both the company and its employees. In addition to good communication skills, great recruiters should have active listening skills, empathy, optimism, conflict resolution abilities, negotiation skills, time management, team building, emotional intelligence, leadership, diplomacy, and patience.
5. Possess a Plethora of Skills
Recruitment requires a range of skills, including interpersonal, psychological, and technical aspects. Good recruiters must have a variety of marketing, sales, and negotiation skills to make a difference in the way they represent themselves and the company. Understanding psychological aspects is necessary to evaluate candidates and employees effectively. Great recruiters can multitask and manage their time effectively, working on multiple tasks and projects simultaneously.
6. Be Data and Target Driven
Recruiters must be able to understand complex business processes and find the skills that add value to the organisation. While they may need to take diplomatic decisions on a professional front, they should focus on making data-driven decisions that are beneficial for the organisation. Recruiters must recruit candidates, monitor their performance, and manage appraisals, promotions, and variable benefits. Being data-oriented and target-driven can help recruiters make a mark for themselves in the organisation.
Frequently Asked Questions
1. What are the essential skills of a recruiter?
A great recruiter must have a strong set of skills and be proficient in interpersonal, psychological, and technical aspects. They should also have a wide range of interpersonal skills, including communication, active listening, empathy, conflict resolution, negotiation, and time management.
2. What makes a recruiter stand out?
Great recruiters can build and maintain positive relationships with people and have a proactive approach to recruitment, keeping on top of market trends and identifying potential threats. They evaluate individuals based on personal and professional attributes, have excellent interpersonal skills
3. What are some core values of a recruiter?
In addition to the technical skills, some core values of a recruiter are honesty, integrity, optimism, passion, and trustworthiness.  
Closing Thoughts
If you're looking for a great team to take your organisation to the next level, you need a good recruiter on your side. A good recruiter is an essential cog in the organisational machinery that keeps things running smoothly. They're the ones who ensure that you get the right people for the job, and that everyone is on the same page.
So what makes a good recruiter? The answer is simple – a lot! A good recruiter must be an excellent communicator, an effective negotiator, and an expert in their field. They must be able to think creatively, adapt to new trends, and develop innovative strategies to attract the best talent. In short, they need to be a jack-of-all-trades.
But above all, a good recruiter needs to be passionate about their job. They need to have a genuine desire to help organisations grow and succeed, and a commitment to doing whatever it takes to make that happen. So if you're looking for a great recruiter to help take your business to new heights, make sure you choose someone who is truly passionate about what they do.
LogicMelon
Award-winning recruitment software that will find, attract, hire and analyse the way you want to work. At LogicMelon, we have experienced software recruitment marketing specialists to help you build effective recruitment solutions supported by the best customer service you'll find anywhere!
Email: sales@logicmelon.com or call LogicMelon (UK) +44 (0) 203 553 3667 (USA) +1 860 269 3089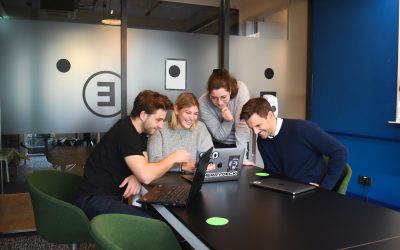 Self-managing teams can foster creativity, strengthen organisational relationships, and accelerate goal achievement.
read more
Love what you're reading?
Subscribe today and get insights straight to your inbox