Agile Recruitment: What Is It, What Are the Benefits, and How Do I Implement It?
Ah!, the quest for the perfect team members—a challenge as grand as scaling Everest! The art of recruiting involves a trio of tasks: attracting, interviewing, and welcoming new talents aboard the company ship. And oh, let's not forget, the heart of this operation rests with the HR department—a true powerhouse in any organisation.
When implemented properly, agile recruitment promotes flexibility, increased scalability, and the participation of all parties involved in the recruiting process. The world has witnessed the positive impact an agile approach can have on accomplishing projects and collaborating.
In this article, we explore how agile recruitment helps companies have an effective hiring process.
Benefits of Agile Recruitment
1. Reduces Time to Hire
One of the challenges in the recruiting process is getting roles filled quickly. Because the interview and decision-making process drags on too long, it can even reach a point where top candidates accept another role. The shorter the time to hire, the fewer costs are incurred by the organisation.
2. Keep Teams Focused
Teams that are focused are likely to be productive and hit their targets. All the team members know their roles and responsibilities for an effective hiring process. They know how to prioritise work based on its value and can utilise their time effectively and efficiently. 
3. Improves Collaboration
Setting a consistent touchpoint will create more ways for two-way communication. Agile recruiting encourages a high collaboration rate among teams, requiring them to meet with stakeholders to evaluate the hiring process to ensure that qualified candidates are considered to fill the job vacancies. It also prioritises constant communication with potential recruits.
4. Avoids Bad Hires
Pinpointing what roles are needed early in the process is essential to hiring talent that meets the criteria. That is precisely what agile recruiting does. Each team member takes on a particular role that must be accomplished within a particular period of time. It is also reviewed by the hiring manager and other key stakeholders involved to avoid bad hires.
Steps to Implement Agile Recruitment
In agile project management, the term "sprints" is commonly used to define the short period of time when specific tasks are allocated to different team members.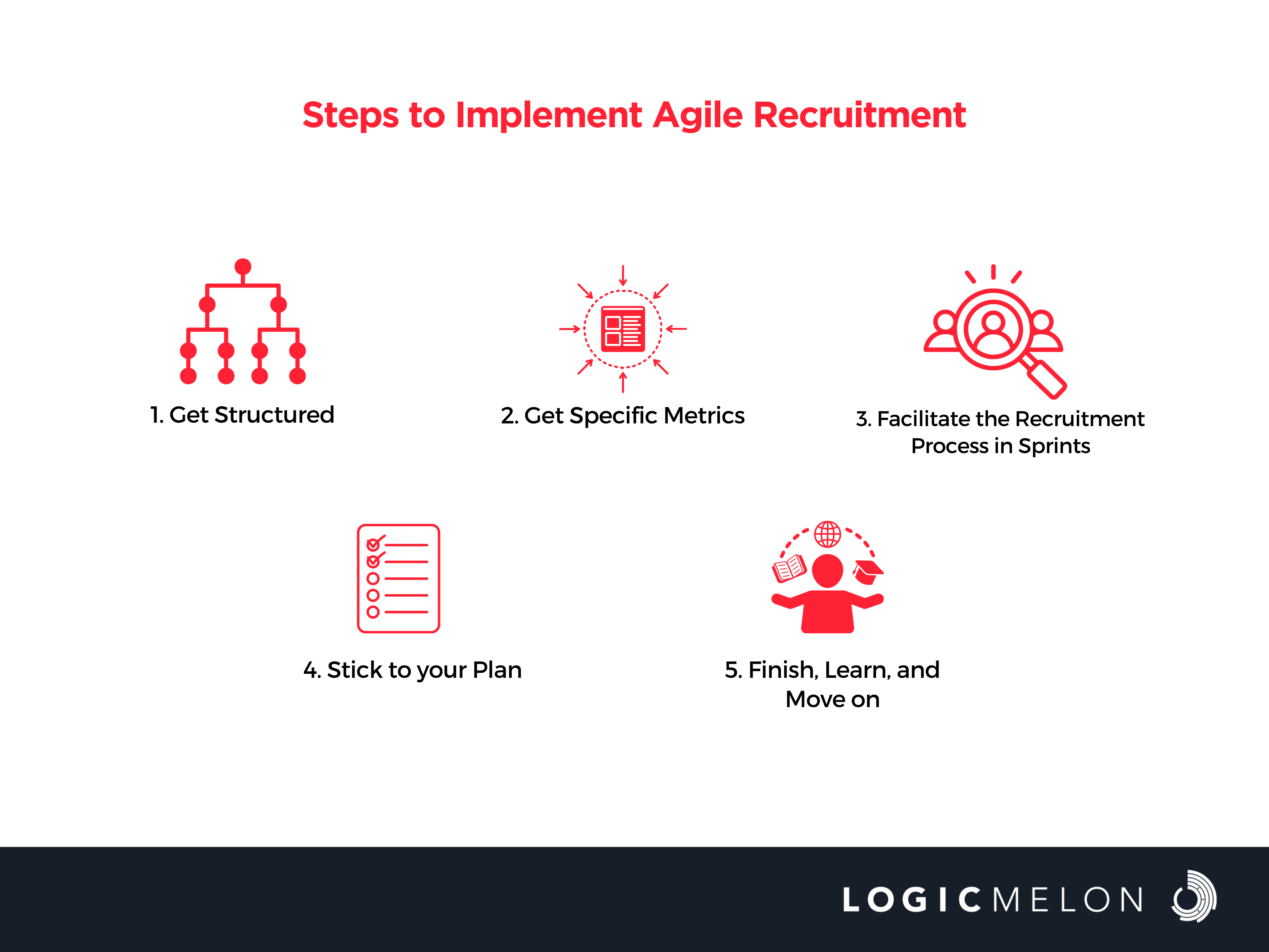 1. Get Structured
Developing an agile recruitment team is the first step in creating an effective hiring process. With each recruitment team, there are three main roles:
Headcount owner: The headcount owner has to create a list of tasks referred to as the hiring backlog that the recruiting team must complete over the duration of the hiring cycle.

Recruiting Lead: They are responsible for preventing the team from going off track and keeping them focused on predetermined recruiting goals.

Recruiting team: The recruiting team works in one- to two-week hiring sprints to accomplish all of the tasks outlined in the hiring backlog and successfully meet the hiring goals.
Each person in the role is interconnected, and one cannot perform without another.
2. Get Specific Metrics
Here are some key acquisition metrics that businesses commonly use to evaluate the success of the hiring process:
Time to fill

Time to hire

First-year attribution

Quality of hire

Applications per opening

Selection ratio

Cost per hire

Offer acceptance rate
3. Facilitate the Recruitment Process in Sprints
Below is an example of a sprint plan.
Week 1: Source candidates from various job boards, job fairs, and employee referrals. Then get feedback from the hiring manager and other stakeholders regarding the talent pool.

Week 2: Narrow down the talent pool based on the feedback received from the hiring manager. Then call candidates for the necessary recruitment process to curate your talent pipeline. Also, check with the hiring manager to confirm the talent pipeline aligns with talent acquisition goals.

Week 3: Screen candidates through skill-based assessments and by conducting a phone interview. After screening candidates, communicate with the hiring manager and key stakeholders to share which candidates passed the test.

Week 4: Schedule an in-person or virtual interview process with top-level candidates. Involve either the hiring manager or key stakeholders in these interviews and report the results to them once the whole process is over.
Breaking the recruitment process into sprints will help speed up the hiring cycle. Hiring sprints also help recruiting teams create a transparent hiring cycle that job candidates value.
4. Stick to your Plan
Agile recruitment teams often use the project management process to help them understand the ins and outs of each hiring sprint. Always stick to one plan and ensure you complete it. For instance, once the sprint is in motion, stick to the plan until it is complete. If something goes wrong or does not go as expected, build what you have learned into the next sprint. 
5. Finish, Learn, and Move on
You might be thinking about what is next after the recruitment process. Assess what metrics went wrong and consult with your team to determine what improvements to make to your hiring process to produce better results, then use the lessons learned in the next sprint. 
Frequently Asked Questions
1. How is agile recruitment different from the traditional way of recruiting?
Agile recruiting focuses more on attracting qualified candidates by creating clear requirements for the hiring process, maintaining effective collaboration between the hiring team members, tracking key talent metrics over the duration of the recruitment process, and aiming to continuously improve recruitment efforts.
2. How can agile recruitment help companies overcome talent acquisition challenges?
For hiring managers, a more adaptable approach is required. By adapting the agile approach to recruitment, recruitment teams can:
Gain a better understanding of hiring requirements

Avoid hiring unqualified candidates

Develop a flexible hiring process

Improve collaboration and communication among stakeholders and hiring teams

Strive to continuously improve the recruitment process.
3. How do you develop agile recruitment teams?
Developing an agile recruitment team is crucial to interviewing potential candidates, gathering acquisition metrics, and helping to determine which candidates are the best fit for open positions. Typically, agile teams consist of three to ten employees and are considered small in size.
Unleash Agile Recruitment
Agile recruitment focuses on crafting requirements for the hiring process, maintaining effective collaboration, and hiring team members. Recruiting qualified candidates is challenging, no matter which industry the business operates in. 76% of hiring managers admit that attracting the best candidates is their greatest challenge. It is likely because the traditional recruitment process is time-consuming and ineffective. To streamline the recruitment process, organisations must adapt to an agile way of recruiting.
LogicMelon
Award-winning recruitment software that will find, attract, hire and analyse the way you want to work. At LogicMelon, we have experienced software recruitment marketing specialists to help you build effective recruitment solutions supported by the best customer service you'll find anywhere!
Email: sales@logicmelon.com or call LogicMelon (UK) +44 (0) 203 553 3667 (USA) +1 860 269 3089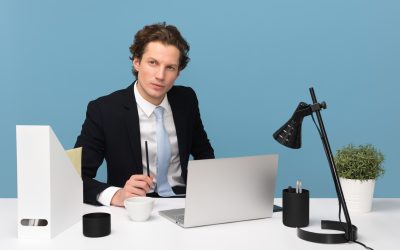 Recruitment crisis management requires adaptability, strategic thinking, and a proactive approach to address talent shortages and avoid disruptions.
read more
Love what you're reading?
Subscribe today and get insights straight to your inbox