How to Get Your Job Advert on LinkedIn
As most of us already know, LinkedIn is the way to go if you want to find and connect with people looking for a job.
LinkedIn is one of the best job sites in the world, which comes as no surprise when you consider the number of users they have. 525 million active users use LinkedIn. Therefore, it is only natural that you might think it is the best place to find people who are looking for a job. You can post an advert on LinkedIn for free with the option to further promote the advert using payment. 
Why Should You Post Your Job Advert on LinkedIn?
According to a report, it was found that 87% of recruiters found LinkedIn to be the most effective place to find vetted candidates. Business professionals around the world use LinkedIn to post and promote jobs. You can get great benefits by posting on LinkedIn where you can easily access and manage your job adverts. Many newcomers looking for jobs usually search on LinkedIn. As a result, you are most likely to find fresh applicants looking for a job, even experienced applicants just looking for something new.
The Benefits of Posting a Job Advert on Linkedin
The following are some of the benefits of posting a job advert on LinkedIn:
Having a great company page on LinkedIn can help you rank higher on Google search engine results. You can frequently update and optimise your page to help with SEO performance.

Helps to network.

Helps to establish your company's public image.

Provides opportunities to generate sales leads.

Attract talented applicants to your organisation.
Disadvantages of Posting a Job Advert on LinkedIn
The following are the disadvantages of posting a job advert on LinkedIn:
Passive candidates may not be interested in the job. Recruiters may contact potential applicants whom they like, but it is unlikely that most of them would try connecting. 

LinkedIn as a platform is used by millions of users worldwide. Having a talent pool that is on a global scale can be overwhelming for recruiters sometimes. 

Promoting your job advert on LinkedIn can cost you a lot of money. LinkedIn provides free job advert posting, but there is also an option to promote your posts further to reach a wider audience. This may seem like a good feature to use, but it will cost you a lot of funds.  
How to Get Your Job Advert on LinkedIn
You can follow our guide given below to know  how to get your job advert on LinkedIn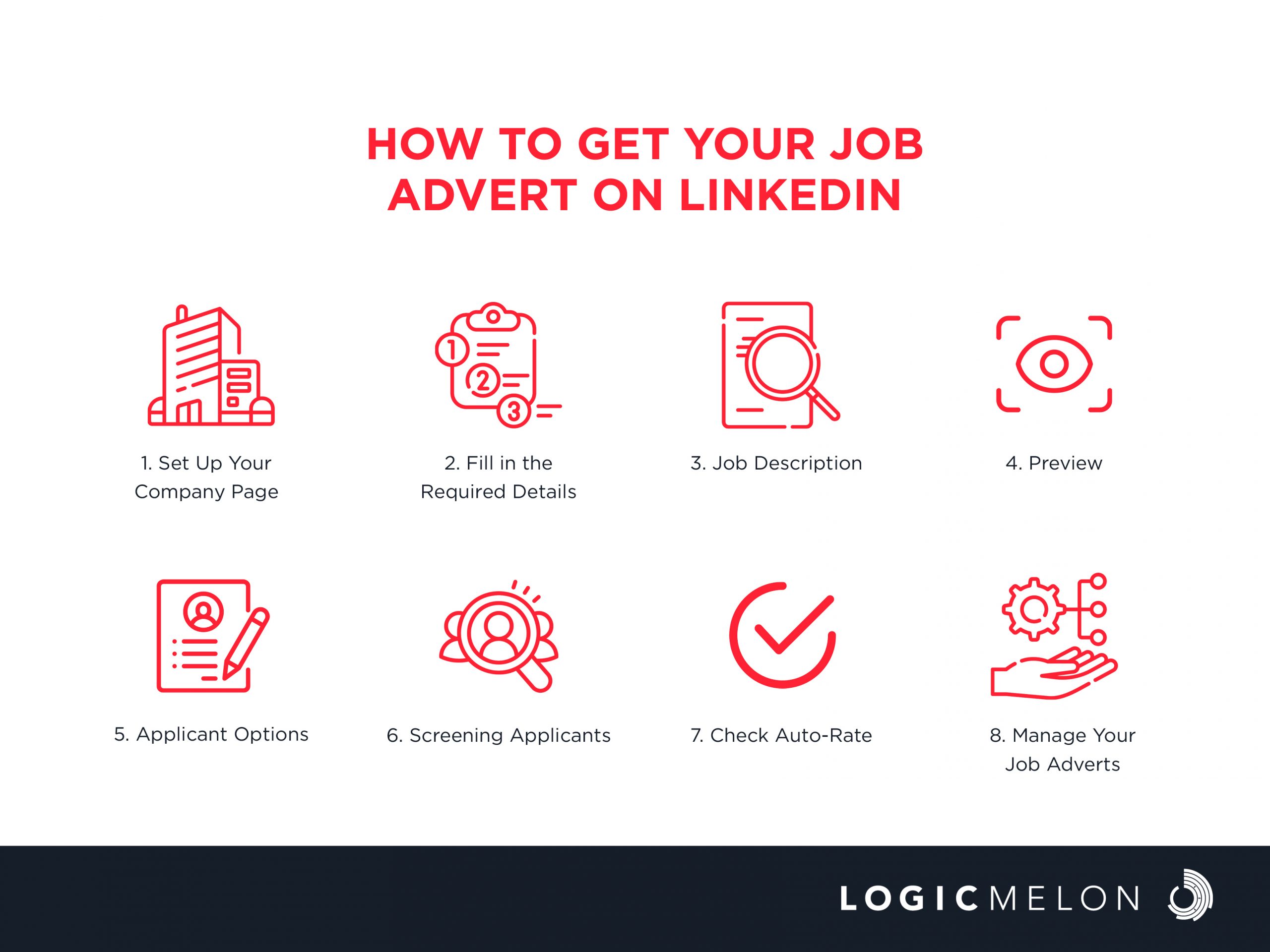 Step 1: Set Up Your Company Page
To get your job advert on LinkedIn, you must create a company page for potential candidates to find you. After you have signed up, click on the suitcase icon marked as "Jobs."
Step 2: Fill in the Required Details
After clicking on the icon with a suitcase named jobs, you will be taken to another page. Fill in the relevant details inside the boxes. You will be asked to fill in.
Job title. 

Company. 

Job location. 

Employement type.
You must fill in the required details under the relevant fields. Then click on "get started for free."
Step 3: Job Description
The next stage is creating a job description for your advertising role. An already filled template will be present. You can tweak it according to your liking. Describe in detail what the role of the applicant will be. You can describe the responsibilities regarding the job and the qualifications required for the role. You can also add skills that the applicants must have for the role they are applying for. 
Step 4: Preview 
After you have filled in the job description you look at a preview of it to check whether any changes are needed.
Step 5: Applicant Options
On this page, you are asked how you would like the applicants to reach you. You can direct them to your website or get notified by Email. 
Step 6: Screening Applicants
LinkedIn automatically adds screening questions based on the job description. You can add questions like qualification or experience in the related field. You can also specify whether these qualifications are required or preferred.
Step 7: Check Auto-Rate
Check on auto-rate to set up a follow-up mail that is automatically sent to the applicants' mail after a period of 7 days. This option must be checked to send a rejection mail to the applicant. You can click on the mail description and personalise it according to your wishes. This mail is automatically sent to the applicant 7 days after they apply.
Once you have completed all the above steps, you can click on "post job for free" to complete the job advert. You are also given suggestions to add job compensation to let your applicants know the compensation you plan to provide for the role. 
You also have the option to further promote your advert, but keep in mind that this is a paid feature. This option lists your advert in the top results. Promoting a job advert means your ad will be targeted to candidates, as well as given priority in search results. 
Step 8: Manage Your Job Adverts
After you have posted your job adverts, you must refer back to them from time to time to check whether any changes are required. You can review the applicants and make the necessary changes if needed. 
Other Ways to Promote Your Job Advert on LinkedIn
Another way to post a job on LinkedIn is by using an applicant tracking system (ATS). When LinkedIn is integrated with your applicant tracking system, the process of hiring becomes much easier. It lets you track candidates, as well as the recruitment process, which can provide you with lots of data. 
Frequently Asked Questions
1. Is it free to advertise a job on LinkedIn?
LinkedIn does offer its users free job advertisements, but there is also an option to further promote your advertisement to appear in the top results. This option however is a paid feature.
2. How long does a job advert last on LinkedIn?
Job adverts on LinkedIn are usually closed after 6 months. After this period you can either manually close the job, or it will be automatically closed. After the advert ends, you can repost the job anytime you want. 
3. Does LinkedIn notify you about network changes?
Yes, LinkedIn notifies you about any changes that occur in your network. Job changes, education changes, and work anniversaries are automatically set to notify you. You can of course turn this feature off if you want. 
4. How many Jobs on LinkedIn can you post for free?
LinkedIn allows you to post one job advert at a time. If you want to post more than one job advert at a time, you have to use the paid feature, like job slots. 
Conclusion
LinkedIn does have its downsides but it is still a great place for you to post job adverts.  LinkedIn provides great features and easy access to manage your job adverts. Your job adverts on LinkedIn can help your company establish a great image. Yes, more premium features will cost you, but if you decide to use them, you can get better results. 
LogicMelon
Award-winning recruitment software that will find, attract, hire and analyse the way you want to work. At LogicMelon, we have experienced software recruitment marketing specialists to help you build effective recruitment solutions supported by the best customer service you'll find anywhere!
Email: sales@logicmelon.com or call LogicMelon (UK) +44 (0) 203 553 3667 (USA) +1 860 269 3089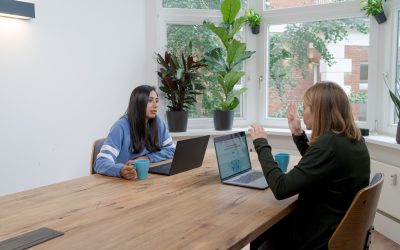 Cloud talent assessments are organised to evaluate the cloud computing skills, knowledge, and capabilities of individuals or teams.
read more
Love what you're reading?
Subscribe today and get insights straight to your inbox