Challenges That Every Business Faces With Deskless Workers
Deskless workers are employees who do not have a designated workspace. Deskless workers usually do not work at the corporate office, but they are also not considered remote workers in the traditional sense. Over 80% of the workforce works without desks. They frequently serve as the first and most visible brand ambassadors for their employers.
Deskless workers are employed in a variety of sectors, including retail, manufacturing, healthcare, construction, telecommunications, transportation, and others. The work done without a desk is directly involved in the production and marketing of the goods we use every day.
Challenges Deskless Workers Face
Employers have a lot of challenges to overcome without the use of emails, laptops, and other forms of technology. People who are employed in sectors like retail and hospitality traditionally have high turnover. This is why it is crucial to understand deskless workers' challenges to empower them. The following are some of the challenges faced by deskless workers: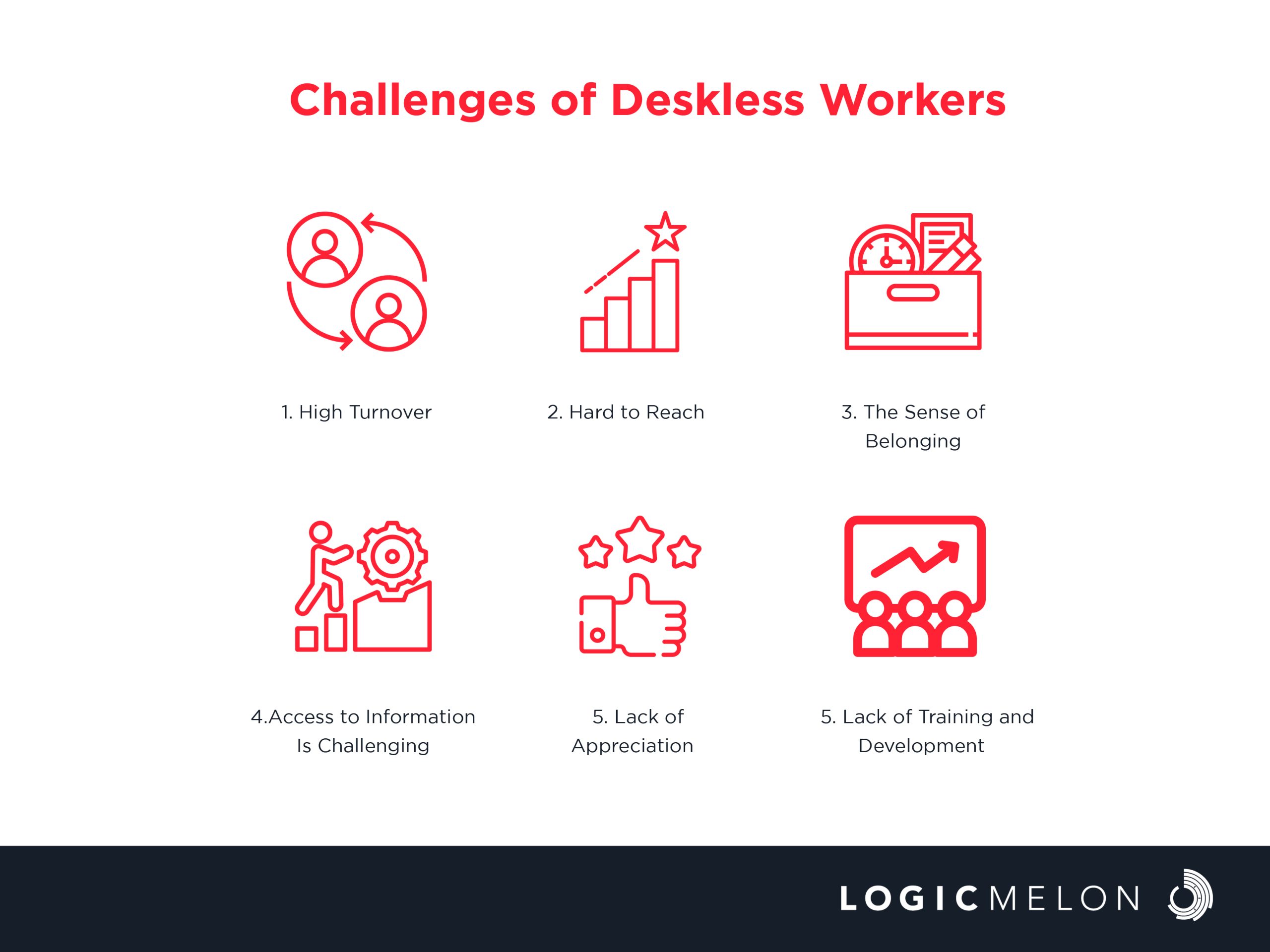 1. High Turnover
A lot of businesses are currently having trouble finding and keeping talented staff because the majority of employees work without desks in fields with the highest turnover rates, like hospitality or retail. The working environment is a major factor in the decisions of many deskless workers. Employees are more likely to leave their job if they are not happy with their workplace. Giving employees more opportunities for interaction and professional development increases their sense of belonging at your business.
2. Hard to Reach
Workers who do not have a desk are on the front lines of the business. These employees will be working outside of the company, in the factories, moving from one location to another where the work actually takes place. Employers and managers struggle to effectively communicate with frontline employees because 83% of them do not have email accounts and 45% do not have access to the company's intranet while at work. It is important to have flexible communication methods. Companies can connect with, engage, and teach their staff using modern employee engagement technology like mobile applications, which can provide useful information.
3. The Sense of Belonging
The typical non-office worker faces several challenges because they do not sit at a desk. More and more deskless workers are choosing to stay at or leave a company based on the culture. Some workers quit because they feel isolated. Remote workers generally wish to communicate with their coworkers. The best way to keep employees happy is to make sure they are a part of the team. Investing in a communication strategy can help in reaching employees, increasing employees' sense of belonging to the company, and improving interpersonal communication. You can help them feel more connected and involved with your company by giving them the right tools.
4. Access to Information is Challenging
As per McKinsey's study, employees spend about 1.8 hours every day gathering information. This equates to 9.3 hours per week on average. Effective communication can help you save a lot of time. The constant travel of deskless workers results in the lack of a laptop or desktop. As a result of their limited access to technology, frontline workers are unable to obtain all the information required to perform their work efficiently. Because of the instant access to information, employer-specific applications and mobile-friendly intranets are growing in popularity.
5. Lack of Appreciation
Deskless workers see a lack of attention from their supervisors despite contributing significantly to the workforce as a whole and working directly with clients. The main disadvantage they experience as employees is they don't receive rewards as frequently as they performed well. This has a negative impact on their motivation, which causes people to quit their occupations.
6. Lack of Training and Development
Typical classroom learning does not always suit deskless workers. They also have problems finding the perfect time for training. Your business will be more productive, have lower incident rates, boost employee engagement, and have a reduced turnover rate if you invest in your staff and give them a training environment and growth possibilities. Whether it is by picking up new skills, expanding our knowledge, or just getting better at what we do, we all have a lot to learn at work.
Companies could make use of assessments and instructional videos to assist deskless workers in developing their skills. Little bits of knowledge can be learned quickly and effectively through microlearning, which will improve employees' productivity and efficiency. When combined with training, they begin to have access to the necessary knowledge whenever they need it.
Strategies to Improve the Deskless Worker's Experience
1. AI-Based Software
While there is a variety of software on the market, such as an applicant tracking system, that may assist recruiters in attracting, locating, engaging, and onboarding potential candidates, maintaining and engaging deskless staff can be challenging after they have joined the company. Today's AI-driven software is more data-driven and offers precise analytics and insights to assess the performance and productivity of deskless employees. Since it has been created particularly for deskless workers, its advantage is that it allows you to manage everything in the mobile app.
2. Flexible Working
"Take care of your manpower, and they will take care of the organisation." The primary issue that businesses are currently facing is the problem of effectively arranging deskless staff for multiple work shifts. Scheduling workers is crucial since the manager must ensure that workers are not overburdened with extra shifts, as this will likely harm production.
3. Smartphone Experiences
For employees without physical desks, it is most convenient to provide them with tools and technologies that are mobile-friendly. Also, smartphone-friendly software is a useful tool for managing remote employees; implementing it as a solution will minimise employee burnout and enhance their experience, which will ultimately function as a strategy to engage and retain them.
Frequently Asked Questions
1. How do You Engage Deskless Workers?
The following are ways to engage deskless workers:
Managers should be able to communicate more easily.

Make sure you know where deskless workers are actually working.

Tap into the emotional connections that employees have with the brand.

Ensure the voices of deskless workers are heard.
2. What are the Components of Deskless Workforce Training?
Here are the three main components of deskless workforce training:
Remote and accessible

Self-paced

Bite-sized
3. What are the Things Deskless Workers Really Want?
The following are some of the basic resources deskless workers really need: 
Flexible timings

Better benefits

Opportunities for better growth

Support from management

Recognition
Closing Thoughts
Deskless workers are becoming a permanent fixture in the workforce. Technology is transforming how people work and will play a significant role in enabling and empowering deskless workers, who are probably already familiar with technology and make use of mobile devices. To maintain real-time communication with employees working in offices, it is critical to give deskless workers access to technologies they can use from anywhere. Remember that investing for the benefit of your staff is an investment, not an expense.
LogicMelon
Award-winning recruitment software that will find, attract, hire and analyse the way you want to work. At LogicMelon, we have experienced software recruitment marketing specialists to help you build effective recruitment solutions supported by the best customer service you'll find anywhere!
Email: sales@logicmelon.com or call LogicMelon (UK) +44 (0) 203 553 3667 (USA) +1 860 269 3089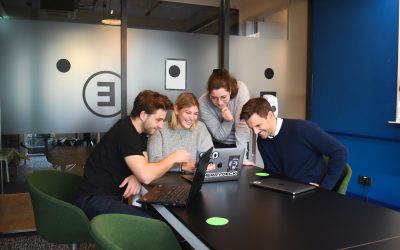 Self-managing teams can foster creativity, strengthen organisational relationships, and accelerate goal achievement.
read more
Love what you're reading?
Subscribe today and get insights straight to your inbox